How To Tile A Floor With Large Tiles
Are you shopping for new floor tiles? Wondering how to tile a floor with large tiles? Adding larger tiles to your home can provide many advantages. With better durability, less upkeep, and many finish options, large format tiles will make a fantastic addition to any room in the house.
When working with large format tiles, you must take extra steps to make sure they're level and firmly fixed in place. However, it doesn't have to be an impossible task, and you'll find all the steps you'll need to learn below in our in-depth step by step guide.
If you're ready to start laying your tiles, be sure to read along to find out how to do it, starting with preparing the floor surface.
Step One: Leveling your floor
The first and most important step is making sure you have a completely level and flat surface. Floor tiles don't bend, and large format tiles, in particular, will be difficult to "correct" once they're in place, meaning you'll end up with a messy result.
Before you start filling in any cracks or sanding any bumps down, take some time to inspect the surface. Doing this means you'll be able to accurately assess where the imperfections are so you can prep the surface effectively.
Concrete floors will need to be primed, and uneven surfaces will need to be levelled with a levelling compound. If you have wood floors, they may need over boarding.
Step Two: Priming your floor
As long as the surface you're laying tiles on is not in poor condition, you can tile onto it, whether it already has tiles on it or not. Depending on which tiles and the type of tile adhesive you're using, you might need to prime the floor.
It's a good idea to ask the tile manufacturer about the correct adhesive for your tiles. If your floor is quite dusty, prime it using PVA adhesive and let it dry before you start tiling.
Step Three: Measuring
Using chalk or a pencil, draw a straight line by making a centre mark between the opposite units or walls.
Most rooms aren't the same size, so don't just assume the walls are equal size. Repeat this step by measuring the centre of the line you originally drew.
Step Four: Putting the floor tiles in place
Dry lay a row of floor tiles up to the wall, making sure you include tile spacers to keep the tile joints even. If there's only a thin tile left next to the wall, rearrange the tiles in the centre so there is a larger piece that'll be easier to cut.
Remember to leave around half a tile as you may experience difficulty fitting smaller tile pieces around the edges. When you measure, be sure to leave room for the sealant and grout joint.
Step Five: Tile adhesive
Next, prepare your tile adhesive. Follow the instructions on the bag and mix the adhesive in a bucket. Then, go by the lines that you drew out or from a straight edge and spread the mortar on the floor using your notched trowel at a 45-degree angle.
Drag the trowel across the floor and distribute the adhesive evenly, making sure the notches are all in the same direction. Do a small area at a time because the adhesive will start to dry once it's applied.
Start placing the tiles on top of the adhesive, pressing down and sliding them into place to ensure they stick well. You may need to use a thin layer of adhesive on the back for bigger tiles to stick each tile firmly in place.
You can then position the tiles onto the mortar and move them a bit to collapse any ridges. Once the floor tiles have dried, you can install the grout joints.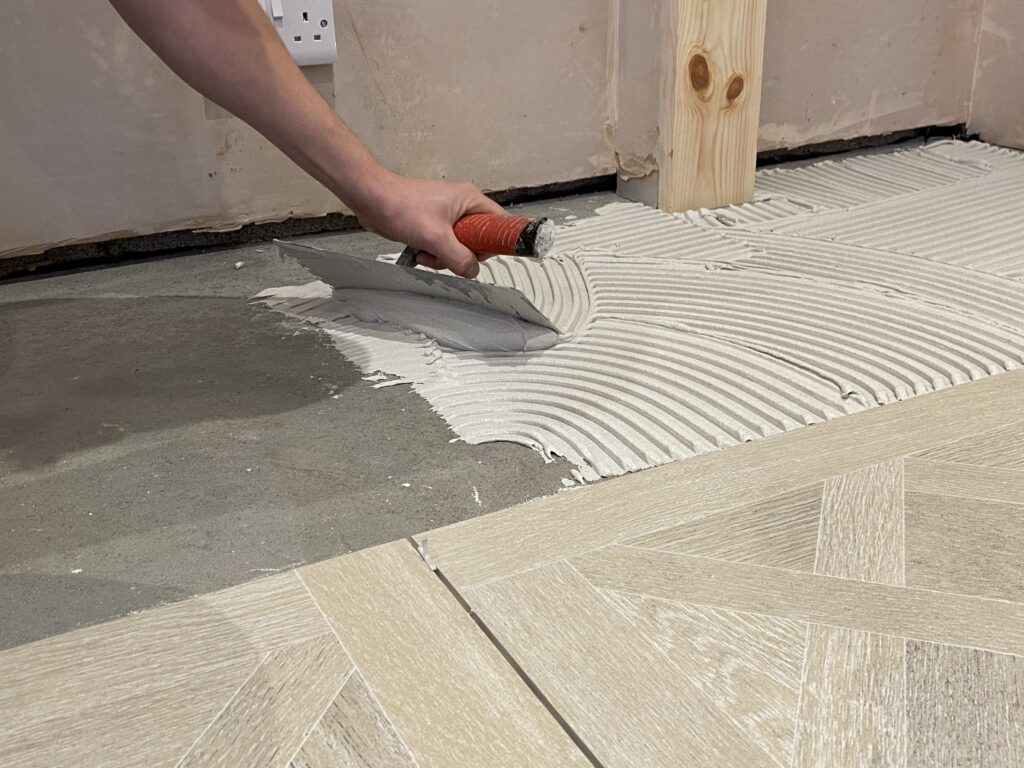 Step Six: Finishing touches
Lastly, add the grout to your fitted floor tiles. Measure the correct amount of water for the grout, gently add the powder, and mix it until it forms into a paste. Leave it for 2 minutes and mix it again but don't re-water it.
Apply a generous amount using a grout float into the joints. Once it's firmly into the joints, wipe away any excess grout, being careful not to scrape the grout lines, and give the tiles a clean with a damp sponge, but don't use too much water.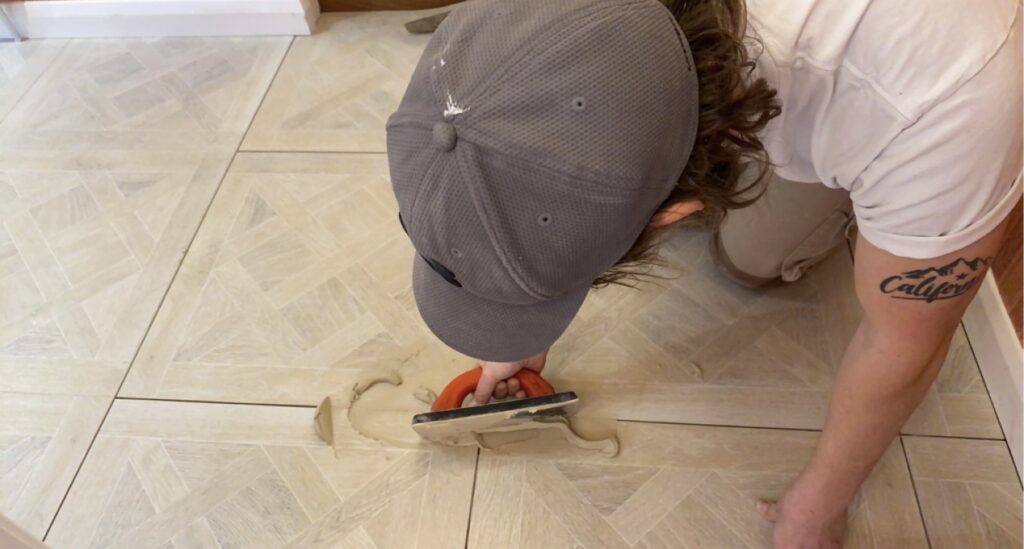 FAQs
Where do you start when tiling a floor?
Before you start to lay the first tile in place, be aware of the access and exits to the floor. We recommend beginning in the centre and working outwards to the corners. That way, you won't need to tread on your newly laid floor tiles.
If you're tiling a high foot traffic area such as the kitchen or bathroom, tile one half of the floor the first day, let it dry, then do the other half the next day.
How do you layout a 12×24 floor tile?
For 12×24 tiles, you'll need a medium bed adhesive. This has a better consistency than thin-set mortar. Medium bed mortar is a cement-based adhesive consisting of water and coarse sand as well as other compounds. This means you won't have loose tiles once it all dries up.
Spread some mortar on the back of the tile so they'll bond to the surface better. Be sure to clean up as you go along, as the application must be perfect. Use 1/4 inch tile spacers and sanded grout for large format tiles.
What tile pattern is best?
As recommended by the trade body of the tile industry, The Tile Association, make sure your large format tiles aren't fitted in a brick-bonded 50:50 pattern and that they have a maximum offset of 33%.
For long tiles, we recommend fixing them in a random bond style. This pattern looks aesthetically pleasing for wood tiles and prevents wastage if you have to cut tiles to size.
Which tile surface is best for kitchens?
Although ceramic tiles are a very popular choice for kitchens, porcelain offers an even more durable option. This is because porcelain is fired at higher temperatures, causing it to be less porous than ceramics.
Porcelain also contains sand and other materials that make it harder than ceramics. It's also one of the most stain-resistant tiling materials available, making it a popular choice in busy kitchens where food spills are commonplace.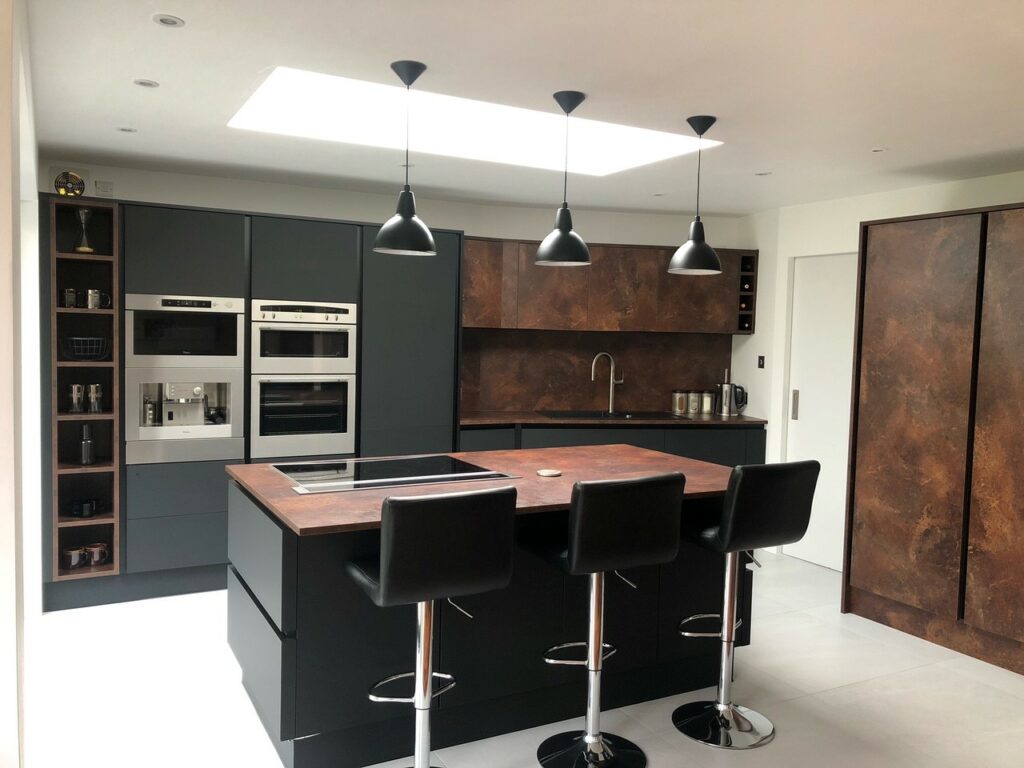 Are floor or wall tiles easier to put up?
Wall tiles are typically easier to install as they don't require a completely flat surface, so there isn't as much prep work to do. Floor tiles require a fully level surface because of the foot traffic on top of them.
However, both require careful installation so you can end up with a neat and professional finish.