How Much Weight Can Porcelain Tile Hold
If you're looking for the best tiles to renovate your home with this season, you've come to the right place. We're here to give you all the information you need on porcelain tiles and how much weight they can hold – important information if you have some heavy furniture to put on top of them.
Many homeowners opt for either porcelain or ceramic, and there are pros and cons to both. We'll be dispelling some of the common misconceptions surrounding porcelain floor tiles, and giving you the details you need to help make your decision – read on for more!
What Is A Porcelain Tile?
Porcelain originates in China and dates back to the Tang Dynasty (618-907). Traditionally it is "vitrified" pottery meaning that one material has been converted to another using high temperatures.
In the case of porcelain, it was initially derived from "petuntse" – a kind of rock found in China – and mixed with "kaolin" – a form of clay. This was then heated at 1,450 °C.
Today, porcelain is made using different materials and methods. However, it is popular worldwide for its strength and functionality, especially for wall and floor tile in kitchens and bathrooms.
A modern tile floor is made by combining clay with hard stone like quartz, silica and feldspar. Again, this is heated to an extremely high temperature.
If the porcelain tile is vitrified, it does not need to be re-sealed or glazed. A vitrified porcelain tile has far less porosity and increased strength due to the combination of clay and stone and the manufacturing process.
Other porcelain tiles are re-sealed or glazed to give them an authentic-looking finish. As a result, the tile has a greater porosity than vitrified versions.
The Difference Between Porcelain And Ceramic Tiles
There is some confusion around the difference between porcelain tile and ceramic tile – this is not surprising, given that the two look similar and are manufactured in much the same way.
However, there are significant differences between a porcelain tile and ceramic tile floor that affects their intended use and price point.
They might look and feel the same on the outside, but ceramic and porcelain are made from different materials. Ceramic uses red, brown, or white clay that is less dense and more water-absorbent.
Conversely, porcelain combines white clay with sand or feldspar to make a harder porcelain tile that is less absorbent.
When buying porcelain tile for your kitchen or bathroom, there are pros and cons to each material. For example, porcelain is stronger and hard-wearing, but ceramic is easier to cut and cheaper.
In comparison, ceramic tile is much less waterproof than porcelain and tends to have an artificial glaze. It may also require some grout colour.
The Advantages Of Porcelain Tiles
Porcelain tile requires a professional to cut and fit it correctly -you definitely don't want them to crack or damage after a few years.
This, however, is the great advantage of porcelain tile. When fitted correctly, they are incredibly hard-wearing, water-resistant, stain-resistant, and moisture resistant. In addition, porcelain tile is very reliable and resistant to wear, which is why for many they are the first choice for bathroom and kitchen floors.
Unlike ceramic tile, single tile porcelain is denser with fewer air pockets, as well as harder and thicker overall, giving them added strength and longevity. Porcelain tile is also the easiest tile to maintain, with no special sealing required.
You'll often find porcelain used for entranceways and lobbies in hotels and museums due to the luxurious appearance it gives. But it is also extremely practical, and able to withstand years of footfall in high traffic areas.
Although porcelain tile is not invincible, it is very rare for it to break, making it a great, long-wearing tile, perfect for use in your home.
The Disadvantages Of Porcelain Tiles
While porcelain tile is the obvious choice if you want a hard-wearing kitchen floor, there are some things to keep in mind when deciding between porcelain and ceramic.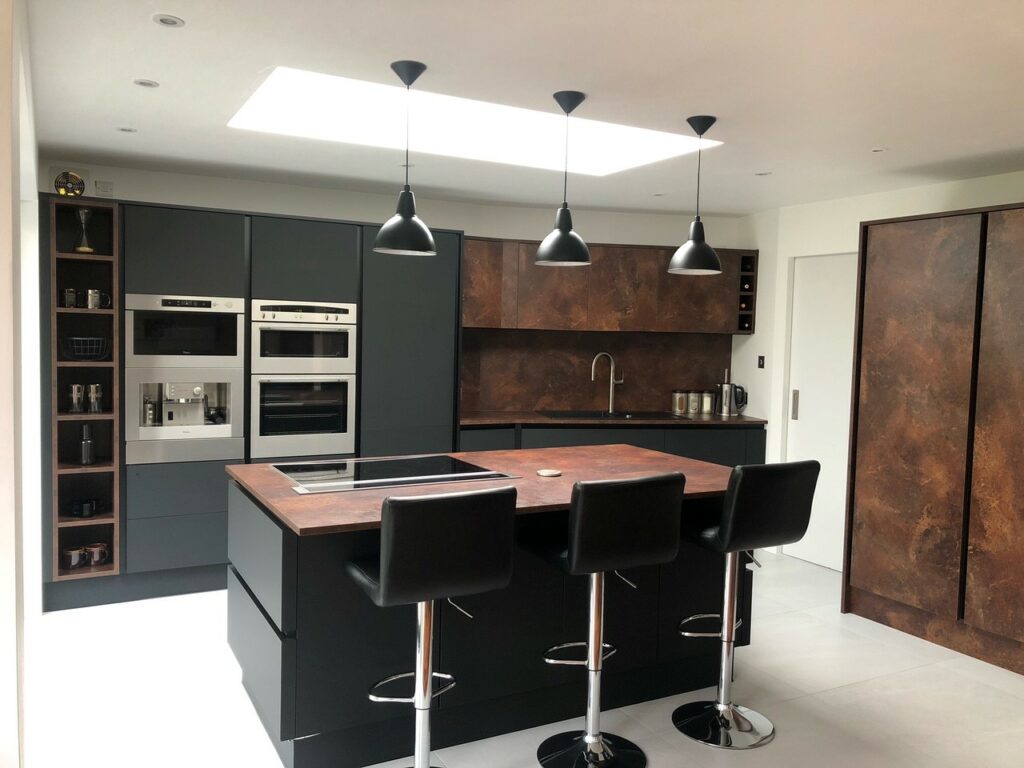 Overall, this tile is the best choice – but it is also more expensive, more difficult to install, and harder to repair.
The factors that make porcelain so strong and long-lasting are the same factors that make it difficult to install. Porcelain tile is thick and heavy; it isn't easy to cut and should only be installed by experienced flooring specialists unless you have the appropriate equipment. Unfortunately, this can sometimes make the installation expensive and repairs more difficult.
In general, this tile costs you more than ceramic. The cost is measured per tile, so it's best to measure your space first and count the number of tiles you need for a direct comparison. If you have a large area to cover and a tight budget, ceramic tile might be a better option.
How Durable Are Porcelain Tiles?
Porcelain tile is extremely durable, making it an excellent choice for kitchen floors. The material used to make this tile is very dense after it's been fired, due to its composition of sand, quartz, or feldspar. It is therefore resistant to scratches and cracks.
When you invest in porcelain tile and pay money to have it installed; you want it to last for some time. Luckily, this is one of the main features of this tile -once fitted, you can expect your kitchen or bathroom tile floors to last around fifty years without repairs!
Although ceramic tile floors will cost less overall, you might find that saving is marginal. Add to that the significant difference in durability, and it makes your choice of tile floors an easy one.
What Weight Can Porcelain Tiles Support?
One consideration when purchasing tiles for your home is the tile support of porcelain versus ceramic. If it is used for a high-traffic area and footfall is the only pressure on the tiles, there shouldn't be any issues – the tiles should last for decades.
But, when you place heavy items on the tiles, such as cast-iron stoves or heavy furniture, you will want to consider the strength grade of the porcelain. Typically, this tile should not have an absorption value greater than 0.50%, with an average breaking strength of 275 lbf (pounds of force).
Porcelain tile has a high weight-bearing capacity; still, it's worth checking its force value before the installation of heavy items on top. Take care when you lay tile as there is always a chance it will crack if the force is too sudden.
Are Porcelain Tiles Worth Buying?
Whether it's for your kitchen or patio, porcelain tile looks beautiful and lasts for decades. Porcelain tile is the best you can buy – it's good quality and highly resistant to footfall and water absorption. You will have no moisture issues, and your wall tile or floor tile should last for 50 years.
Ceramic is also a suitable choice if you're on a budget. These can look as good as porcelain if they are chosen and installed correctly.
However, they are less resistant to cracks and have a higher water absorption ratio, making them unsuitable for many households.
Porcelain tiles are always worth buying if you have the budget for them. They are significantly more durable than ceramic tile, and you won't have to replace them for years. Whilst ceramic floor tiles are glazed for effect and protection, porcelain tile is the real deal!
FAQs
How strong is porcelain tile?
In general, this floor tile is the strongest tile you can buy, but that doesn't mean they have the same break strength.
Typically, the tile should have gone through a static load test and have a weight-bearing value. This is given in kilograms or newtons.
Can you put heavy furniture on porcelain tile?
Yes! A porcelain tiled floor is suitable for bearing the weight of heavy furniture.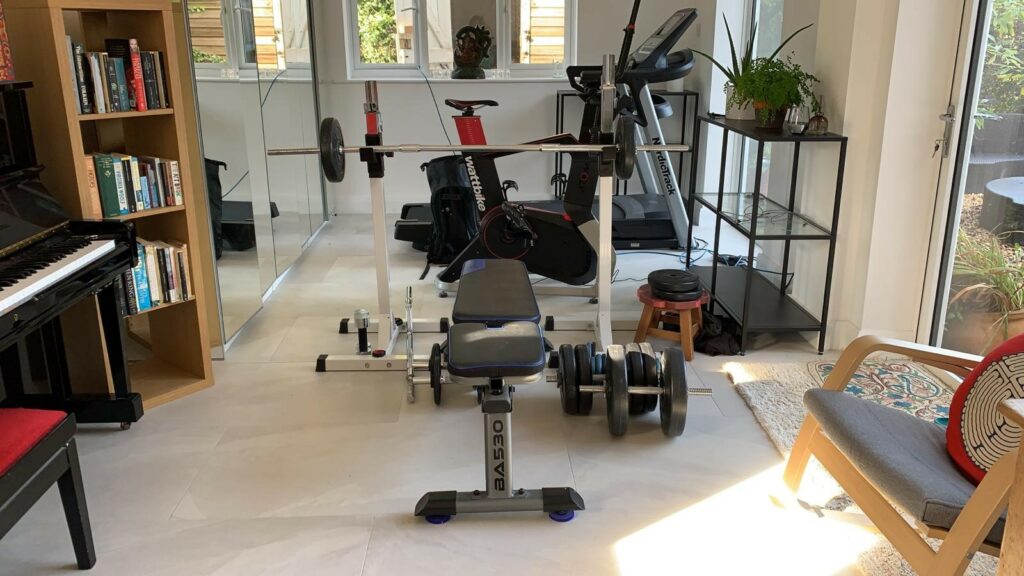 As with any heavy item you place on floor tiles, it's worth calculating the weight ratios on flat concrete- you can find these from the manufacturer's PEI rating. Always take care when you stand heavy loads on this tile.
Can you drive on porcelain tile?
It is not suitable to drive a vehicle on porcelain tile as there is a high chance of them cracking or breaking.
However, if the floor tile is on a flat concrete floor and they are bonded correctly, they should be able to take the weight of a car during a break strength test.
Final Thoughts
Porcelain tiles are the perfect solution for kitchen and patio tile floors. Made from sand and hard stone like quartz or granite, these tiles are water-resistant and highly durable. Porcelain tiles are very strong and can take the weight of heavy furniture and cars during strength tests – they last decades!
There's no need to worry about your porcelain floor tiles cracking or breaking during everyday use, they won't! They will even withstand shocks like heavy objects falling on them. Porcelain floor tiles will never chip or crack. The only risk is during installation when you or your installer cut the tiles.
Both porcelain and ceramic tiles are made in much the same way – a combination of special clay and hard stone baked at a high temperature – but porcelain is probably stronger overall due to the type of stone that's used. Ask the manufacturer for the material's PEI rating for a direct comparison.