Are Natural Stone Tiles The Best Solution For Bathroom Floors?
Our bathrooms are a sanctuary: a space we can return to if we want to freshen up or relax. They can't help but appeal to our most intimate style needs – but these have to balance with the issues of washing, drying, bathing and creating a base for your morning routine. It's a tough tightrope to walk…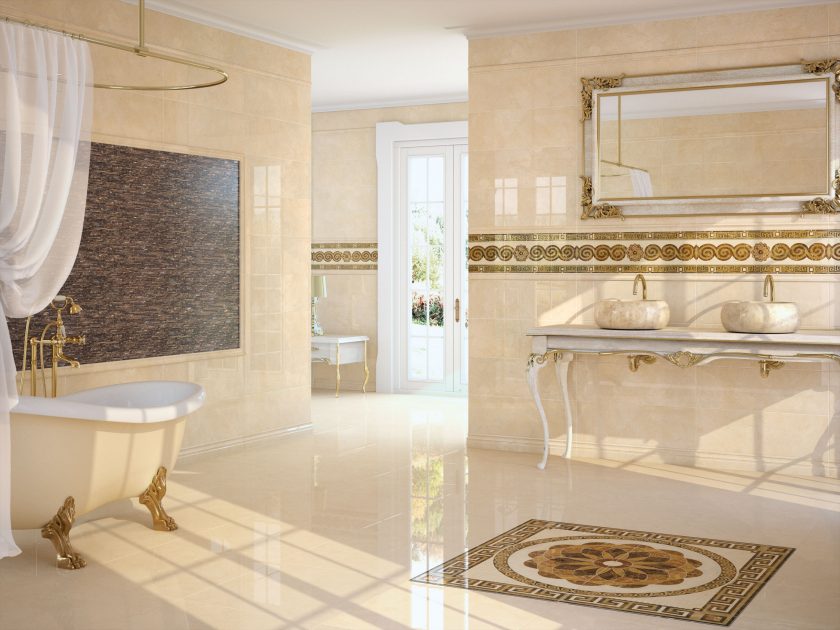 Aside from the walls, basin and shower unit, there's a lot to be said for the merits of certain types of flooring. Choosing a good, adaptable floor material will fulfil most of the concerns a bathroom brings with it. But are natural stone tiles the best solution for bathroom floors, or should you explore alternatives?
In most cases, these materials rise to the challenge. Join us as we crack into the qualities of natural stone tiles for this very unique room.
Cleanliness and safety
We may as well start with the issue of hygiene. After all, it's the number one concern for the space you'll be treating; a dirty, dusty bathroom isn't healthy or attractive.
Helpfully, though, natural stone is very easy to clean and maintain. Hairs are not trapped within the surface. Mud doesn't stick to the tiles much at all and, if it dries, the patch can be scrubbed away without an adverse, lingering mark. Liquids, meanwhile, don't have much of a foothold either – shampoos, toothpaste and gel won't stain the floor. You have an excellent guard against whatever may seek to undermine your clean routine. Acidic substances (as well as coffee) can leave a stain, but proofing the tile regularly with Lithofin will prevent this.
Natural stone tiles are also wonderful at preventing the build-up of grime and mildew. They are resistant to moisture, helping the surfaces dry a lot quicker than a laminate cover or vinyl tiling. That's going to stop any mould from taking a hold on your tile surface, as well as lowering the risk of a nasty slip when getting out of the bath/shower.
Repelling water damage
Following on from this, we should stress again that natural stone is great for countering the bad effects of puddles, water spray and stray liquids. With most stone tiles, you'll have strong grip capabilities when walking around the bathroom.
However, sustained moisture can cause the tiles to lose their rigidity, since water can seep into the seams between each cut. Wet-proof grouting is therefore essential. Once applied, it'll preserve the tiles' ability to stay firmly in place for many, many years to come. A product like the Weber Joint Epoxy Grout is sure to proof any tiles against the threat of over-lubrication.
The visual dynamic
Let's get to the aesthetic portion of your choice – something that anyone can have an opinion on, yet perhaps not fully grasp what stone flooring entails…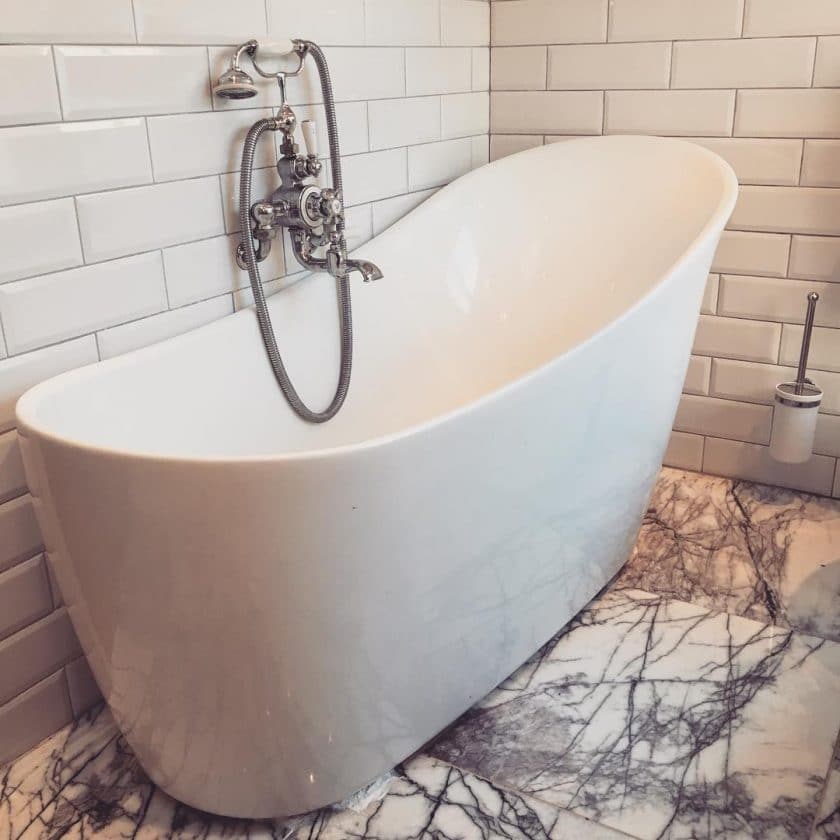 We're referring to the incredible, one-off properties of a natural stone formation. Limestone, travertine, marble and other materials have been shaped over millennia in the earth, crafted by extreme heat. Their chemistry is totally individual: no other stone cut has the exact same shade, veining or blemishes as the one you go for.
Therefore, bathroom projects can achieve a bespoke look as a regular extension of the stone properties. You may want the muted palette of a Persian Sapphire tile, combined with neutral colours around and above it. A warmer tone, on the other hand, can be gained through Galileo Limestone across the floor, lined below warm orange towels. Nepal Crystal might be perfect for blue, green and silver themes.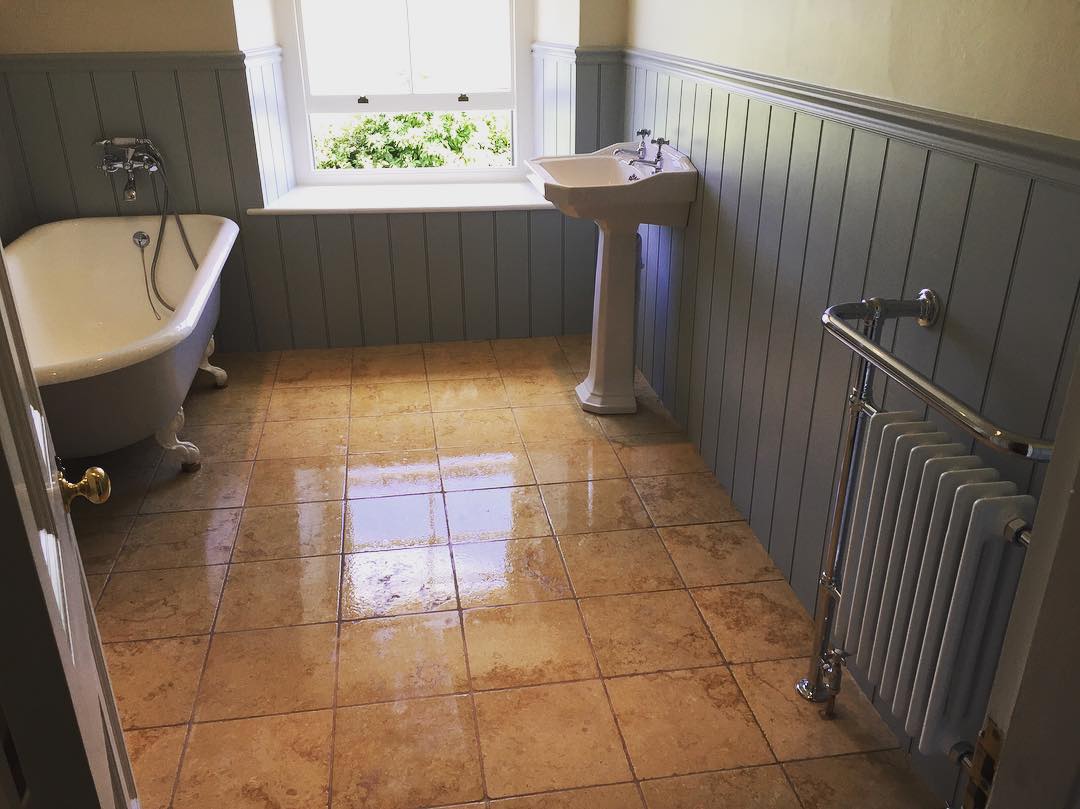 Of course there's always the option of wood-effect tiles for another naturalised approach; it's a style that many people won't expect. We still recommend natural stone for a feeling of strength, permanence and individuality. That last trait in particular will add more value to your home, since the stone functions as a geological fingerprint that has no comparison elsewhere in the world.
Cheaper options exist in laminate and linoleum, except – as you might expect – there's far less of a 'wow' factor to relish than thick, glimmering stone.
Matching to other features
Whilst we're on the subject of visuals, it's worth noting that natural stone tiles do not have to function alone for aesthetic merit. Wall tiles can mirror and reinforce the main theme on the floor. Similarly, parts of a basin, bathtub, shower or cabinet can use stone inflections to further advance what you like about how it looks.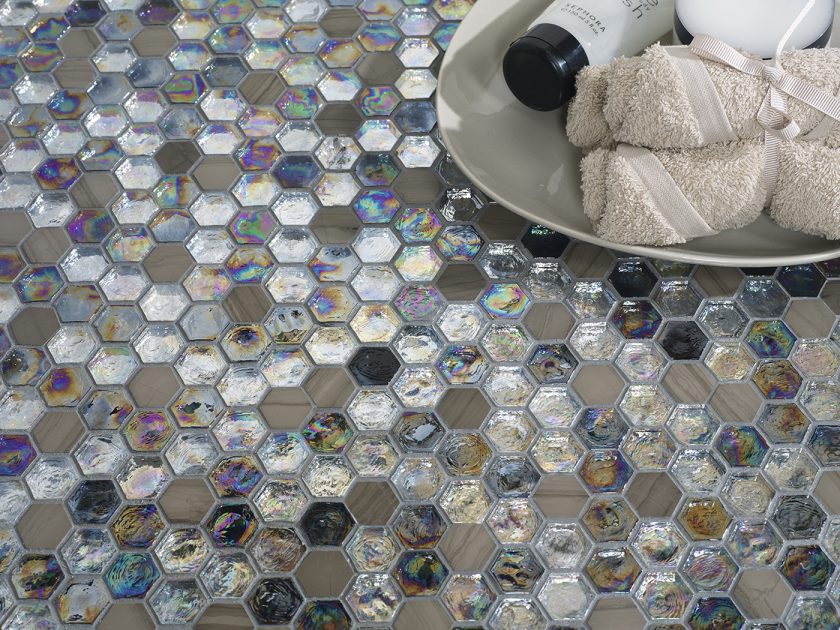 Contrast that with other types of flooring – vinyl, as one example, can come with an oak or beech finish, yet this will be very hard to match with real wood in the rest of the space, simply because heavy steam and water will degrade those units. More imitative stone materials (such as lino flooring) might stray close to what a marble sink looks like, but they don't have the same genuine, high-end impression.
Our point in that natural stone is very flexible: you can pair up the tonal palettes, and know it'll stay at peak condition over time.
Warmth and comfort
As well everything we've discussed so far, a bathroom should be comfortable, not cold or clinically designed. Depending on the floor base, these factors will rise or fall; there are several things to consider for the state of your bathing area.
Do you have underfloor heating? If so, natural stone tiles are the absolute best choice – they cool or warm up quickly, responding more sensitively to their environment than other materials. However, that also means the tiles will be colder in the winter than, say, a batch of laminate tiles. As such, bath and pedestal mats may be necessary between bouts of artificial heating.
Finally, the smooth cuts of modern stone tiles aren't a chore to walk upon. The material doesn't arrive with bumps and distortions – therefore, bare feet have just as much freedom to move on them as any other flooring style.
So, are natural stone tiles the best solution for bathroom floors? Our experts think so. These materials are in the top tier of your potential flooring solutions. They are gorgeous to look at, extremely durable, resistant to moisture, and can't help but deliver a luxury feel that might extend to other sections of the bathroom.
Atlas Ceramics stocks a plentiful array of floor tiles and maintenance tools for your next project. Call us to get some expert feedback for what you're considering, or browse our products at your leisure. Natural stone deserves to be held in the esteem it has fashioned over so long under our feet… It's only appropriate that you bring them to the surface, in a beautiful home.