Here at Atlas Ceramics  we import and distribute high quality products to support the tiling industry.
These products include Polished tiles, Matt tiles or Satin tiles for the wall and floor, ceramic and porcelain tiles, natural stone and mosaics, from  Italy, Portugal, and Spain.
These products are suitable for every area of the home, especially the kitchen and bathroom.
We also hold all the ancillary products you will need to complete your project such as Weber adhesives, grouts and levelling compounds.
We quickly turn around orders with ease and due to our strong relationships with other suppliers, we can offer a wide range of high quality material for all your needs.
We are always keen to source new tiles to add to our ranges and by keeping updated with the ever changing designs and options supplied by the factories, we are familiar with many of the different products available.
If you have something in mind that you cannot find on our site, please contact us on +44(0)1425 621173 or email us at info@atlasceramics.co.uk and we will do our very best to help you.
Our Warehouse & Showroom
Our warehouses are situated at the back of our showroom in New Milton which is open Monday – Friday from 8am until 5pm and on Saturday from 8:30am to midday, where we hold vast stocks of beautiful products.
Opening Hours
COVID-19

Our current hours are:
Monday to Friday 8 am till 5 pm
Saturday – 8.30 am till 12.00 midday

Monday to Friday 8:00am to 5:00pm
Saturday  8.30 – 12.00
Closed bank holidays
Meet The Team
Mike Head
Dan Woolley
Dean Cooper
Darren Clark
Glenn Miller
Peter James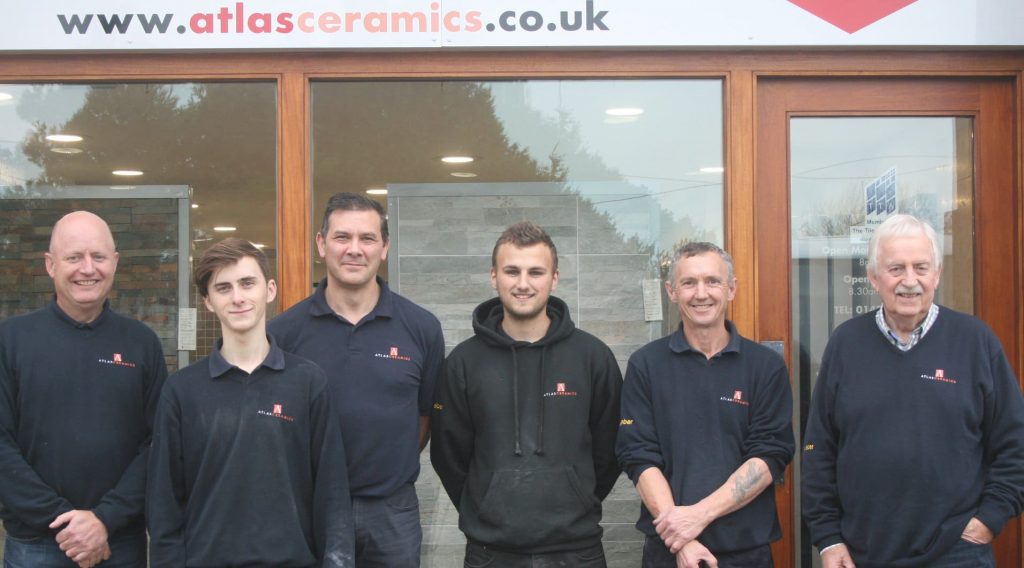 From 1985 Up Until Today
The company started around 1985 by Charley Olliffe. Having previously had a tile shop in London, he moved down to the New Forest to live with his family, and so decided to open a store here.
Around 1995, Mr Olliffe took on a business partner Mr David Newman, who owned 50% of the business.
In 2000, Mr Newman took over the company in full from the retirement of Mr Olliffe.
Mr Newman came to retirement age, and decided to sell Atlas Ceramics Southern Ltd (as it was known back then).
Mike Head then left a division of HSBC Bank, and bought Atlas Ceramics under a new name, Atlas Ceramics South Ltd, on the 14th February 2005.
Mike had one part time member of staff and that was it, finding their feet in the tile industry.
Peter James joined the business in May 2006. Peter has a wealth of experience in the tile industry, having previously worked as an areas sales manager. Coming close to retirement, he was only looking to work for another 2 years. 14 years later, reaching the age of 80 years old he still loves Atlas and its customers!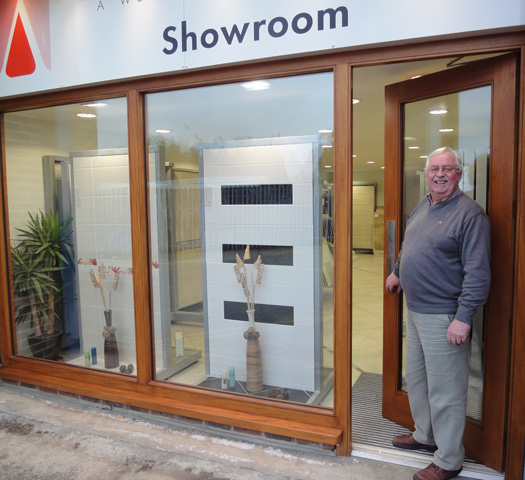 Mike's task was to modernize the tile choice and all of the ancillary products. Mike also aimed to keep more stock on site to fulfill more orders promptly.
Business was very slow in the first few years, as Atlas Ceramics were just starting out in a competitive field. With hard work and a strong customer focus, things soon started to turn around quickly.
Mike completely demolished the previous showroom building, and constructed a larger and better display area to highlight the quality of tiles that Atlas Ceramics sold. It allowed customers to properly visualise how tiles would look in their home, giving them confidence in their choices.
Within a few years we launched our website, knowing it would help drive the company forwards.
Each year, Mike attends the annual tile shows in Cevisama, held in Valencia, and Cersaie, held in Bologna. This allows us to stay current with the latest trends and styles, ensuring all our customers are kept up to date and have the right choice available to them.
In our early years we concentrated on local sales. With Peter's help we also started up our distribution sales of our products in an area of around 50 miles circumference. This has been a great success, and has lead to a second warehouse and recently a further one off site.
In April 2011, Peter James was recommended by his customers for "Employee of the Year" to the Tile Association, which Atlas Ceramics South Ltd. has been a loyal member of since 2007. The team at Atlas Ceramics attended a gala dinner, and watched with pride as Peter James won this prestigious award for his dedication to the tile industry and customer care.
2019 and Onward
Now that 14 years has passed we now have a much bigger team.
With a wealth of experience from our team members, we supply around 60 other local outlets with our products.
Our website has developed massively with 1100 published products being sold to the whole of the UK.
Atlas Ceramics are well known in our local area by businesses and the retail market.
We are the only tile supplier that stock their own products on site in this region.
A lot of our local business comes from recommendations from other customers. With a 5 star rating, we are on the right track to develop our family business for the future.
Over the last few years we have been producing our own tile brochure which has been very successful for our customer base and out outlets.