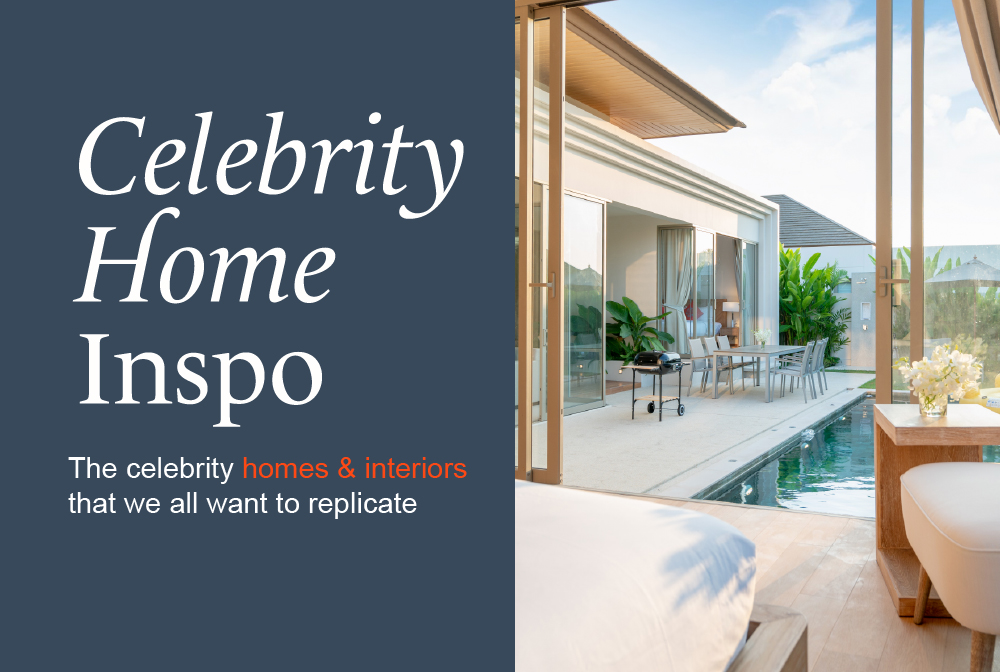 The celebrity homes and interiors that we all want to replicate
Celebrities live in homes that most of us can only dream about, and while we may never be able to afford a house on that scale of luxury, the houses of our favourite celebrities can still offer up some inspiration for our own homes.
Whether it's ornate architecture, bold interiors, immaculately landscaped gardens, weird and wonderful features that you wouldn't usually see, or maybe even some striking mosaics and tiles, there are lots of aspects of celeb homes that can spark inspiration.
But which are the celebrity houses that we want to imitate the most? We've analysed Google search volume to find out.
Most inspirational celebrity homes

Kim Kardashian – 957,000 annual searches
With just under a million searches for the term "Kim Kardashian house", the spectacular California mansion of Kim Kardashian is the one that we're seeking out the most, and it's easy to see why.
What was initially a typical suburban "McMansion" when Kim purchased in 2013 with Kanye West has been transformed into what Kanye has described as a "futuristic Belgian monastery", although Kim filed for divorce earlier this year and Kanye now lives in much more unusual settings, in Atlanta's Mercedes-Benz Stadium, while he finishes his latest album.
Unlike most celebrity houses, fans have had more than a few glimpses inside the walls of the property thanks to its many appearances on Keeping Up With the Kardashians.
Kylie Jenner – 747,000 annual searches
Kim's step sister Kylie Jenner takes second place with almost three-quarters of a million annual searches for her home.
Like many celebrities, Kylie has owned a number of properties, even at the young age of 23, currently residing in a mega-mansion in the Holmby Hills area of Los Angeles.
The house is worth an estimated $36.5 million (£26.2 million), is clad in concrete, with fortress-like safety features, seven bedrooms, 14 bathrooms, a home theatre, bar, games rooms, gym and sports court, all with fully retractable walls to allow access to the swimming pool in the central courtyard.
Will Smith – 711,400 annual searches
The home of Hollywood royalty Will Smith is the third-most desired celebrity home, with 711,400 searches for his digs.
Will and his wife Jada Pinkett Smith have multiple properties around the world, but the one they call home is a $42 million (£30.2 million) estate in Calabasas, California.
Features of the home include a meditation room, music studio, and its own secluded lake.

Most inspirational celebrity interiors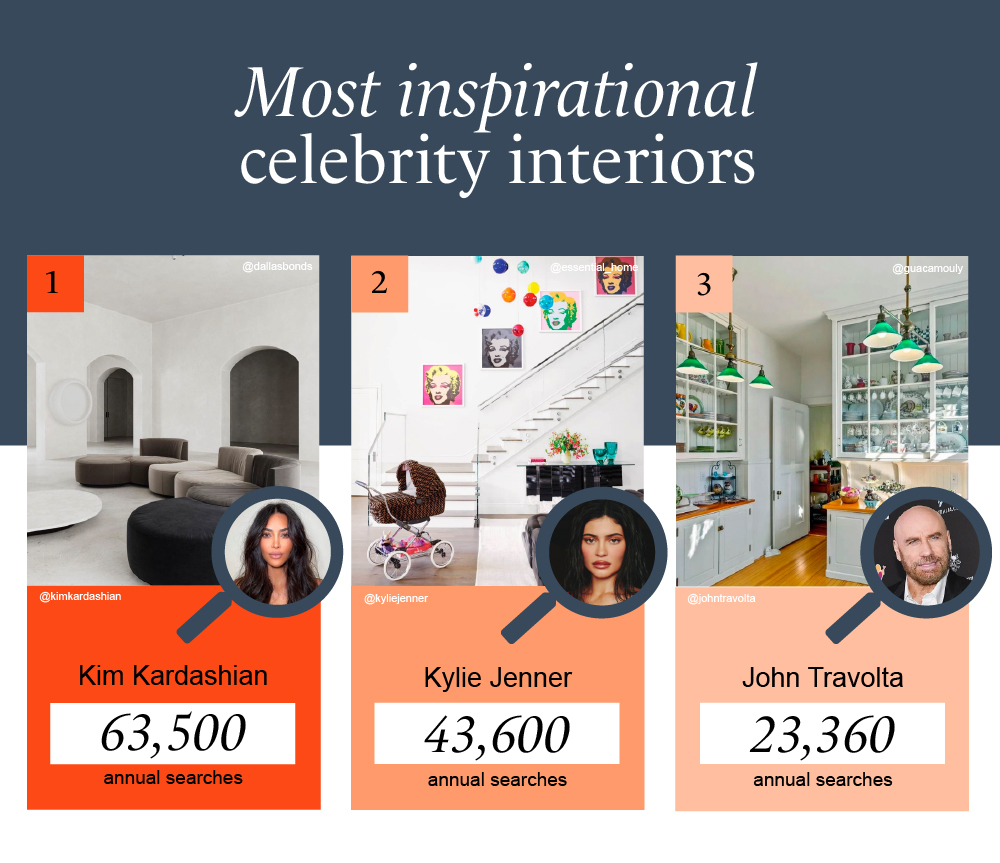 Kim Kardashian – 63,500 annual searches
As was the case for her home in general, Kim Kardashian also had the most influential interior design, with 63,500 annual searches for "Kim Kardashian house inside".
The home is bathed in striking luminous, off-white plaster, with light, natural colours throughout for uniform finish. Her furnishings are simple and decor is almost non-existent for the ultimate model of simplistic minimalism, instead focusing on architecture.
Kylie Jenner – 43,600 annual searches
Once again, Kylie Jenner is the owner of the second-most influential home, this time when it comes to interior design.
Her mansion features chic decor such as white marble worktops, minimalist black cupboards, a free-standing bathtub, walk-in shower cubicles and a glass staircase in the main foyer. Slightly more embellished and lavish than her sister, Kylie's interiors screams luxury living.
John Travolta – 23,360 annual searches
Unlike the majority of homes of the celebrities on this list, John Travolta's home is a more traditional estate on an island in Maine, rather than a modern mansion in California.
On the inside, Travolta's home has bright, colourful and cosy interiors with an English country house theme. Features include rustic stone fireplaces, gilded light fixtures, Tudor sash windows and timber trims.

Methodology
All search volumes were sourced using Google Ads' Keyword Planner and refer to the number of global searches between July 2020 and June 2021.
For each celebrity, we looked at the number of searches for their name followed by the terms "house" and "house inside".