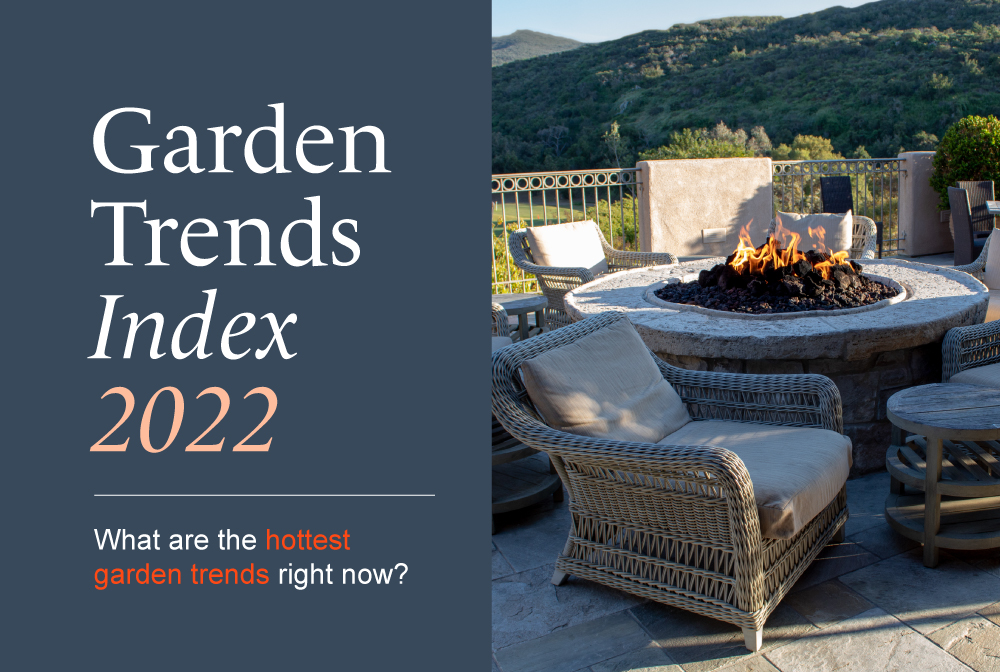 What are the hottest garden trends right now?
As springtime rolls in across the Northern Hemisphere, the daylight lasts longer and the temperature gets hotter. Consequently, people start spending more time in their gardens to enjoy the improved conditions. Gardens come in all shapes and sizes, are used for a variety of activities, and often reflect the style and personality of their owners.
A great thing about gardens is that they are easily changed to suit a new purpose, or just to give them a fresh look. Whether you are organically growing or removing plant life or installing man-made features and products such as outdoor tiles, designing the perfect garden is a lot of fun.
Last year we presented the Garden Trends Index, which offered an insight into the popular garden trends coming out of lockdown. One year on, and the summer is looking a lot more normal in many parts of the world, in this time many popular trends have changed in the garden space. But which trends are now the most popular?
Top Five Garden Trends
1 – Garden Gnomes, garden trend score of 9.15/10:
The most popular garden trend is Garden Gnomes, these figurines are often thought of as being unfashionable and kitsch but they are clearly making a comeback in 2022. The overall score for Garden Gnomes was 4.21 higher than the average score, 4.94. The popularity of Gnomes was shown by the fact that they ranked in the top ten for every single factor.
2 – Urban Gardening, garden trend score of 8.92/10:
The second most popular garden trend right now is urban gardening, this trend is very popular on social media. There are 1.99 million urban gardening Instagram posts, and a further 25.1 million views on TikTok. As lots of people living in big cities have less garden space, urban gardening is a great way to take advantage of what outdoor space is available.
3 – Pergolas, garden trend score of 8.34/10:
Last year Pergolas were the most popular garden trend, but this year they have slipped to third place with a score of 0.81 lower than the highest-ranking trend. Perhaps a reason for this is the easing of covid restrictions in many places, this has reduced the demand for socialising in the garden, consequently, the demand for garden furniture has reduced.
4 – Bird baths, garden trend score of 8.07/10:
Bird baths have dropped from second place to fourth in the rankings since last year, this popular garden feature achieved an overall score of 8.07. Having a bird bath is a great tool to brighten up your garden by attracting all types of birds, and the baths themselves can often have an elegant look.
5 – Outdoor Rugs and Outdoor Tiles, garden trend score of 7.8/10:
Two garden trends scored exactly the same in fifth place, and they are both items more associated with indoor styling than garden design. Outdoor tiles can give a patio area a more interesting look, whilst garden rugs can be used to furnish a bare floor area, just as they do indoors.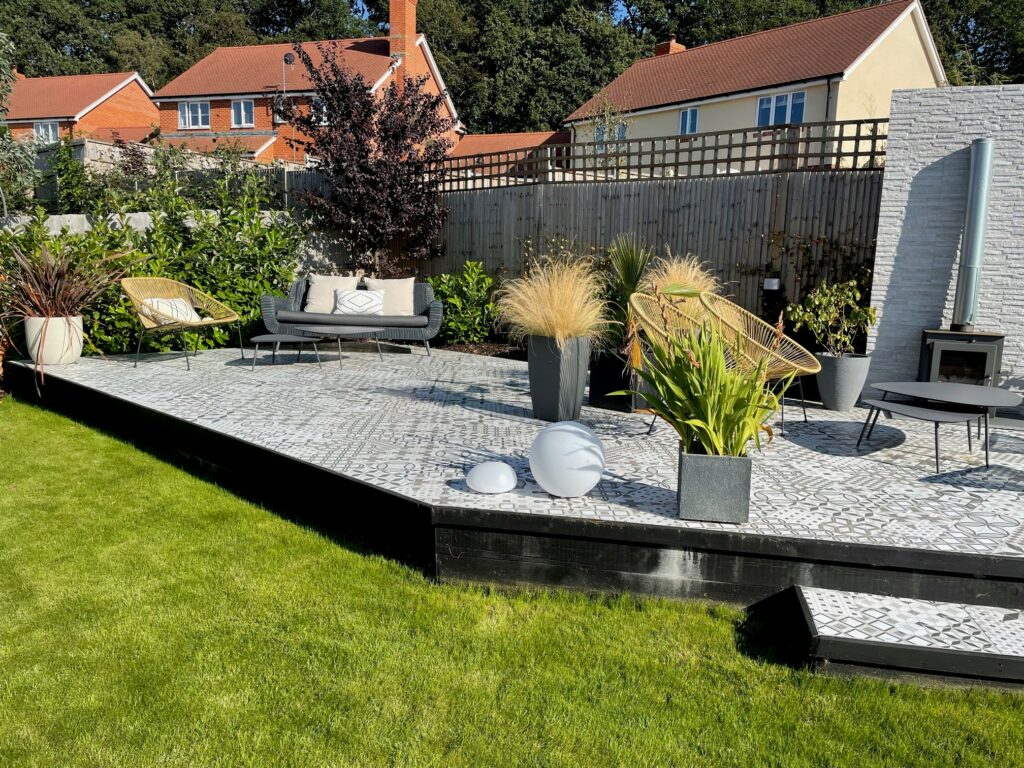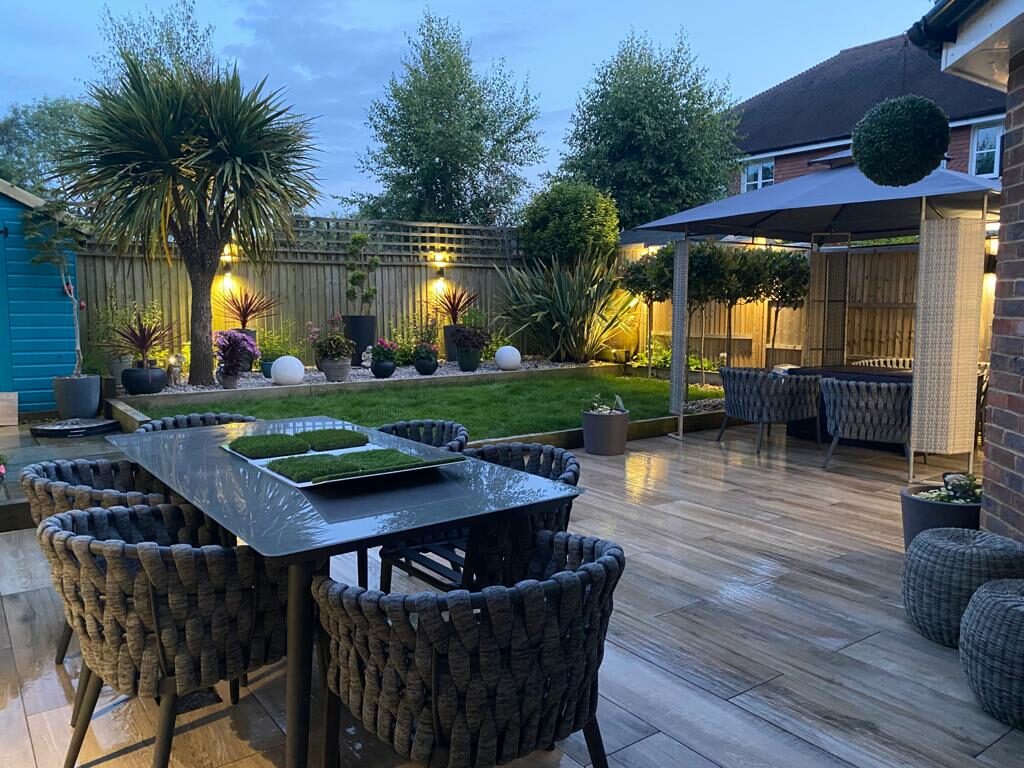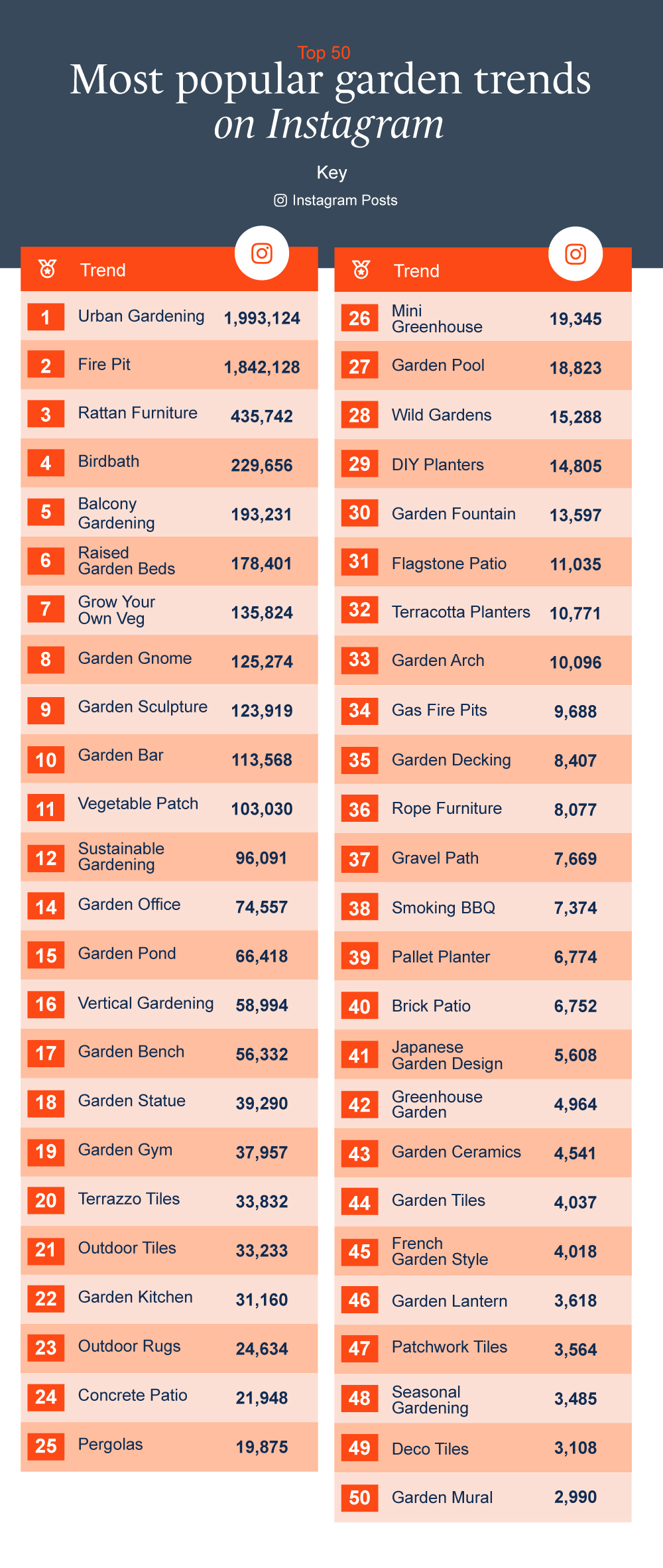 Most popular garden trends on Instagram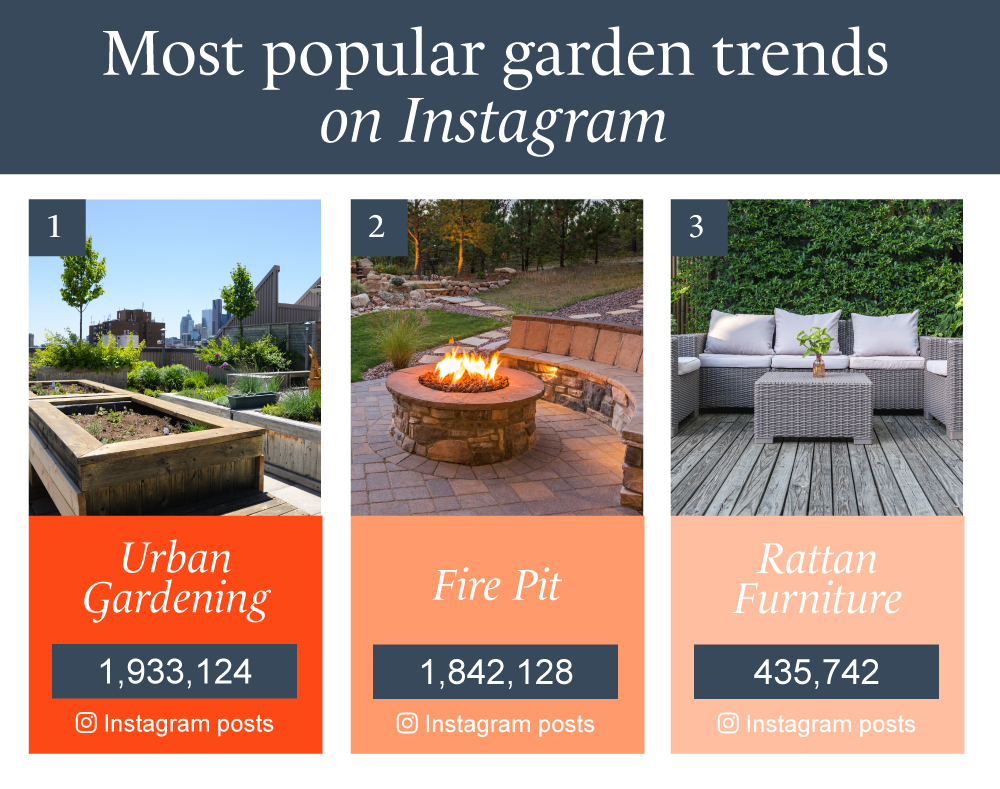 1 – Urban Gardening, 1,933,124 Instagram posts:
Urban gardening was the most popular garden trend on Instagram, as there are over 1.93 million posts depicting urban gardens and gardening efforts.
2 – Fire Pit, 1,842,128 Instagram posts:
Although the demand for fire pits wasn't as astronomical as in 2020 and 2021, the outdoor heating device is still the second most Instagrammed garden trend. There were over 1.84 million posts featuring fire pits.
3 – Rattan Furniture, 435,742 Instagram posts:
The third most popular garden trend on Instagram has nowhere near the number of posts that the two ahead of it do, however, there are still over 435,000 posts about rattan furniture. Rattan vines are woven together to create this light, comfy, and stylish garden furniture.
Most popular garden trends on TikTok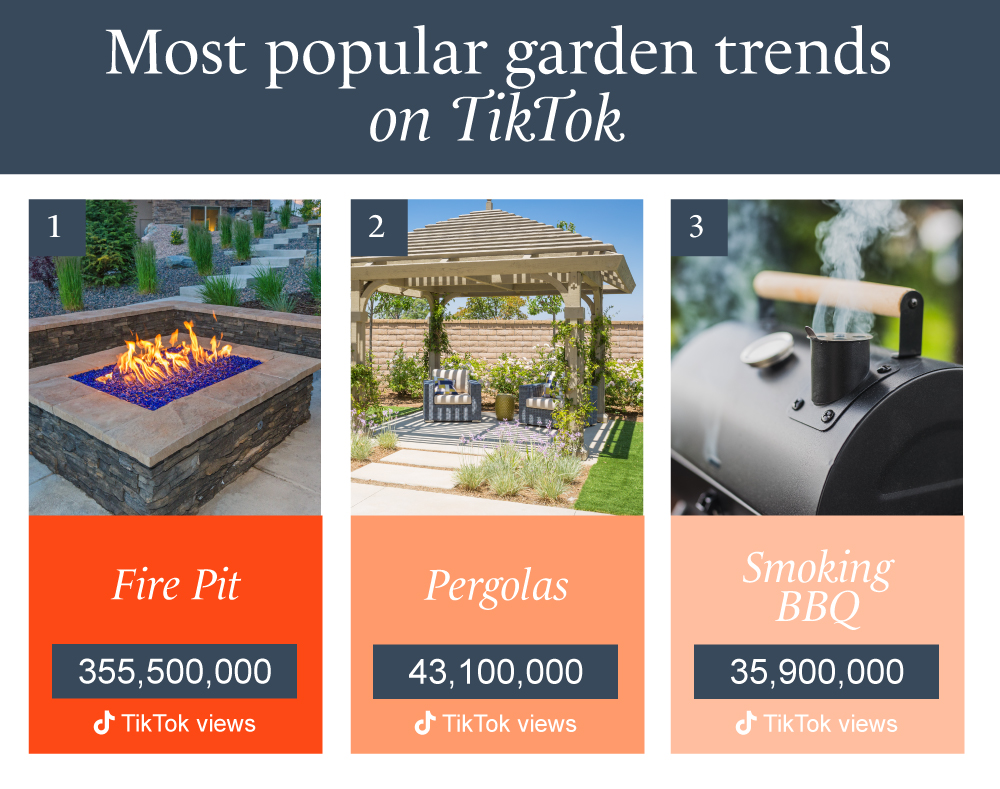 1 – Fire Pit, 355,500,000 TikTok views:
Fire Pits are by far the most viewed garden trend on TikTok, videos featuring the pits have been viewed an incredible 355.5 million times. This means that fire pits have had over 300 million more views than the next most popular trend on the social media platform.
2 – Pergolas, 43,100,000 TikTok views:
Pergolas are the second most viewed trend on TikTok, there have been 43.1 million views of videos containing pergolas to date.
3 – Smoking BBQ, 35,900,000 TikTok views:
A smokey barbecue (BBQ) can provide great viewing entertainment, not only the delicious food it produces but also the fiery theatrics of the food being cooked. Consequently, videos of smoking BBQs have been viewed 35.9 million times.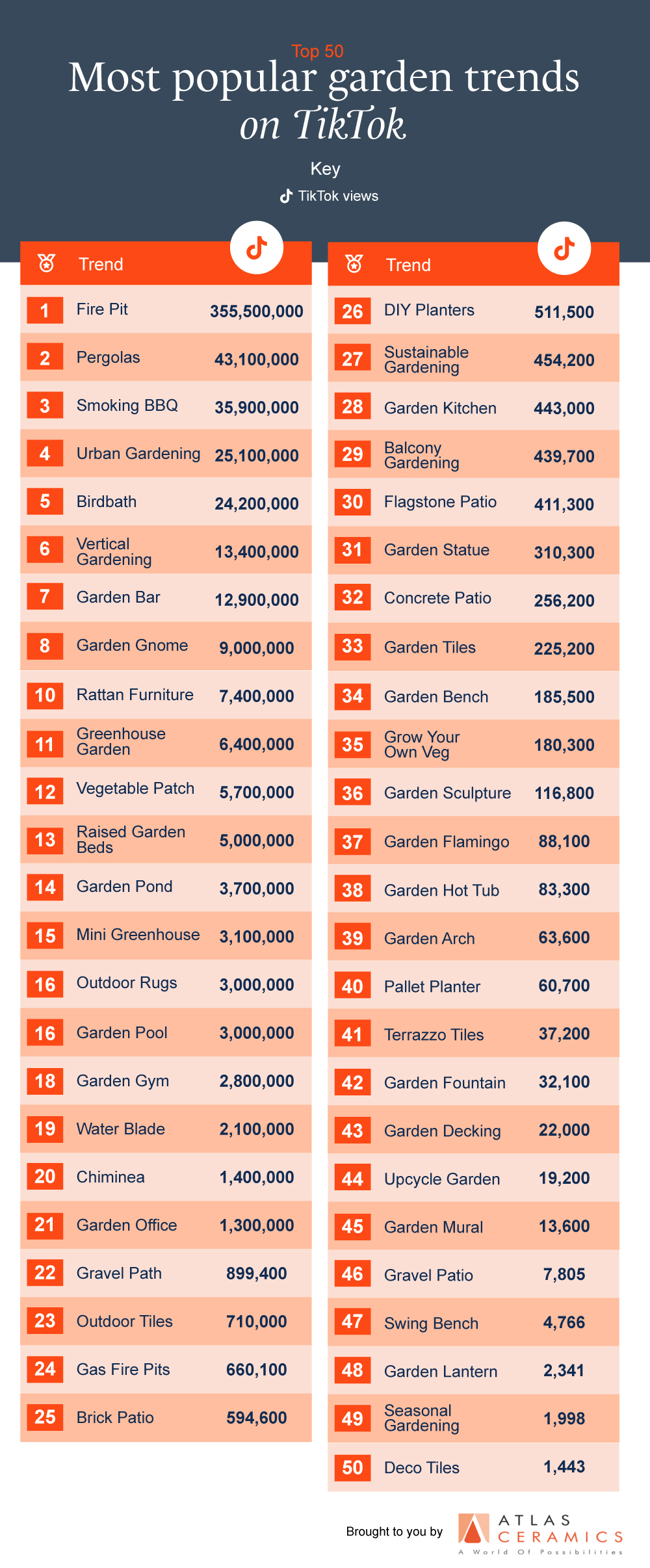 Methodology
A list of garden trends was compiled from last year's list of trends, additionally, new popular trends were sourced from articles such as https://www.housebeautiful.com/uk/garden/a38516814/garden-trends/.
We used Google Keyword Planner to analyse the global searches for each trend for the past 24 months. We then calculated the difference between each year's search total to see which trends were increasing or decreasing in popularity.
The number of Instagram posts was found by searching the number of hashtag posts for each garden trend using Keyword Tool.
The number of TikTok views was found by searching the hashtag for each garden trend.
Each garden trend was given a normalised score out of ten for each factor before an average of these scores was taken.