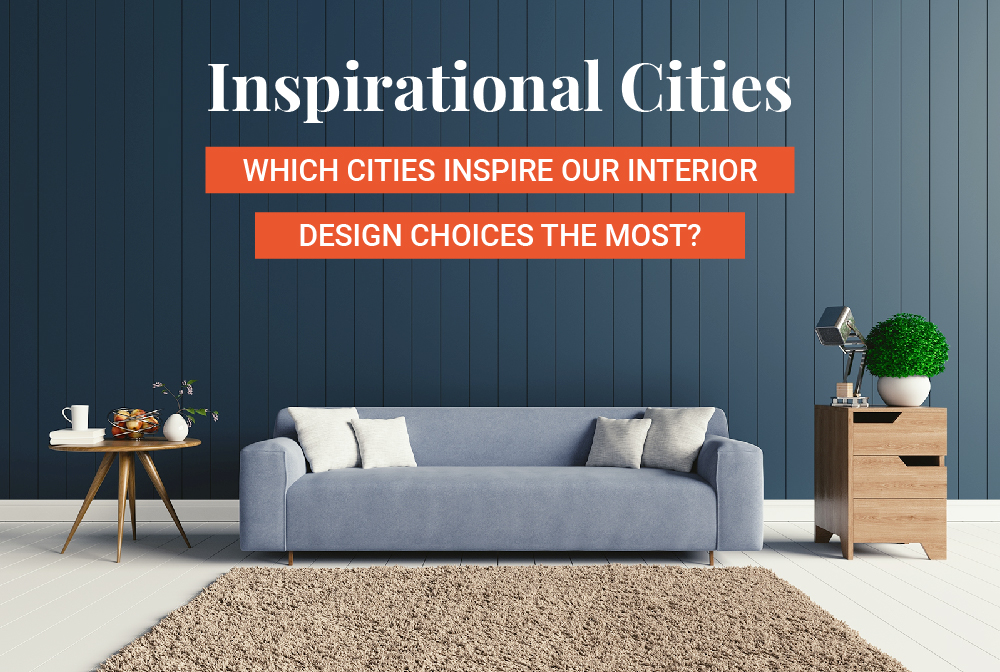 Which cities inspire our interior design choices the most?
Each city and country has its own unique style of interior design, from Parisian decor to Moroccan tiles to Greek stone, these locations all influence our design choices. Thanks to social media and the world opening up again to travel after the pandemic, these interior influences have become more popular than ever.
Using Google search data as well as Pinterest, Instagram and TikTok we want to find out which city gives us the most interior inspiration and which influence key aspects of our design choices.
The Most Inspirational Cities for Interior Design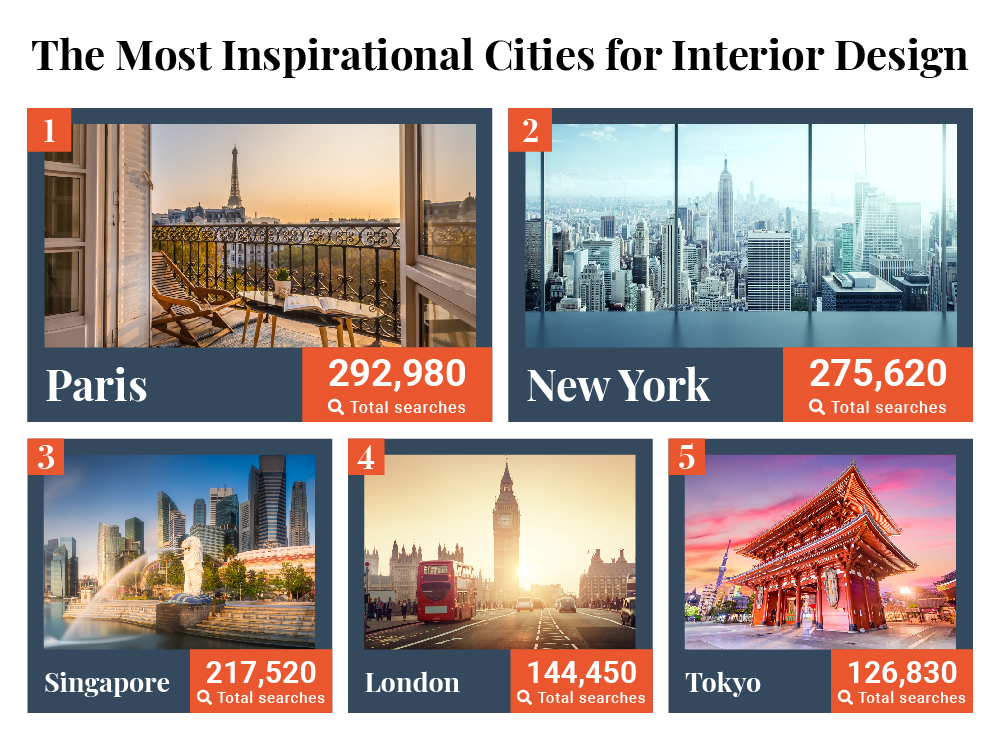 Paris: 292,980 Total Searches
Ranking at the top of our list is Paris. A key feature of the Parisian style of interior decor is the subtle blending of different decor ideas and furnishings to create a timeless feel within a space. Antique decorative pieces and vintage furniture upholstered with velvet or brocade set against subdued colours like off-whites or greys define this eclectic style of interior decoration.
New York: 275,620 Total Searches
This city is famous for its lofts, factories and warehouses converted into living spaces. These interiors are minimally decorated and incorporate industrial elements into their design including exposed pipes and brickwork. They can also feature an open-plan floor design and floor-to-ceiling windows.    
Singapore: 217,520 Total Searches
The tropical climate has a heavy influence on this style of interior design. It features bright colour palettes and tropical patterns for a maximalist aesthetic. The style is also influenced by other cultures too, combining Chinese elements inspired by nature with bright Indian inspired earth tones.
London: 144,450 Total Searches
The British approach to interior design is centred on contrast. It mixes a broad range of more traditional decor ideas with innovative contemporary materials, to create spaces with cosy charm and character. Antique furnishings are a key feature of this style,
Tokyo: 126,830 Total Searches
This city has an eclectic range of styles, featuring minimalist, colourful and more traditional elements. More traditional interiors include floral decorations of cherry blossoms and bamboo. Short-legged tables and floor mats are also common features of this style.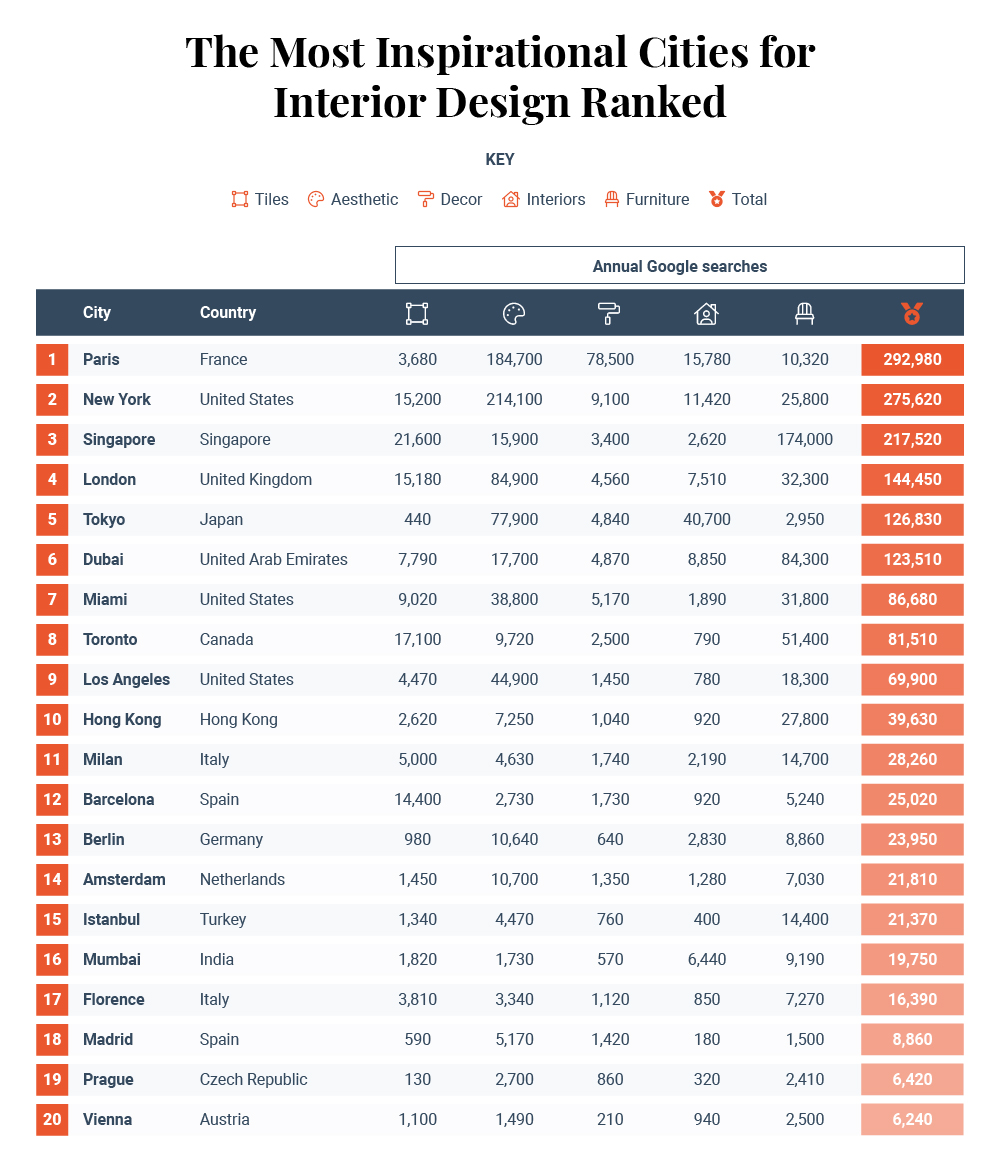 Most Searched City for Aesthetic: New York 214,100 Searches

The city that never sleeps tops our list for this category. This cultural epicentre is defined by its dynamism, diversity and creativity and its character has been celebrated by generations of artists and designers. As a result, the aesthetics of this constantly evolving city are popular amongst those looking to keep up with the most cutting-edge trends.
Most Searched City for Interiors: Tokyo 40,700 Searches
This city came in first for interior searches. Traditional Interiors in Tokyo are characterised by their minimalism. This could explain the city's popularity for this category, as minimalist interior design has been one of the most popular design trends over recent years. Added to this, Tokyo is on the cutting edge as a cultural centre of art and design, so people may look to it as a source of more contemporary inspiration.   
Most Searched City for Decor: Paris 78,500 Searches

The most inspirational city overall also ranks at the top of the list for decor. This style is popular for its evergreen nature. This is achieved by mixing old and new elements, a modern boucle sofa with a vintage coffee table for example.
Most Searched City for Tiles: Singapore 21,600

The reason this city ranked so highly for tiles could be the Peranakan tiles popular in this region. These colourful tiles are intricately designed with geometric or floral patterns. In recent years, these decorative tiles have become a symbol of wealth and status in Singapore, increasing their demand.
Most Searched City for Furniture: Singapore 174,000 Searches

This city has attracted a thriving community of artists and designers thanks to government assistance to build a local art and architecture scene. These designers and furniture makers have created a flourishing high-end market for highly original pieces. This could be the reason the furniture created and designed in this city is so sought after.
The Most Inspirational Cities on Pinterest for Interior Design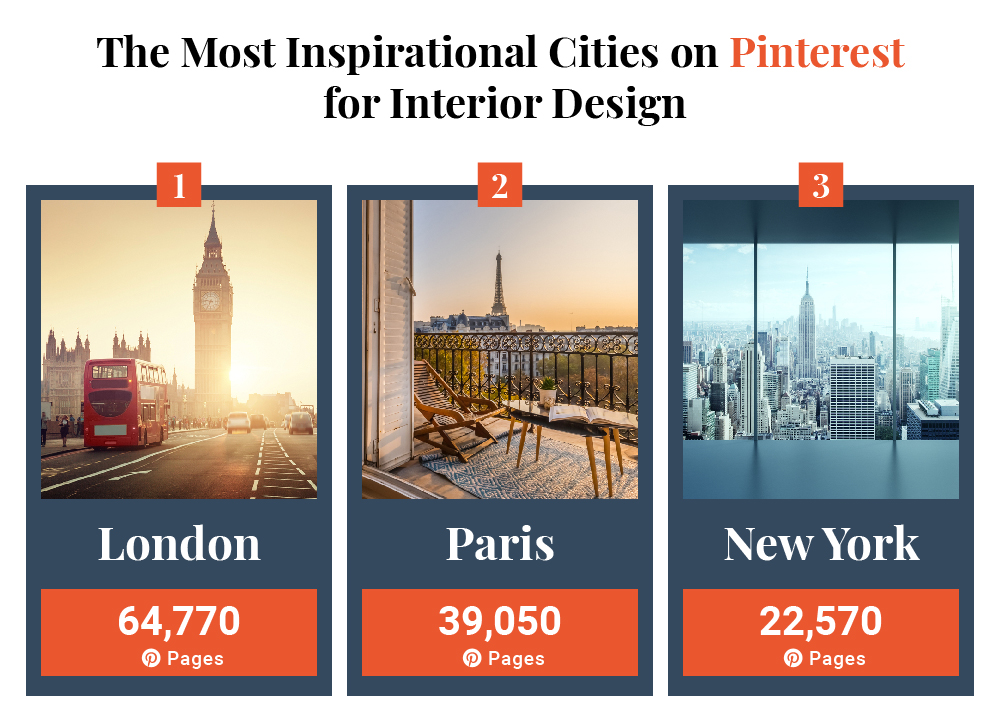 London: 64,770 Pages
This city has long been viewed as one of the epicentres of interior design ranking highest in Pinterest pages for design as well as highest overall. It has a rich history of exploration and international travel which have brought a diverse array of cultural influences to its design style.
Paris: ​​39,050 Pages
This modern, minimalist and contemporary style ranks second for the number of Pinterest pages 25,000 pages behind London. Characterised by structural elements such as herringbone hardwood floors and wall moulding Paris decor tops the list for decor pages, despite ranking second overall.
New York: 22,570 Pages
New York proves to be the third most popular city for interior design inspiration. The city's style of interior design is characterised by industrial features which celebrate the structure of the space, such as bare brick walls and exposed concrete.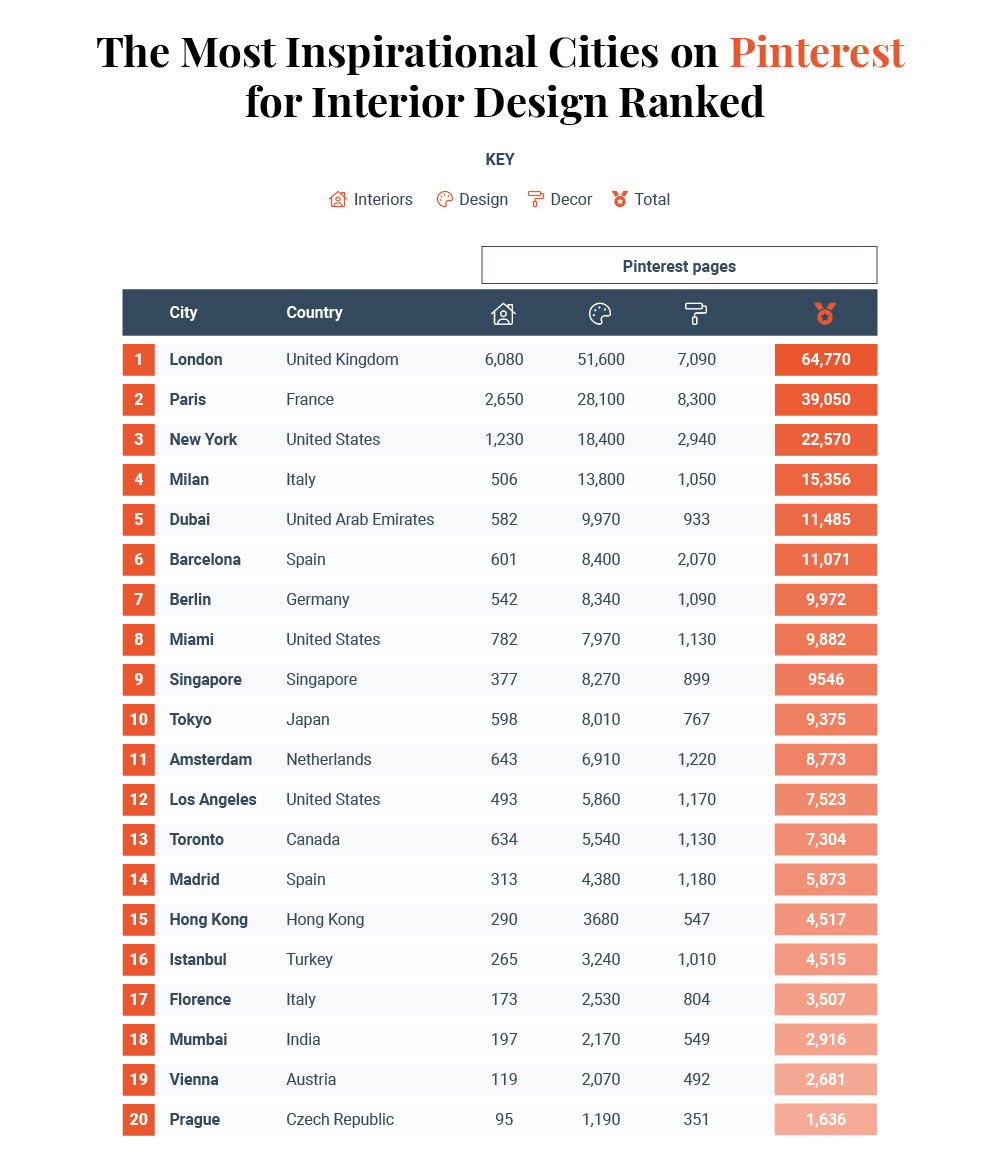 The Most Inspirational Cities on Instagram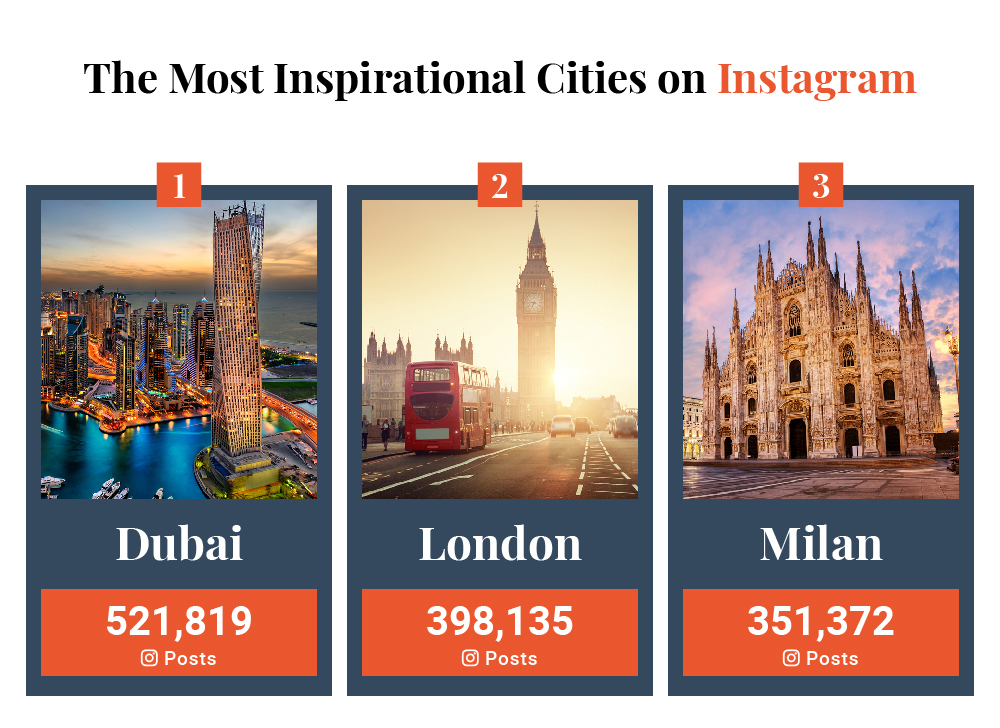 Dubai: 521,819 Posts
This design capital of the United Arab Emirates is a hub of creative interior design, attracting professional interior designers and design students from all over the globe. It ranks highest for both interiors and design posts but misses out on the top spot for decor.
London: 398,135 Posts
Influenced by an appreciation for its cultural heritage without being defined by it characterises this city's approach to interior design. London ranks consistently in the top five for each category including second for interiors. It also draws inspiration from traditional craftsmanship without compromising on innovation. This leads to a creative and eclectic style providing a wellspring of inspiration for interior designs.
Milan: 351,372 Posts
Milan has long been recognised as a city of innovative design. From textiles to furniture it has produced some of the world's most pioneering interior designers. As a result, it has become a port-of-call for those seeking stylish products for the home. Taking the top spot for design posts Milan lags behind in decor and interior posts.  
The Most Inspirational Cities on TikTok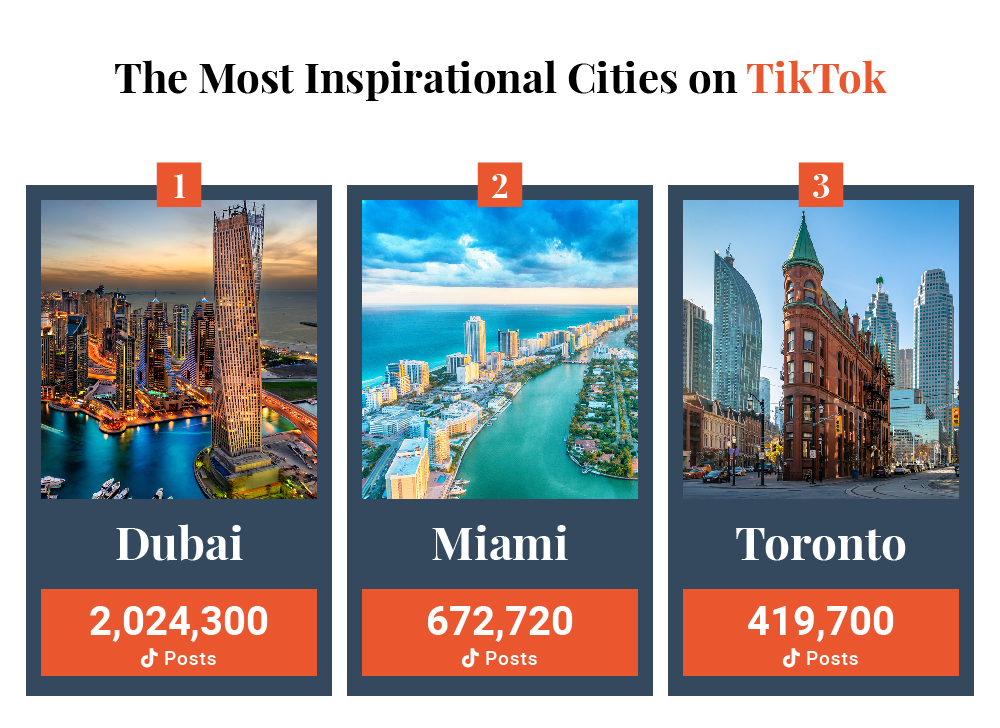 Dubai: 2,024,300 Posts
This melting pot of cultural design influences takes the top spot for TikTok posts. Its constantly evolving design style combines the futuristic vision of designers from all over the world with traditional cultural and design elements to create a cohesive aesthetic.
Miami: 672,720 Posts
With deep roots in Art Deco, this city's style is influenced by its cultural diversity, particularly Cuban style to create a unique decor aesthetic incorporating playful jewel tones and bold prints. The warm weather also influences this style with interior designs bringing the outside in by making use of natural light.
Toronto: 419,700
Toronto is one of the most culturally diverse cities in the world with a rich history of design that attracts interior designers from all over the globe to create and innovate interior spaces. This has led to the city becoming a key North American hub of design, taking third place in our ranking.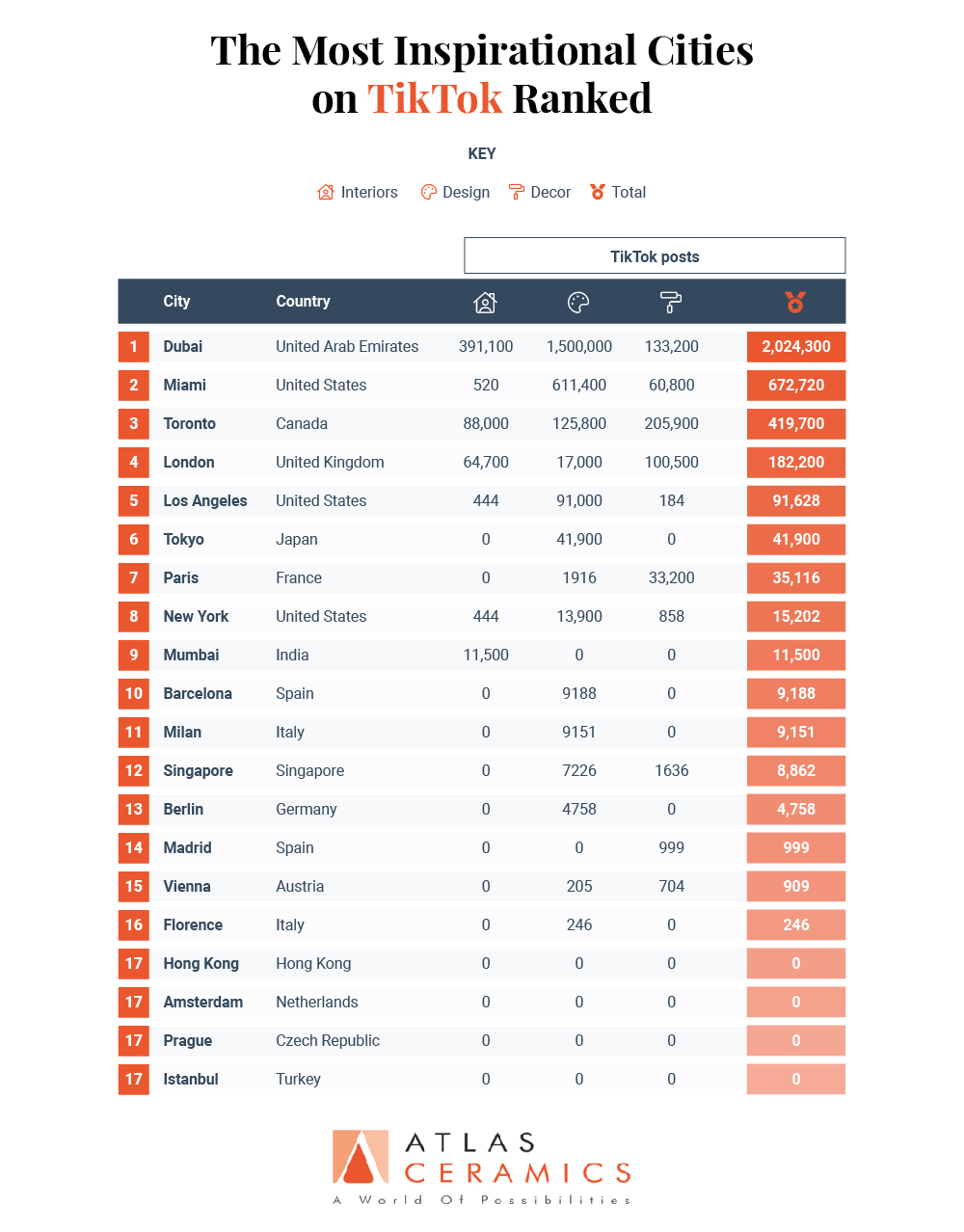 Methodology
Beginning with a list of cities, these were paired with terms relating to key aspects of interior design to create a list of search terms, for example: "Paris aesthetic" and "Barcelona tiles".
The global search volumes over the last year (November 2020 to October 2021) for each category and country were found using Google Ads Keyword Planner and ranked according to search volumes in the individual categories and total search volume.
Pinterest data (correct as of 1st of December) was gathered by searching for the number of Pinterest pages featuring the search terms [City] interiors, [City] aesthetic and [City] design in the titles of posts.
Instagram and TikTok data (correct as of 1st of December) were collected by searching for posts with the hashtags #[city]interiors, #[city]aesthetic and #[city]design.
This data was then ranked according to the total number of posts containing these search terms.