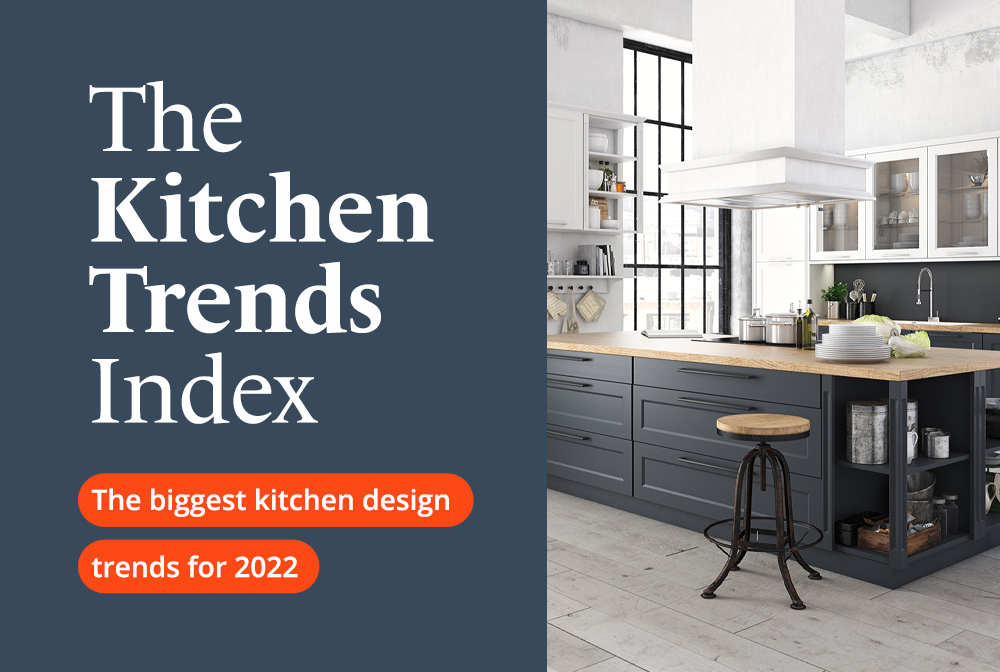 The biggest kitchen design trends for 2022
By exploring the most popular trends on Instagram and TikTok along with global Google search data, here at Atlas Ceramics we have uncovered the most talked about kitchen trends you should know about – including everything from outdoor kitchens and smart appliances to kitchen zoning and modern kitchen floor tiling.
By analysing the number of hashtags on Instagram, the number of views on TikTok, and the volume of annual searches on Google, we have calculated a score for 50 kitchen trends, to reveal the biggest trends of 2022.
The biggest kitchen trends of 2022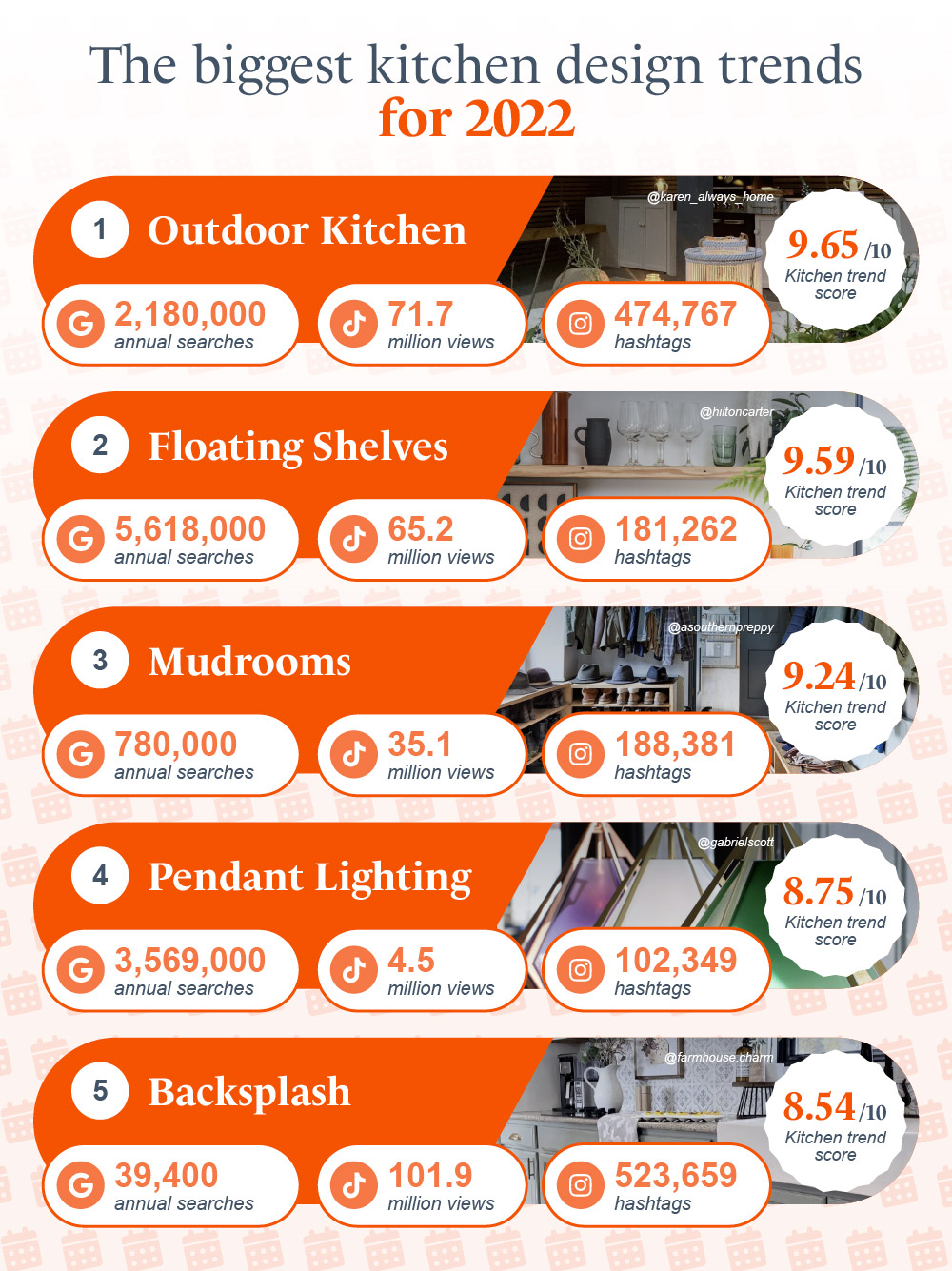 Outdoor Kitchen
Google – 2,180,000 annual searches
TikTok – 71.7 million views
Instagram – 474,767 hashtags
Kitchen Trend Score – 9.65
According to Forbes, outdoor kitchens are seeing strong design trends for modern homes, with outdoor kitchens topping the American Institute of Architects' project trends list. This is largely due to more outdoor enhancements than ever before. With the increase in smart kitchen appliances, making functional outdoor kitchens is much more possible. Such smart appliances include ambient LED lighting, weather-resistant TVs, and Wi-Fi-enabled BBQs, grills, smokers, and heating.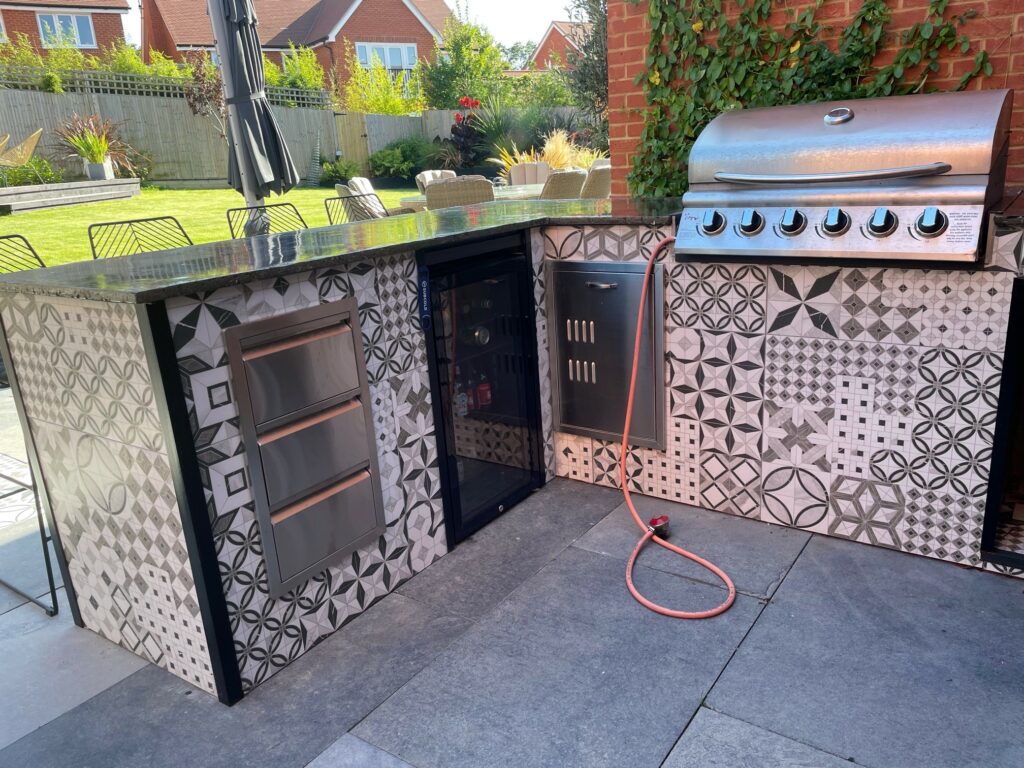 Floating Shelves
Google – 5,618,000 annual searches
TikTok – 65.2 million views
Instagram – 181,262 hashtags
Kitchen Trend Score – 9.59
Floating shelves are strong shelves with no visible supports. Usually only made from two parts they are easy to assemble and inexpensive. These shelves are lovely to look at and are a great way to display family photos or decorative pieces, or they can be used as functional storage for kitchen appliances. Across the last year, floating shelves received the most searches on Google, reaching a whopping 5.6 million since last February.
Mudrooms
Google – 780,000 annual searches
TikTok – 35.1 million views
Instagram – 188,381 hashtags
Kitchen Trend Score – 9.24
Mudrooms are those rooms where you can remove muddy footwear and shrug off wet jackets after a long walk in tough weather, before moving into the pristine rooms in your home, including your treasured kitchen. These rooms also function as storage for coats, pet leashes and wellies. With almost 190,000 hashtags on Instagram, mudrooms are our third biggest trend for 2022.
Pendant Lighting
Google – 3,569,000 annual searches
TikTok – 4.5 million views
Instagram – 102,349 hashtags
Kitchen Trend Score – 8.75
Pendant lighting, also known as hanging lighting, is where lighting fixtures hang from the ceiling and are suspended in the space within your kitchen. Pendant lights are some of the most sought-after lighting designs in modern kitchens, with over 3.5 million searches on Google. Hanging pendant lights from your kitchen ceiling immediately adds ambience and style to your kitchen.
Backsplash
Google – 39,400 annual searches
TikTok – 101.9 million views
Instagram – 523,659 hashtags
Kitchen Trend Score – 8.54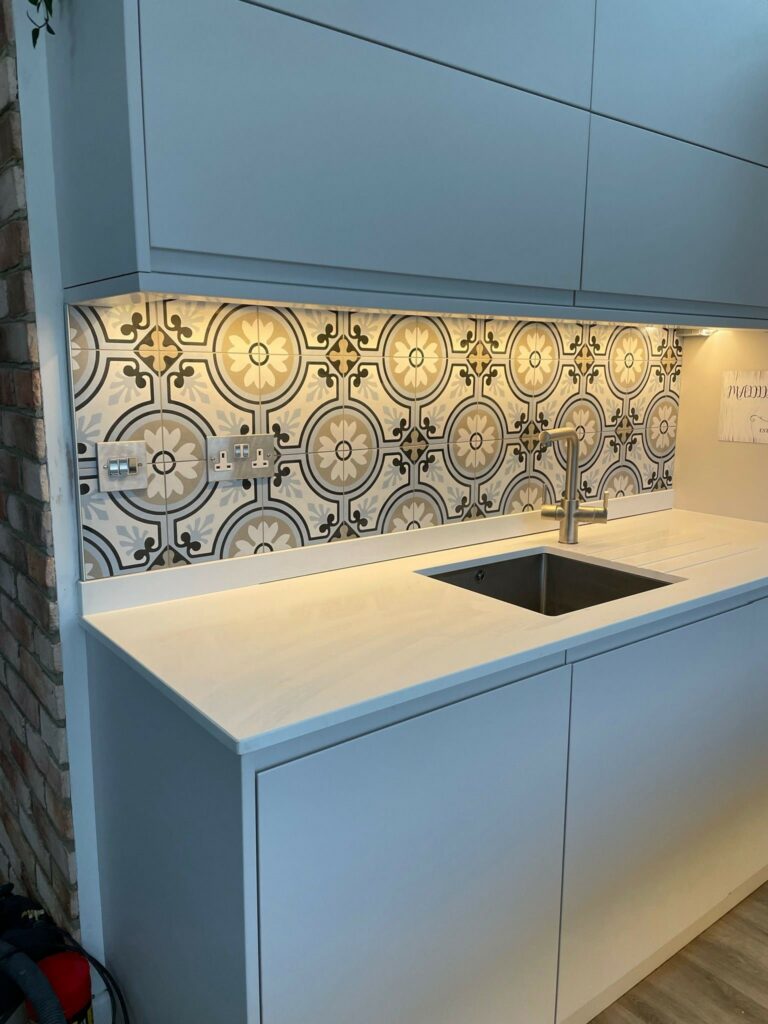 Tiling a backsplash is nothing new, but it is still a popular choice when it comes to kitchen design. Deciding what to fill the spare spaces on your kitchen wall with is important, and there is a huge range of options to choose from, including mosaic patterns and matt finishes. Backsplash tiles bring texture and character to any kitchen and complete our top five kitchen trends of 2022.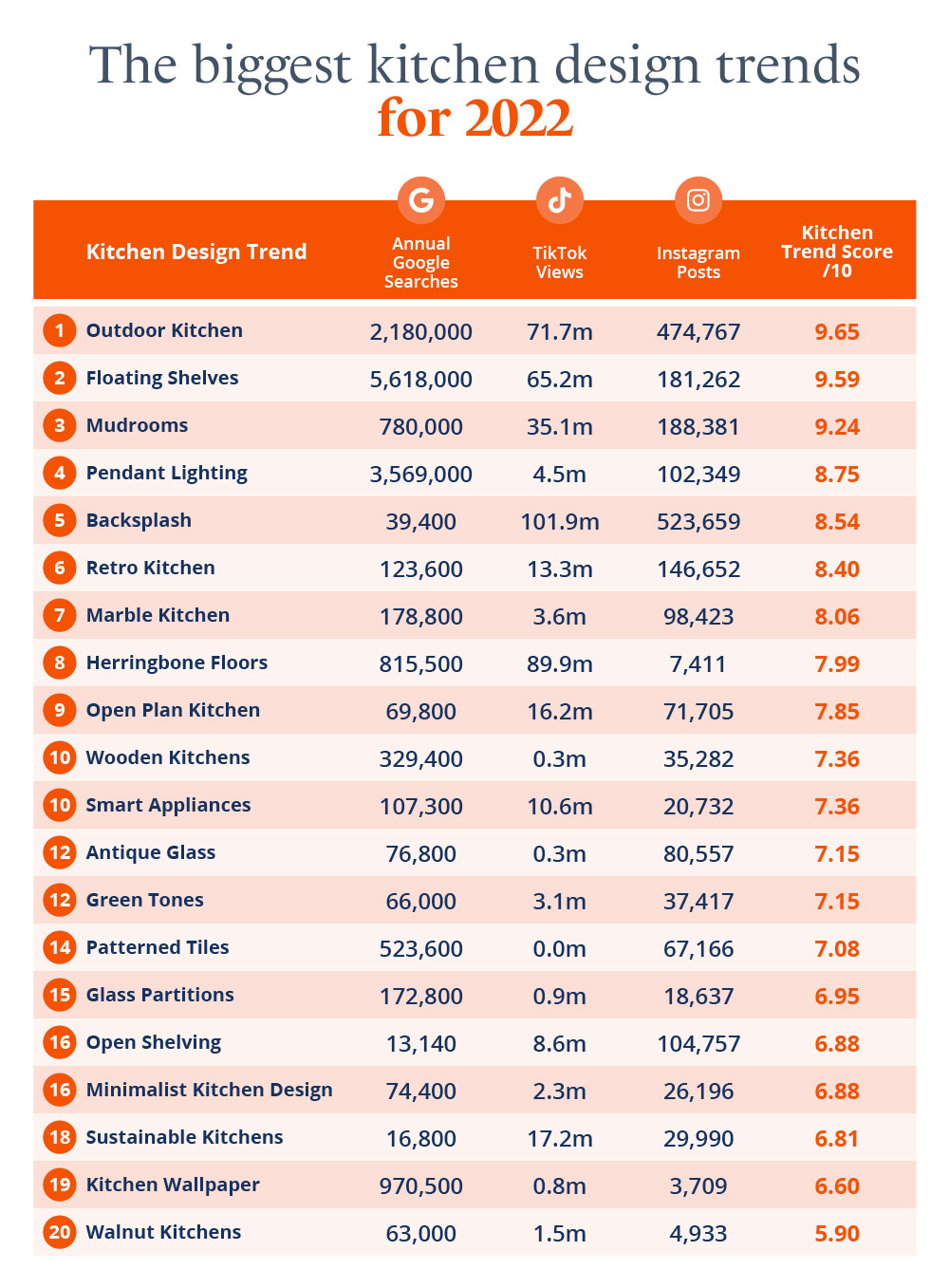 The hottest kitchen trends on Google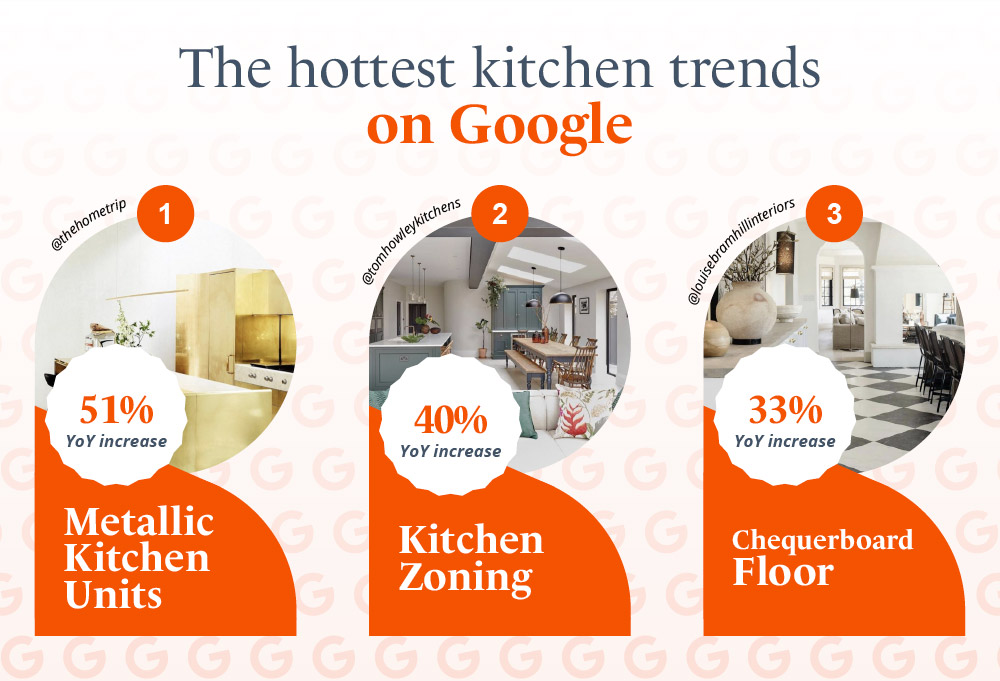 The following trends are those that have demonstrated the greatest year on year (YoY) increase in Google searches over recent years.
Metallic Kitchen Units – 51% YoY increase
Metallic kitchen units are becoming an increasingly popular design trend this year, seeing a massive 51% increase in searches each year. Metallic units offer unique designs especially as they complement other design choices, such as veined marble, gold finishes, and dark blue tones. Using contrasting materials for different countertops and units naturally creates aesthetic zoning within a kitchen.
 Kitchen Zoning – 40% YoY increase
Kitchen zoning saw a 40% year of year increase in searches and is set to replace open-plan kitchens. Also known as broken-plan, kitchen zoning maintains the spacious look of an open plan design but with zones that define the activity in each part of the kitchen, for example cooking, relaxing, and entertaining. There are many layout principles for kitchen zoning, and your zoning layout will be unique to your kitchen.
 Chequerboard Floor – 33% YoY increase
Completing our top three hottest design trends are chequerboard floors with a 33% increase in searches year on year. Chequerboard flooring is as timeless as it is worldwide, with examples as far as Ancient Egyptian temples. Such floors come in a vast manner of materials, sizes, and colours, meaning what they add to your kitchen design varies enormously and you have a lot to choose to personalise your flooring. A popular choice for this effect would be the damask Black and White series
The biggest kitchen colours of 2022
Not looking to completely change your kitchen, but still wanting to spice things up? Repainting or redecorating your kitchen space is a simple and budget-friendly way to rejuvenate your home. So, what colours are the most in season right now?
White
Google – 132,500 annual searches
TikTok – 70.2 million views
Instagram – 712,594 hashtags
Kitchen Trend Score – 9.05
White is by far the biggest kitchen colour of 2022, with the highest views on TikTok and the most hashtags on Instagram of all our kitchen colours. White is probably one of the more versatile kitchen colours, suitable for anything from classic and modern kitchen designs. White also brings out the best in other design trends, such as dynamic backsplash tiles, flooring choices, accents, and metal finishes.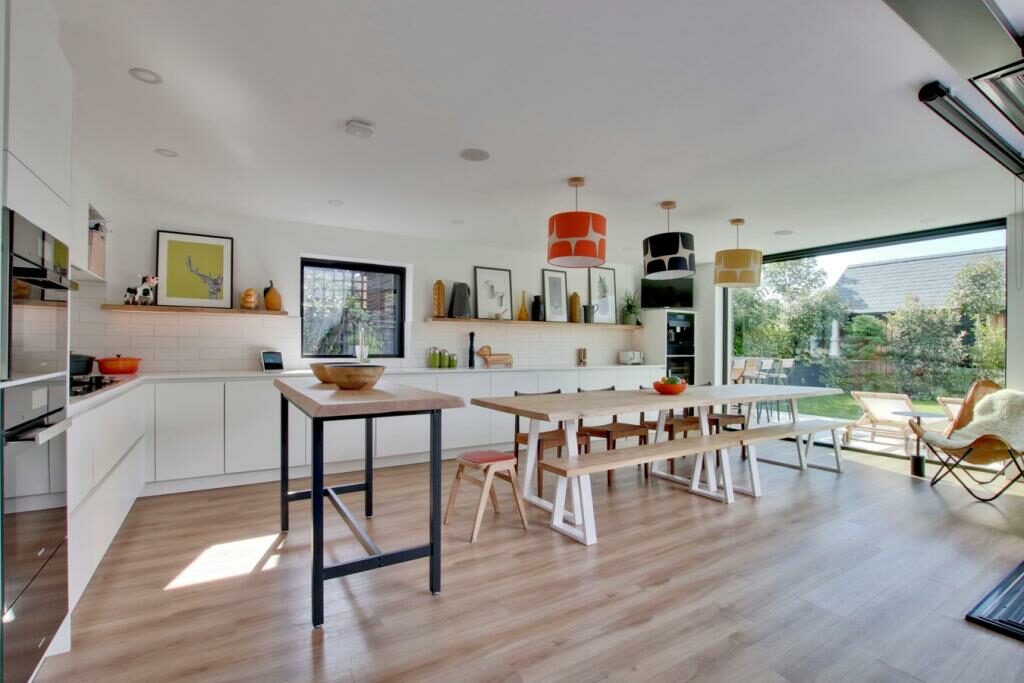 Grey
Google – 165,800 annual searches
TikTok – 4.4 million views
Instagram – 148,393 hashtags
Kitchen Trend Score – 6.67
Similar to white, grey kitchens are neutral enough to complement many other colour palettes and kitchen designs. Grey lends well to modern interiors and darker tones can be used effectively to punctuate kitchen units and zones. Lighter greys go best with lighter colours, such as white, pink, and green, whereas darker greys pair better with brighter hues, including gold, deep blue, and pink.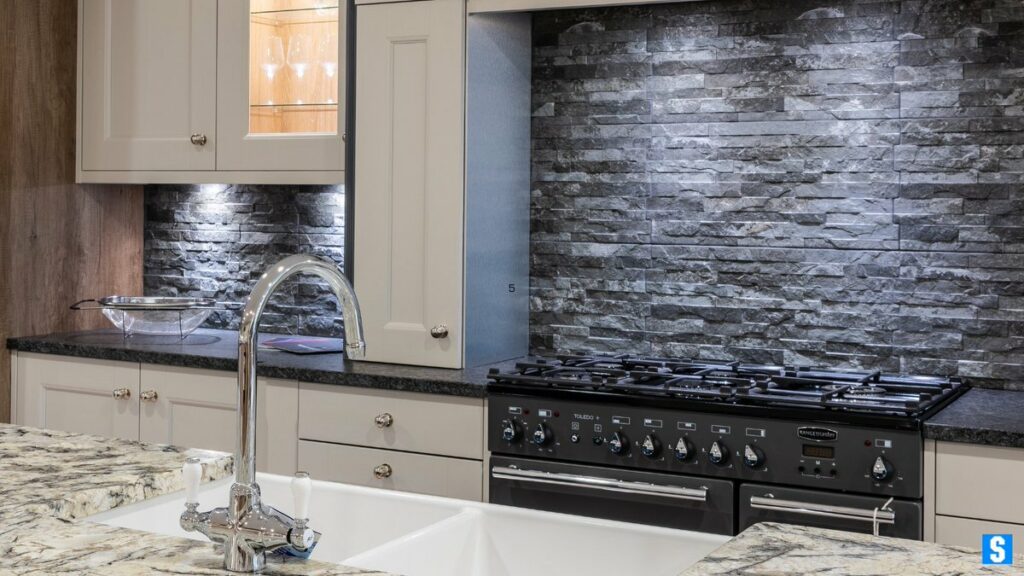 Green Kitchen
Google – 123,100 annual searches
TikTok – 50.5 million views
Instagram – 94,700 hashtags
Kitchen Trend Score – 6.66
Completing our three most popular colours right now is green, with a kitchen trend score of 6.66. Green kitchens have shown a massive year-on-year increase in searches of 309%. No other kitchen colour has shown such a large positive increase in searches compared with green, suggesting that green is quickly increasing in popularity. Often associated with nature and safety, green may be the biggest kitchen colour by the end of 2022, however, white still holds the crown right now.
The most popular kitchen styles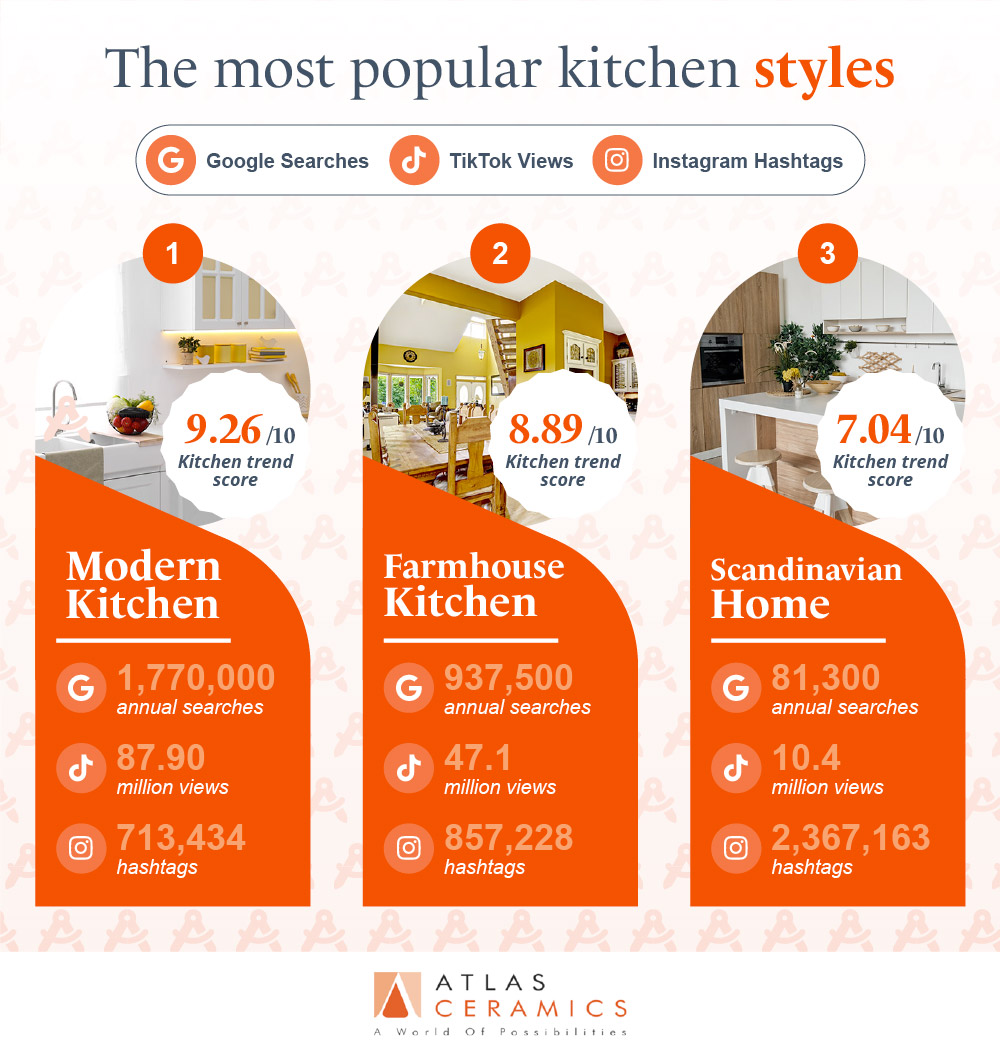 For those of you looking to completely change up your kitchen space, switching up the style of your kitchen could be the best way to go. These are the biggest kitchen styles going into 2022.
Modern Kitchen
Google – 1,770,000 annual searches
TikTok – 87.90 million views
Instagram – 713,434 hashtags
Kitchen Trend Score – 9.26
Modern kitchens are our most popular kitchen designs right now, with a whopping 87 million views on TikTok and over 1.7 million annual searches on Google. Modern kitchen styles focus on clever, unfussy designs. Bare countertops, slick surfaces, and stainless steel are all staples of modern styles. Wood can also look ultra modern, especially when involved with handleless cabinets and functional storage. Modern kitchens look exceptionally nice in white and grey tones.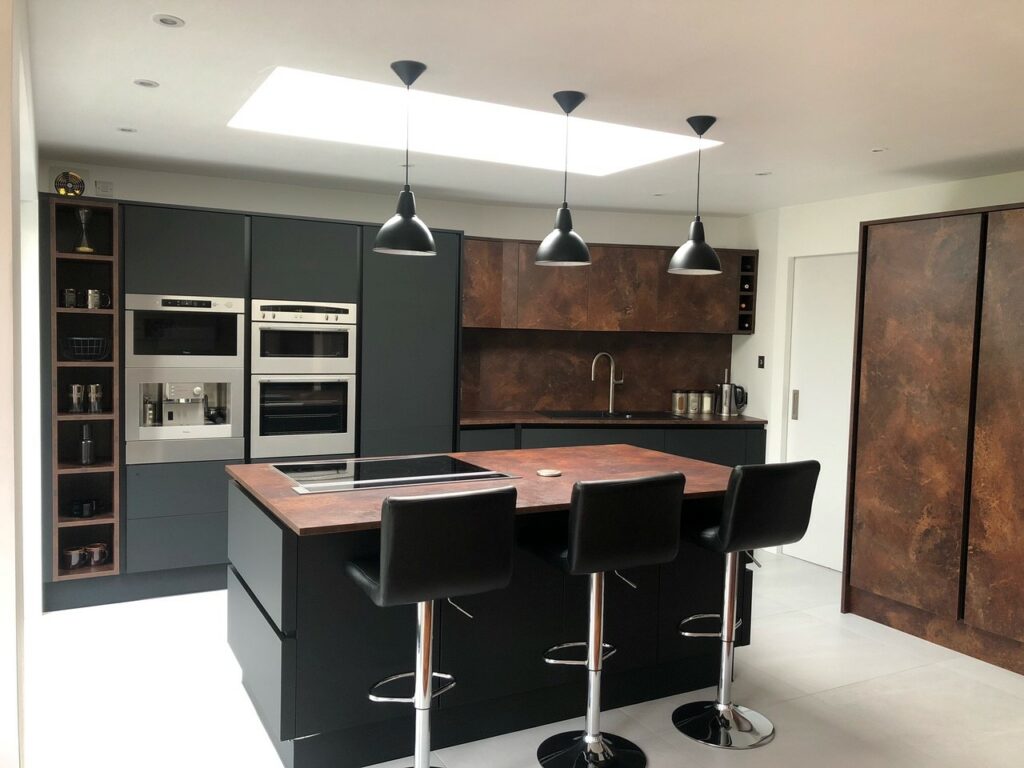 Farmhouse Kitchen
Google – 937,500 annual searches
TikTok – 47.1 million views
Instagram – 857,228 hashtags
Kitchen Trend Score – 8.89
Large chunky tables made from thick wood, rustic timber cabinetry, and freestanding furniture come together to make our runner up. Farmhouse kitchens focus on creating a lived-in effect for countryside farmhouses, combining modern appliances with traditional features. Farmhouse kitchens have impressive popularity across social media.
Scandinavian Home
Google – 81,300 annual searches
TikTok – 10.4  million views
Instagram – 2,367,163 hashtags
Kitchen Trend Score – 7.04
Scandinavian home style kitchens complete our top three kitchen styles and is by far the most popular style on Instagram, with a huge 2.3 million hashtags. Scandinavian kitchen designs favour crisp lines, organic shapes, and natural materials, to pull together a cozy-feel kitchen space that offers both practicality and functionality. Scandinavian can be compared with minimalist styles which opt for clean and simple designs.
Methodology
A list of 50 kitchen trends was created using listicles from the internet of 2022's expected kitchen trends. Instagram hashtags were taken directly from Instagram and TikTok views were taken as the number of views for the relevant trends hashtag on TikTok. Google search data was taken from Google Keywords Planner. Annual searches were calculated to show the total number of searches for each trend over the last year from February 2021 to January 2022.
Each trend was given a normalised score out of ten for each of the factors before an average was taken of all of the scores to create the final Kitchen Trend Score out of ten.