What Are The Best Tiles For Outdoors?
If you're looking to surface an outdoor space, tiles are an excellent choice. Not only are they hard-wearing and relatively low-maintenance, but they can also add sophistication to any patio area.
Choosing the best tile can be challenging for first-time buyers. With so many options to choose from, it's often hard not to become overwhelmed.
That's why we've detailed some of the best outdoor tile options available. At Atlas Ceramics, we stock a wide range of high-quality outdoor flooring, from classic porcelain tiles to beautiful natural stone. After reading this post, you should have an idea of the best tiling for your property.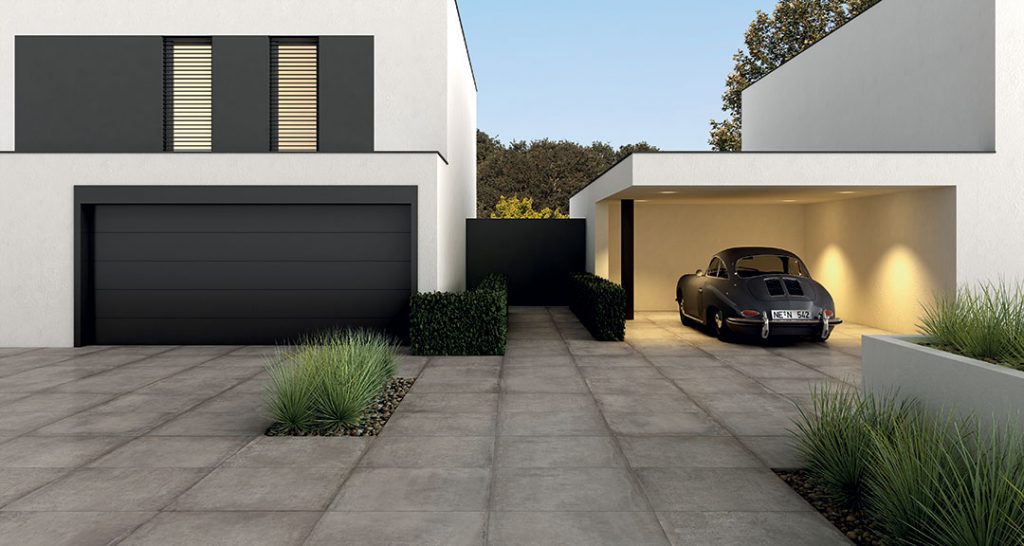 How Are Outdoor Tiles Different From Interior Tiles?
Exterior tiles differ from indoor tiles in that they are considerably more durable. Any outdoor tile needs to withstand impact from the elements, including direct sunlight and the weather experienced during harsh winters.
It is also essential that a patio tile is built to withstand heavy foot traffic. If you have visitors coming and going in varying styles of footwear, you'll need to invest in a long-lasting tile that's strong enough to deal with the impact.
The outdoor tile also differs in appearance from its indoor counterpart. As well as resembling the look of outdoor materials such as pavement and decking, the tile is also more textured and help to prevent slipping through friction.
What To Look For In Outdoor Tiles
Hardness
When searching for new tiles to use in outdoor living spaces, many homeowners become distracted by the colours and styles they want. However, choosing the right hardness is one of the most important factors to consider.
The hardness of ceramic and porcelain tiles is measured using a PEI rating, and the higher the rating, the more suited the tile is to heavy footfall. No one likes a tile that quickly turns faded and cracked with age, so selecting a tile that's hard-wearing means it will still look smooth months down the line.
Durability
It goes without saying that any outdoor tile needs to withstand the elements, but some tiles last longer than others – so it's important to do your research.
Porcelain tiles are considered one of the most durable types, as they are particularly resistant to cracks and scratches and heavy rainfall. This means they are suited to areas that experience harsh weather conditions.
A key benefit of long-lasting tiles is that they can often be more cost-effective, as their sturdiness reduces the need for repair or replacement. They also require less maintenance due to their ability to resist damage.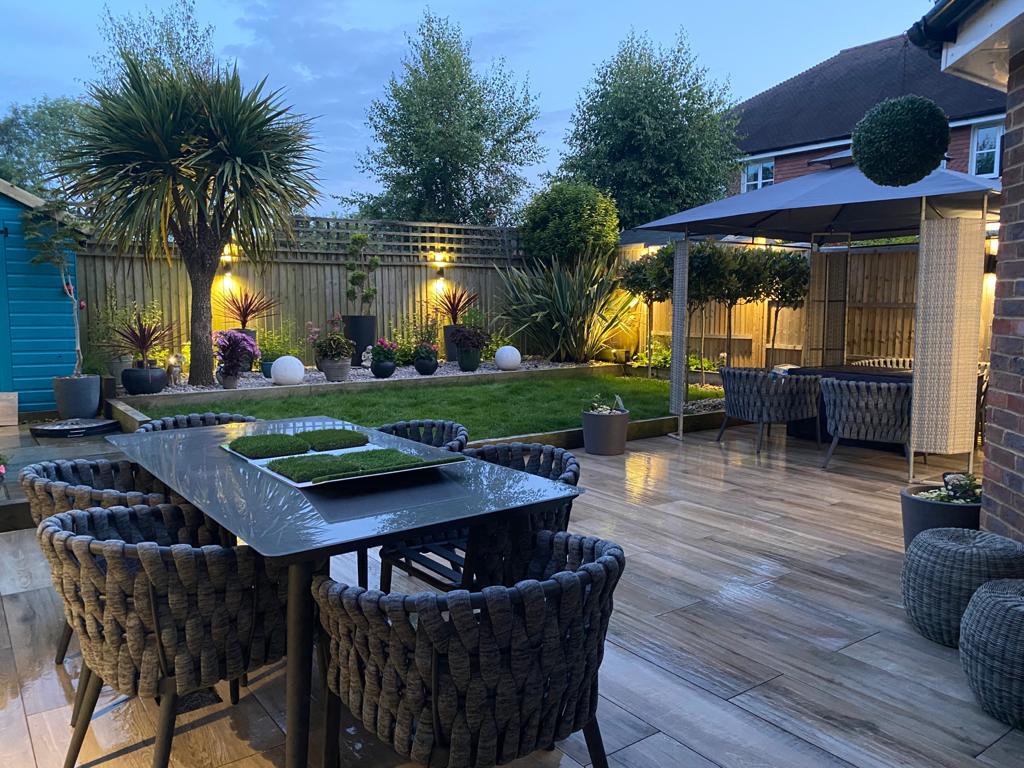 Slip-resistance
Due to their exposure to rainfall, outdoor floor tiles can pose a risk of slipping. As slip resistance is the most essential safety factor to consider when installing floor tiles, choosing flooring will greatly reduce the chance of accidents.
Slip-resistant options such as quarry tiles are ideal for outdoor areas that experience frequent wetting, as well as for where there is a slope or change in surface texture. The unevenness of the tile surface and any wear or tear can affect slip performance, so it is recommended that you consider these factors when selecting your tile.
There are also treatments available which can change the surface of your tile on microscopic level to create a much grippier texture
Frost resistant
If you live in an area subject to harsh weather conditions, you may want to consider investing in a tile that can withstand freezing temperatures.
Frost-resistant tiles are one of the best outdoor tile options, as their sealed texture means they do not absorb water or spillages. This means that, even in the coldest conditions, the tile will never crack.
Choosing a tile that's frost-resistant comes with many benefits, including infrequent maintenance and increased durability. Installing a sturdy outdoor tile in your patio area means you can have peace of mind knowing your tile is built to last.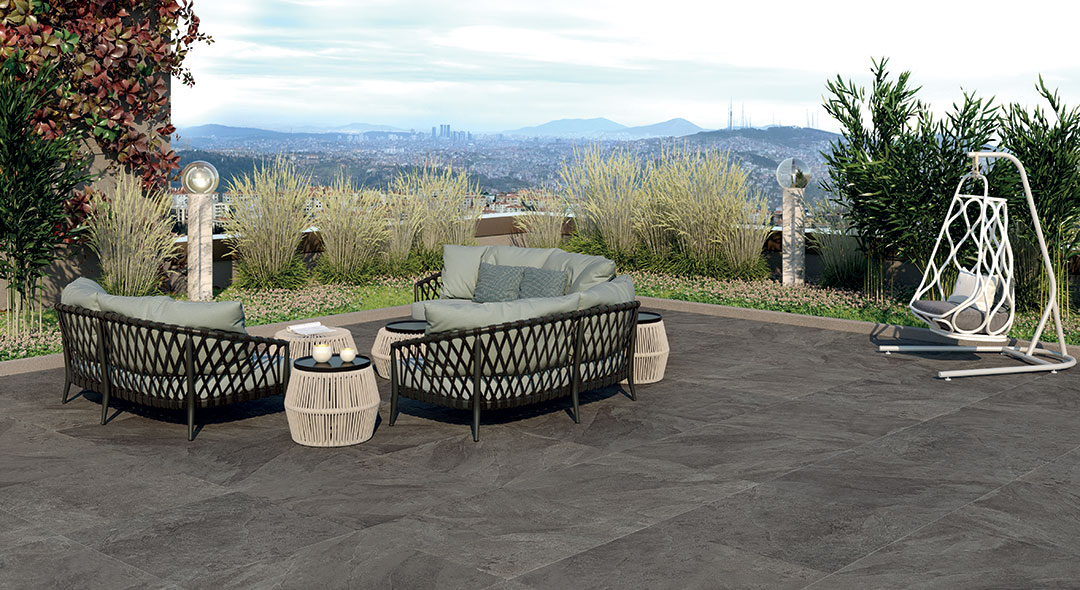 Stain-proof
No one likes a tile with an unpleasant discoloured appearance, so you should choose to avoid purchasing any tile that can stain easily. Some of the best tiles for outdoor use feature a densely textured surface, preventing both dirt and liquid from affecting their overall appearance.
Stain-proof tiles are suited to outdoor spaces where impact from dirt is likely and in areas that may experience frequent spillages. Tiles with sleek glazed finishes have a strong stain-resistant performance, including both ceramic and porcelain tiles that require little maintenance.
If you are concerned that your chosen tile is not as stain-proof as you would like, there are treatments and solutions including Lithofin Stain-Stop Plus
Great Outdoor Tiles
Porcelain tiles
A porcelain tile makes an excellent flooring for any deck or patio. Not only are they visually pleasing and come in a wide range of styles and colours, but their non-porous quality means they're very easy to maintain.
Most of us are used to seeing a porcelain tile in our bathrooms, but that does not mean it can't be used outdoors. Porcelain is favoured for its water-resistant properties, which means that it can withstand heavy rain.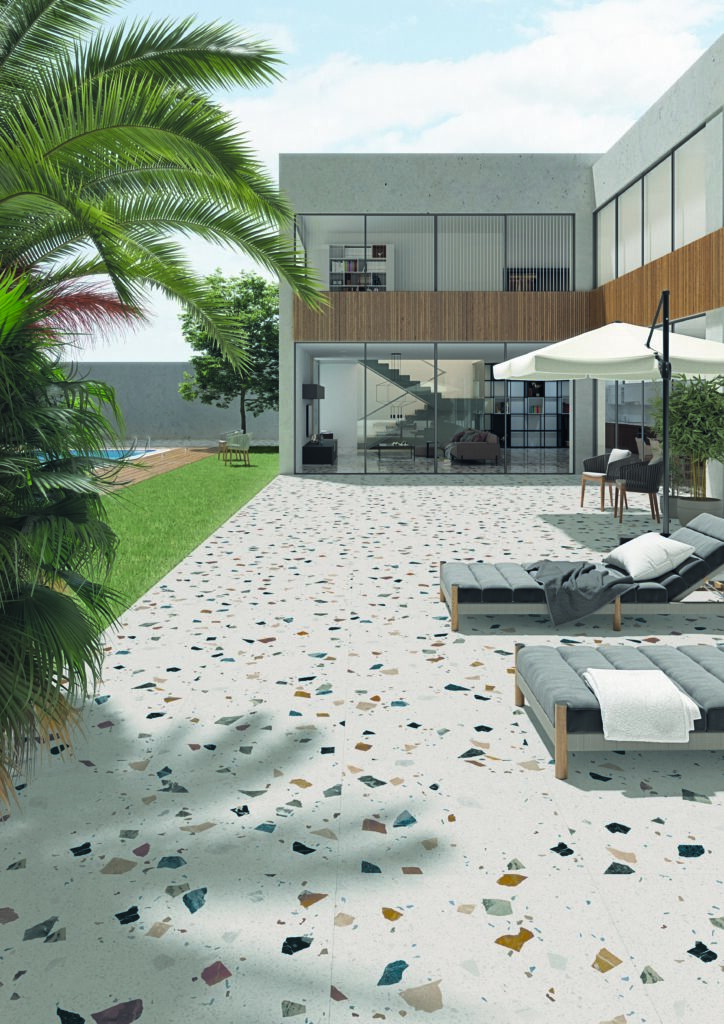 Natural stone tiles
The benefits of using a natural stone tile make it ideal for patio areas. A high-quality natural stone tile can be made from limestone, slate, granite or travertine, all of which have a beautiful texture suited to an outdoor environment.
Composite decking tiles
Composite decking consists of a combination of plastic and wood fibres and makes an affordable alternative to other outdoor tile options.
Ipe wood is sturdy enough to resist damage from fire and insects, while bangkirai wood is suited to both outdoor and indoor use.
Marble tiles
This aesthetically pleasing tile adds sophistication to any space and is available in a variety of colours, including classic white and black.
It's important to keep in mind that marble is slightly more vulnerable to impact, so choosing a slip-resistant marble tile is the best option for outdoors.
Granite tiles
As one of the strongest and most durable tile options available, granite is suited to all weather conditions, no matter how extreme. Whether you choose an eyecatching white tone or a dramatic black shade, you'll find that this tile is both hard-wearing and visually pleasing.
Slate tiles
Slate makes a visually intriguing choice for tiling your outdoor living space. These come in an array of peaceful earth-toned shades, meaning they'll blend in beautifully with natural outdoor surroundings.
What's more, each singular tile is different from the next, adding unique visual interest to any deck or patio.
Final Thoughts
Choosing your outdoor patio tiles can often be a difficult process, but considering factors such as location and weather can help you make the right choice.
Ultimately, you want your outdoor area to be a relaxing environment, so it makes sense to select a low-maintenance option that reflects your personal tastes.
FAQs
What kind of tile is best for outdoor use?
Long-lasting tiles with anti-slip properties are ideal for outdoors, as their durability helps them withstand both foot traffic and the elements. Porcelain and natural stone are among the most popular types.
Are all tiles suitable for outdoors?
The short answer is no. Certain tiles are more susceptible to harsh weather conditions, meaning that they are likely to crack under impact from the elements.
Try choosing a sturdier waterproof tile, such as porcelain, for use in your outdoor living space.