Can You Seal Outdoor Tiles?
The short answer? Yes, you can! While they are made to withstand exposure from a variety of potential damages, such as the weather or general wear and tear, sealing outdoor tiles is necessary to ensure the long-term care and enjoyment of your outside area.
Tile sealing can be completed by DIYers or by calling on professionals. While the cost-effective approach of DIY can be appealing, the financial cost of correcting the initial tiling can turn out to be a waste of money. To ensure the best results and to potentially save money paying for corrections, it is advised to use a professional tiler.
To speak to a member of our team directly for any advice do not hesitate to get in touch.
Why Is Sealing Outdoor Tiles Important?
Sealing outdoor tiling is important for the overall maintenance, durability and appearance of your outside area. Due to some tiles being absorbent, a common problem that can occur is staining. This is particularly common with outdoor tile.
Cracking is another problem that can be caused due to oxidation and from sun exposure. Sealing offers the protection needed to help prevent staining and cracking, allowing you to enjoy your outside area for as long as possible and making sure you get the most for your money.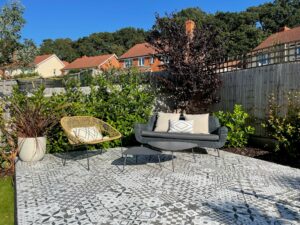 Types Of Tile Sealers
There are different types of sealing that can be used depending on what is most appropriate for your choice of tile. Research before purchasing tile sealant is important for the overall longevity of your tiles.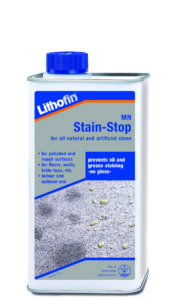 Penetrating
Penetrating tile sealing can be used to help reduce the impacts of contamination, such as water and oil, which is important in avoiding unnecessary absorption.
This applies a thin layer to the surface, allowing the tile and grout to be protected, while also allowing them to breathe. The benefit of using penetrating sealers is that they can be used to provide large surfaces with protection. Another benefit is that the overall finish is not compromised, due to the sealing working beneath the surface of the tiles.
Topical
A topical seal is a water-based acrylic option. It offers protection and creates a gloss finish to your tiles. Topical sealing is not always breathable, which can impact its ability to protect your tiles. However, there are breathable topical sealers available to purchase.
While using a breathable topical sealer provides a slightly less glossy or enhanced finish, it does offer more protection and is an overall better tile and grout sealer. It's also a more cost-effective option.
Solvent
Solvent tile sealing provides a similar sealant to penetrative sealing, while offering some further protection due to the stronger chemical used within the sealant. The use of stronger chemicals within the base makes solvent sealant less environmentally friendly.
However, solvent sealing is particularly beneficial when trying to avoid water contamination as well as when working with tiles such as porcelain.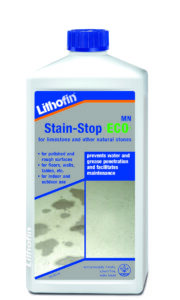 Which Sealer Should You Be Using?
Different sealers help to protect different tiles and grout. Since sealant provides a barrier between the object and external exposures, such as water, it is important to know what qualities your tile has…
Non-porous tile does not necessarily require a sealed surface in order to maintain its appearance and quality, due to its lower level of absorption. Low-porosity, weather-resistant tiles are suitable for outdoors. However, those made of materials with higher porosity, such as sandstone or terracotta, allow more absorption and so a sealant is needed to maintain and protect the surface.
Is Grout Sealer The Same As Tile Sealer?
You can purchase products that seal tile and grout individually. Grout is porous and so specifically requires sealant, however, tile and grout can be sealed using the same sealer. Most application methods require a paint brush and a grout float, which should be kept in mind if you are doing the sealant process yourself.
How To Look After Sealed Tiles
The maintenance of your sealed tiles is important for their longevity. Cleaning is a key factor in the overall maintenance, from using a cloth to wipe stains and moisture to frequent and general sweeping to remove dirt and debris.
Getting your tiles professionally cleaned twice a year is a common recommendation for the aftercare of sealed tiles. While keeping the surface of your tiles completely clean isn't always realistic, looking after them not only maintains their appearance but helps to avoid unnecessary damage and costs.
Investing in a range of products that can help with the after-care process is the easiest way to do this. Hydro cleaning sponges are a staple must-have within general tile maintenance.
Final Thoughts
Purchasing outdoor tiles is an investment that needs research to ensure you are aware of the type of care required. The sealant also needs to be researched, so that the preservation of your tiles is guaranteed.
If you are tile sealing yourself, feel free to get in contact with us at Atlas Ceramics for advice or queries.
FAQs
How Can I Protect My Patio's Tile Surface?
Alongside applying grout and tile sealer, cleaning is a key part of the general maintenance of the tile surface and outside area as a whole. Removing dust and debris particularly helps with preventing staining outdoor tile and grout.
Cleaning products such as the Lithofin MN Outdoor Cleaner are good for intense removal of dirt and any stains from plants such as algae. The Lithofin MN Outdoor Cleaner is highly active, fast-acting and acid-free. To maintain once you have cleaned your outdoor tiles, the Lithofin Algex can be used to also act as a preventative.
To see how these products can be used, you can watch our YouTube videos on 'How To Deep Clean Patio Tiles' and 'How to Clean Patio Tiles So They Looks As Good As New'.
Can I Do Tile Sealing Myself?
Yes! While it is recommended that you use professional services to create your desired result, investing in the right tools and doing your own research can make it a doable process.
Can The Same Tile Sealant Be Used Indoors And Outdoors?
It can, but make sure the sealant used is appropriate for both. For example, if you have purchased a topical sealant to create a high-gloss finish for your indoor tiles, this will not preserve and support the outdoor tiling in the way they require. This is because indoor tiles are more likely to have lower porosity, as they are not exposed to outside conditions. There are a number of Lithofin sealants that are appropriate for both indoor and outdoor use.
Does Grout Need To Be Sealed?
Yes. Grout sealer is needed as grout is porous, and if not sealed it can stain and become damaged due to water and bacteria being absorbed. Our range of Weber Grouts offer a variety of grouts to match your personal needs.
Grout sealer can be bought individually and, similar to tile sealing, can be either penetrative or membrane-forming. See below for an easy step-by-step guide on how to seal grout:
To seal grout:
Clean the grout before sealing.
Apply sealer slowly, left to right. Use a cloth or hydro sponge to wipe any excess grout away.
Let the grout sealer dry completely before applying a second or third coat (approx 1 hour).
Leave to dry overnight.
To speak to a member of our team directly for any advice or further questions do not hesitate to get in touch. Or you can head over to our Atlas Ceramics YouTube channel for how-to and information videos.