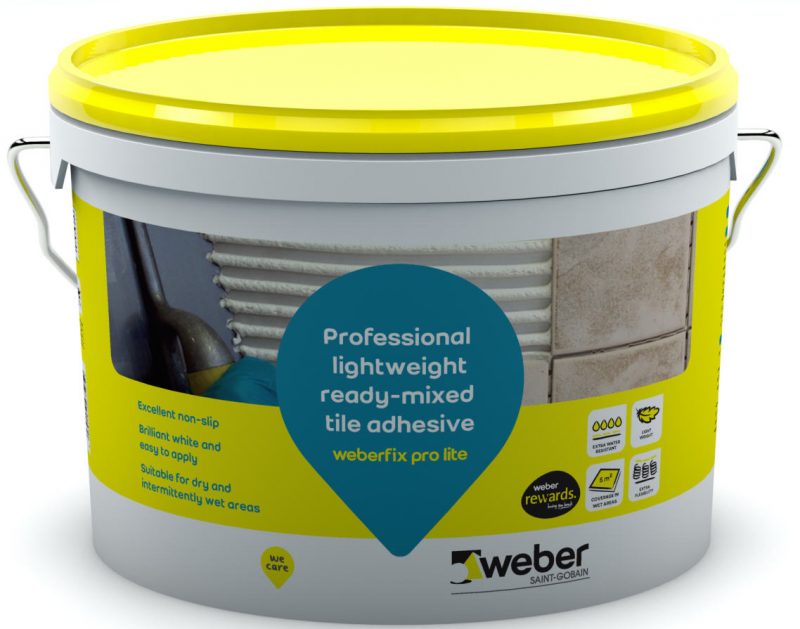 As a long standing stockist of Saint-Gobain Weber, Atlas Ceramics has some news to share regarding Weberfix pro lite.
The 2017 TTA Award for Best Innovation was won by Saint-Gobain Weber for Weberfix pro lite.
Weberfix pro lite is a wall tile adhesive that is smart and sophisticated with high performance characteristics that set a benchmark in technical performance. It comprises a ready-mixed acrylic wall tile adhesive, suitable for fixing all ceramic and small porcelain tiles.
Weberfix pro lite is designed for interior use and its inherent flexibility helps to absorb limited movement and vibration. This is vital in eliminating the effect of any expansion or contraction in the substrate ensuring performance and continued aesthetic attributes.
Designed with lightweight materials, Weberfix pro lite enables extra coverage without increasing the load and is supplied in tubs weighing just 13kg but which still yield an impressive 10L.
Weberfix pro lite offers increased water resistance for intermittently wet conditions making it the ideal solution for domestic and commercial showers, wet rooms, kitchens and bathrooms, although it is equally suitable to dry conditions making it dual-purpose.
In heavy wet areas, a cement-based adhesive is recommended. Its easy-to-use formulation allows quick and easy application with an extended open time of up to 30 minutes after spreading. Additionally, no priming is required and it is ready for grout in 24 hours.
Weberfix pro lite is packaged to stand out from the crowd, to be innovative and to create brand recognition and preference.
On-package technical information is reduced with straight to- the point benefits and instructions for use, with communication that goes beyond the product itself, presenting new functions that add value for the customer.