The Best Small Shower Room Tile Ideas
Stepping into a well-fitted shower, with pristine valves and a sparkling head, is one of life's many pleasures. Some people – we're guessing you're one of them – like it so much that they have a room dedicated to nothing more than a shower installation. But even when you've found a fantastic unit, there's the issue of tiling: how the shower will be backed, wall to floor, with stylish and water-resistant materials.
Dull, ugly or badly styled showers are a burden. We want to rid that possibility by giving you a clear view of the best small shower room tile ideas. Effectively, your home will gain a modest wet room [LINK to comparison blog] in which the faucet is king. Treat it like royalty, with the following snippets of advice…
Embrace Bold Contrasts
The first thing anyone will notice when entering the room is how large the shower feature is. Glass, chrome and towel rails will be the immediate physical force in your space. Tiling can forge a strong, creative look that binds it all together, turning a small room into a haven for your morning routine.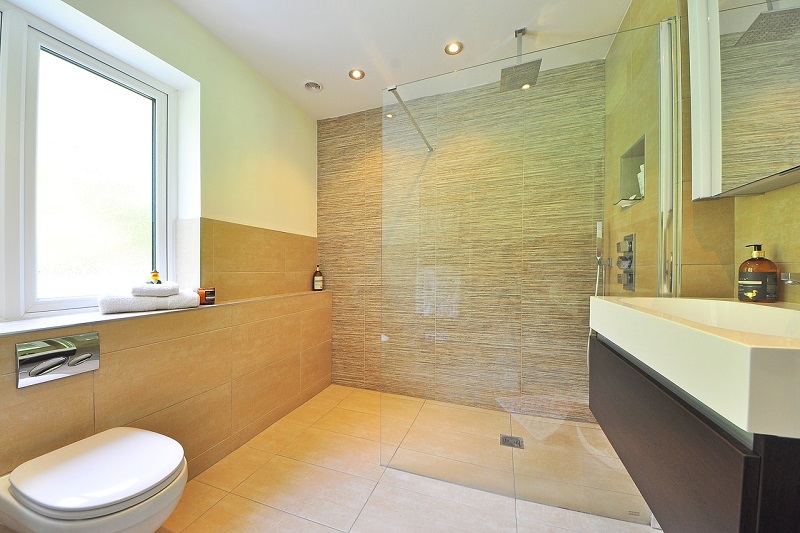 One of the ways to achieve this is by choosing two colours – light and dark – that don't fade into each other. Contrasts are the key to visual gravity, if you don't overdo them. By having one colour as your 'main' tiling shade, and a second as a brief inflection that circles or frames it, the scheme of the room becomes much more vibrant.
Consider, for example, the Duchess Black Stick Mosaic on a white-tiled back wall where the shower is fitted. The striking shape will offset the plain qualities elsewhere. It can give the room an Art Deco feel, pairing excellently with a vintage décor in the home.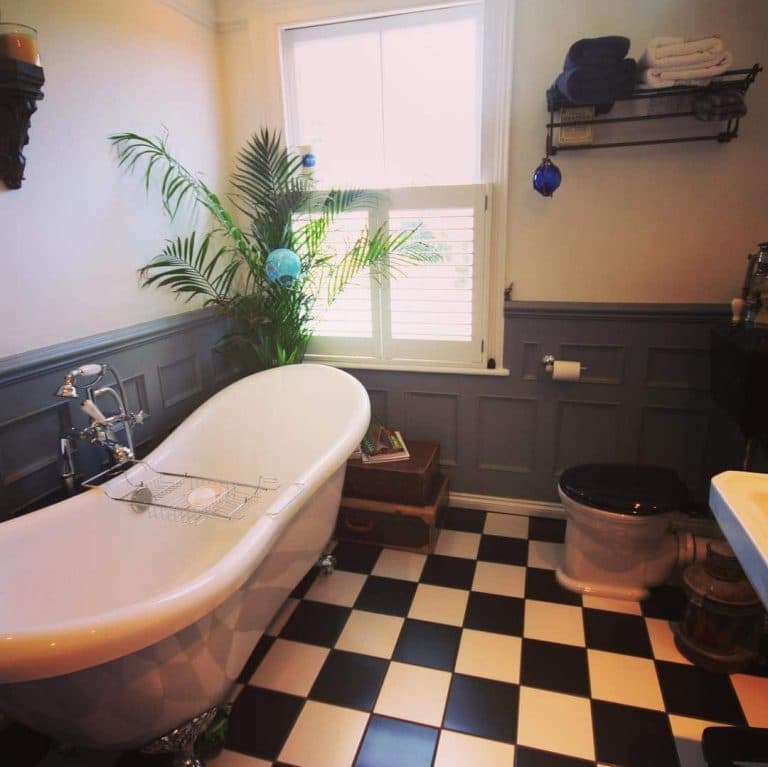 Or instead, you may like the Genesis Beige tile for the floor, matched against Dorset Woolliscroft Pinhead Red porcelain above a vanity unit. The effect is almost Mediterranean, similar to what you might find in a Turkish villa.
Go for a Single, Neutral Shade
On the other side of the style coin, you might prefer minimal design. Bathrooms, after all, ask for cleanliness and peace of mind. There might be nothing more appropriate than a uniform tiling colour to help you achieve it.
Neutral sides of the spectrum are going to deliver this more so than bright splashes of red and blue. EcoStone Antracite is a good place to start – with a gently rippling visual appeal, the grey isn't submerged in the same look around the entire space. Tile the floor, walls and sideboards top to bottom. Then use select features in black, magnolia or lilac. These might consist of a wide-brimmed lighting unit, or perhaps a white cabinet for your dental routine.
Small shower room tile ideas are often simpler than regular bathrooms, because they have less internal features to work around. You have a shower, possibly a sink, and that's it… Consequently, a single-shade tiling approach can seem very neat, if that's where your tastes lie.
Mosaics Are a Great Focal Point
Mosaic installations can have a stunning impact in areas such as a compact shower room. The trick is to use them when your shower faces the entrance. That way, when the door is left open, you can peer directly at an impressive wall display. Since there's no bathtub to set down, a shower can run across the entire length of the environment, giving that mosaic a large canvas on which to (literally) shine.
Something like the Duchess Golden Grey Square piece will lend aesthetic heft to the shower backing. Materials that run close to natural stone, in terms of veining and a 'scrubbed' look, bring the outside in when we need it most. Small shower room tile ideas have to avoid being too synthetic. With naturalised elements, you are creating a space that has a touch of character, even when we're ensuring it stays spotless.
Conceal the Body of the Shower Installation
Standard showers are there for all to see; none of their working parts are concealed, as the heater pokes from the wall and the hose, taps and valve units are left naked. You don't have to leave the shower exposed, though, to get a functional arrangement. 'Rain head' faucets, which run on a supportive arm that is hidden behind the tiling, are very popular. All that's visible is the faucet itself and the taps to control heat and water pressure.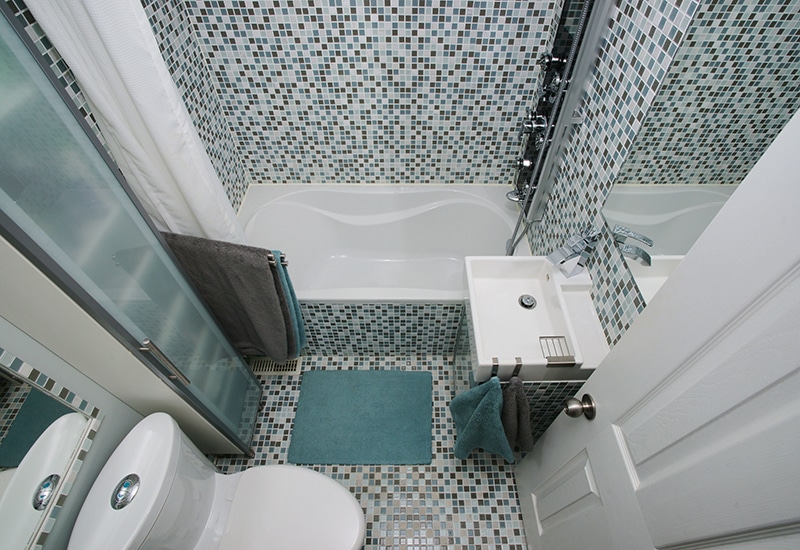 The tiles have free rein to be as impressive as they possibly can. There are no other points of distraction on the wall, so unless you want an extremely stripped-back visage, pick cuts that are going to be noticed. We're fans of the Aurum Glass by Dune – a bubbling, painterly gold that mixes well with white and black tiling.
Explore Rustic Themes for En Suites
Some small shower room tile ideas will be employed in spaces where roof beams are a feature in their own right. Attics and top-floor bedrooms may have beautiful wood effects – the sort that you really want to emulate in the shower area but aren't quite sure how to do so.
Actual wood is, of course, far from desirable for wet rooms. To compensate, Atlas Ceramics supply wood-effect pieces like the Berry Almond tile in 150mm x 900mm. As a floor material, it'll sync with overhanging pine or beechwood fixtures. Since beams can dominate a small shower room – sloping up from a wall or going straight from one side to the other – this tile type is ideal for country homes, rustic living and wonderful attic conversions.
Isn't it good to think big when dealing with a small environment? With our product catalogue in tow, you can carry out a superb, long-lasting style plan on every home project you undertake. Tiles from Atlas Ceramics give you the quality (and practicality) needed to complete your shrine to hygiene – no matter how petite. You can speak to our experts for more small shower room tile ideas, or browse at your own pace for a palette that washes your concerns away…