Choosing the correct grout colour
The power of grout
Grout colour can play an important role in the overall finish of a room and is a useful way to transform a design into something much more unique. It also has a significant effect on the look and feel of the tiles and is crucial in either creating a complimentary finish using a similar shade, or adding structure and definition using a contrasting colour.
It's all in the colour      
When selecting the right colour of grout it's important to consider how the space is going to be used.  For example, darker grouts are ideal for areas of the home that see food spills or foot traffic, such as kitchen splashbacks or bathrooms & living areas.  These shades offer a lower-maintenance solution compared with their lighter counterparts, which can show stains more easily. On the flip side for the customer looking for a spacious and flowing design using a lighter coloured grout with white tiles will give the illusion of seamless tiling and open up the space.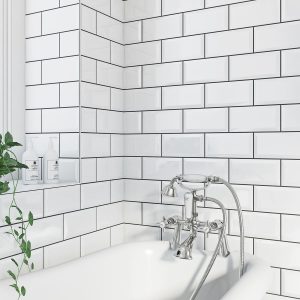 The grout shade will accentuate certain colours and textures within tiles thus creating visual effects using the tiles themselves. Coloured grout is also a great way to inject the customers personality into a home, currently dark grey grout is particularly popular with a classic white metro tile or a pale, neutral coloured tile.
Laying pattern choice
All tile laying patterns have a distinctive character and appearance that can enhance the look, feel and atmosphere of any space when used correctly.  The more common being linear and brick bond due to their simplicity, however introducing more intricate patterns such as herringbone and basket weave can add extra character and movement to a room, plus let's not forget that modular patterns can induce a rustic country feel by breaking up straight lines that are usually associated with flooring. With all of this in mind the choice of grout plays a vital role in achieving the customer's desired look, regardless of which tile pattern is chosen. Generally a darker contrasting grout will create a modern feel with distinctive lines and bold colour, whilst the use of a coordinating grout will help blend the tiled surface to create a seamless space.