I want to update my bathroom – What tile options are available?
The bathroom is the most common room in the home to feature tiling. As it's a damp environment choosing the right finish for your room is essential.
There are lots of considerations as well as durability; style is almost always top of the list.
The range of tiles now available for both walls and floors in the bathroom is almost only limited by your imagination.
Picking The Right Tile For The Style & Size Of The Bathroom
Traditionally larger tiles have been the most popular choice, however trends are moving towards mosaics.
Mosaic tiles provide such a huge range of colour, texture and materials; they are superb for creating unique patterns and a personal ambience for your bathroom.
Glass mosaics are a perfect choice for a contemporary finish, or choose brick mosaics for a more industrial styled room.
Using small sections of mosaics is a great way to form a border or to define a section of your room.
From iridescent to mother of pearl and from small squares to round pebbles, there will certainly be a mosaic perfect for your personality.
Where larger tiles can be over baring in a small bathroom, mosaic tiles can in fact give a feeling of space.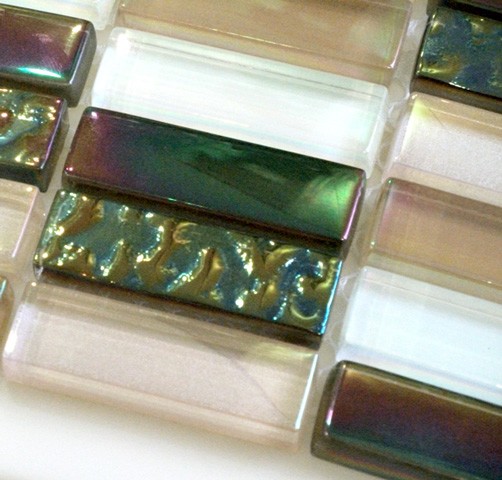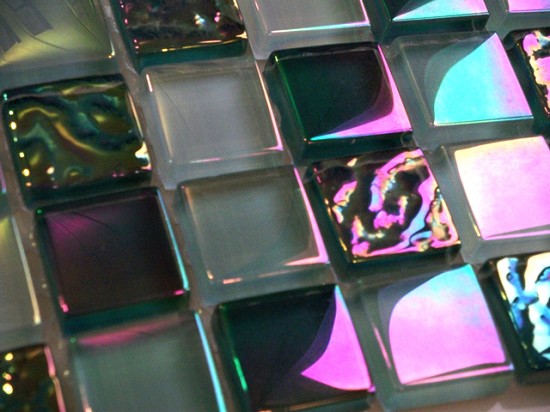 Consider The Purpose/Use
Remember that your bathroom can provide so much more than its simple function.
Consider whether you want this room to be vibrant and exciting or serene and calming.
Glamour is now finding its way in to tiling with use of jewel like colours and metallic finishes.
As bathrooms tend to be smaller rooms, you may be able to afford to be more extravagant with your decor choices. Geometric patterns are perfect for creating a retro feel, while monochrome black and white truly makes a statement.
A reflective surface will bounce light around the room and using the tiles on both the walls and the floor offer a seamless feel that enhances the space.
If cost is a big consideration, then ceramic tiles are a well-loved option that never really dates.
Glazed ceramics or porcelain tiles have a moisture absorption rate of only 0.5%, making them almost waterproof. In a room where hygiene is extremely important, ceramic tiles can easily be cleaned, providing an 'always fresh' appearance.
As natural stone is increasing in popularity, many tile manufacturers are also supplying ceramic tiles with a natural stone look. These are a great cost saving option for your bathroom.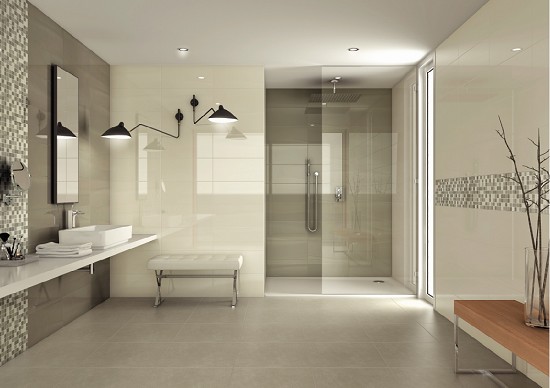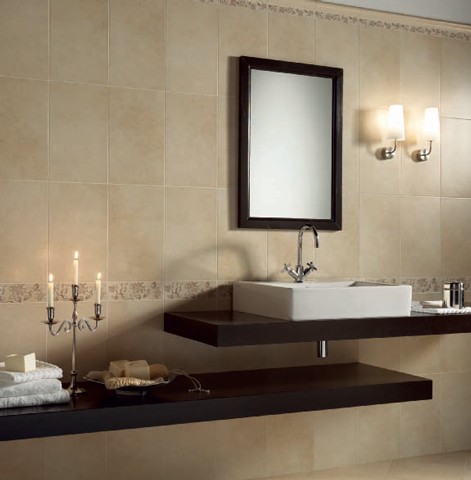 In a room where you spend most of the time bare foot, it's also important to consider whether the tiles you select for your floor are warm under foot.
Natural stone tiles can be a great choice for retaining heat and also work well with underfloor heating.
Although a little more expensive than some tile options, natural stone is a great investment for the bathroom as it's incredibly durable but must be sealed correctly to allow very little moisture through.
The surface underneath your tiles can also make a difference to the feeling of warmth. Tiling onto wood creates a warmer feeling than tiling onto concrete.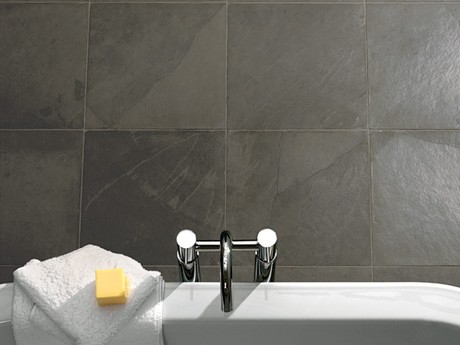 Don't be afraid to ask for advice!
Take a photograph of your room to your local tile showroom where an expert can help you select the perfect tile option to update your bathroom.