Is Underfloor Heating Expensive To Run?
Today, there are far more heating options than anyone would've thought possible just a few decades ago. You can opt for gas boilers or electric panels.
A real fireplace is still viable. Maybe you're considering insulated walls, with foam or glass wool. Perhaps you've been attracted by the thought of underfloor heating for your bathrooms, kitchens and hallways.
But those who get this far always ask themselves: "Is underfloor heating expensive to run?" We want to look after our bank account as much as we want to be warmed underfoot.
Underfloor heating installation.
That's understandable. So to explain, once and for all, Atlas Ceramics have tackled what you need to know about financing this element of the home…
Testing Traditional Radiators
We should be bold about one thing: underfloor heating is certainly cheaper than the devices fixed to your walls. Energy companies are notoriously evasive when it comes to your heating bills, broken down per hour or minute.
But there's an easy way to work out what you're spending on radiator heat. Once we have that figure, it's good to square it against underfloor options, to see what savings can be made.
Basically, Radiator Heat is Measured on the Following Terms:
The higher the wattage, the more powerful the device is. 1000w = 1kw. Let's use the example of a 1600w (or 1.6kw) radiator to show you how the fees are calculated…
Take your 1.6kw radiator and multiply the wattage figure by the number of hours it is active each day. In a typical bathroom, that can easily be pegged at five hours during winter; 1.6 x 5, then, is 8kw.
Pence-to-kw-per-hour is how energy providers track your expenditure. This is where things get complicated, because the tariff could be set at vastly different margins.
For the sake of argument, let's imagine that your energy provider charges you 12p for every kw used (a modest estimate). That means the cost of heating a bathroom over winter, per day, is 8 x 12p = 96p.
Bringing Underfloor Into the Fold
How do Such Figures Compare to Underfloor Heating?
Well, their wattage can rise and fall too, just like wall fixtures. We stock both a 150w mat and the more intense 200w version, with the latter more suited to colder areas.
The wattage is lower than a radiator, of course, but that's due to how widely the heat is dispersed.
A radiator lets the warmth spread from a single space; underfloor features run all the way beneath your feet. Costs, therefore, are largely decided by how big the room is.
If we take a 4m2 bathroom on the same 12p rate, for example, you'll be spending around 20p a day on the same heating demands. That's almost a fifth of the cost of a 1600w electric radiator. When you scale up your heating needs for a bigger bathroom, the savings only increase further.
It's also worth taking into consideration gas prices – they've soared in the last decade, and don't seem to show any signs of slowing anytime soon.
So, is underfloor heating expensive to run? Compared to gas prices, you'll be getting a bargain – one that's much kinder to your utilities bill.
Do Physical Factors Play a Part in This?
You'd be right to ask the question, because underfloor units trump other forms of heating with their efficient, wide coverage. The simple fact of their physical makeup can limit what heat you use.
Think about cold spots, for instance: the places where a radiator doesn't really get to. These might be the corners of your bathroom or just above the floor, where rising hot air rarely reaches.
Usually, that creates an imbalance, as one area is far warmer than another. Many people open windows above the radiator so that extreme half is levelled out – but that, obviously, is a waste of energy.
Underfloor heating means you're never (quite literally) throwing cash through a window, merely so that the room has an even spread of warmth.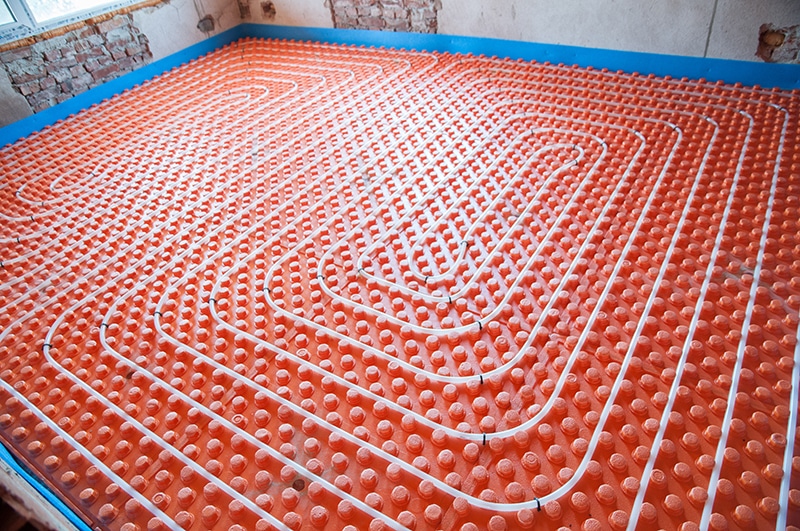 Floor heating installation in a house
Underfloor heating is also a safer bet than cavity wall insulation, which is good at keeping your surroundings cosy but does little to protect against the chill of a cold bathroom tile.
Stepping out of a shower, bath or pair of slippers can be an unpleasant sensation in the bitterest months of the year. Underfloor heating makes the room and your feet equally toasty.
A thermostat can check the temperature and ensure that your underfloor heating stop producing heat when it reaches a certain level.
Likewise, some natural stone tiles are better than others at conducting the heat, because they don't have the same thickness or physical properties. It's wise to get the opinion of a bathroom specialist when buying the right gear, as they can pair tiles to their intended use.
Okay – So What are the Drawbacks?
In terms of cost, the biggest blow to your budget is going to be the installation. Underfloor heating is a tricky business to set up.
Although electric systems aren't as fiddly as water designs, which have to be added during the build phase of your bathroom, an underfloor heating installation still requires a lot of work.
Electric mats can be implemented almost anywhere, yet it's the labour – and the price of some supplies – that can prove costly.
Despite that, our own products are very reasonably priced. You can buy a roll of 5m2 Glass Fibre Mesh for just over £150 (as of early 2018). Boards must be purchased too, for faster warm-up times.
Installation may take a whole day or two, which can tot the overall fee up to £400 or more. However, remember that it is a one-off cost. The savings you'll make over three, five, and even ten years will justify the expense.
Speak to our team by phone or email to enquire about any of the points that we've made here. Is underfloor heating expensive to run?
Hopefully we've demonstrated that it isn't, and you can look forward to slimmer bills, once that installation task has been completed. Our underfloor range is here for those who want to try it for themselves…