10 Irresistible Kitchen Tile Splashback Ideas
The kitchen is, for many of us, the centre of the home. It's the perfect illustration of domestic life, around which the family revolves. But it doesn't have to be purely practical. Here, aesthetics and functionality combine in ways that other rooms in the house don't have to. Take the humble kitchen tile splashback, for instance. Its sole purpose is to protect the wall from splashes from the sink and the hob, but there's no reason you can't turn it into an impressive kitchen centrepiece.
Opportunities for kitchen tile splashbacks are endless. Injecting some colour, style or pattern can bring the space to life. The perfect piece depends on the rest of the room and your desired result, but here are some kitchen tile splashback ideas to get the creative juices flowing.
Brighten up the colours
Traditional white, cream and steel make a functional kitchen look clean and classy, but don't hide away from using big, bold colours to highlight the tile splashback. Consider eye-catching bright reds, greens and blues. It will add some vibrancy – not only to the sink or hob area, but also to the kitchen as a whole.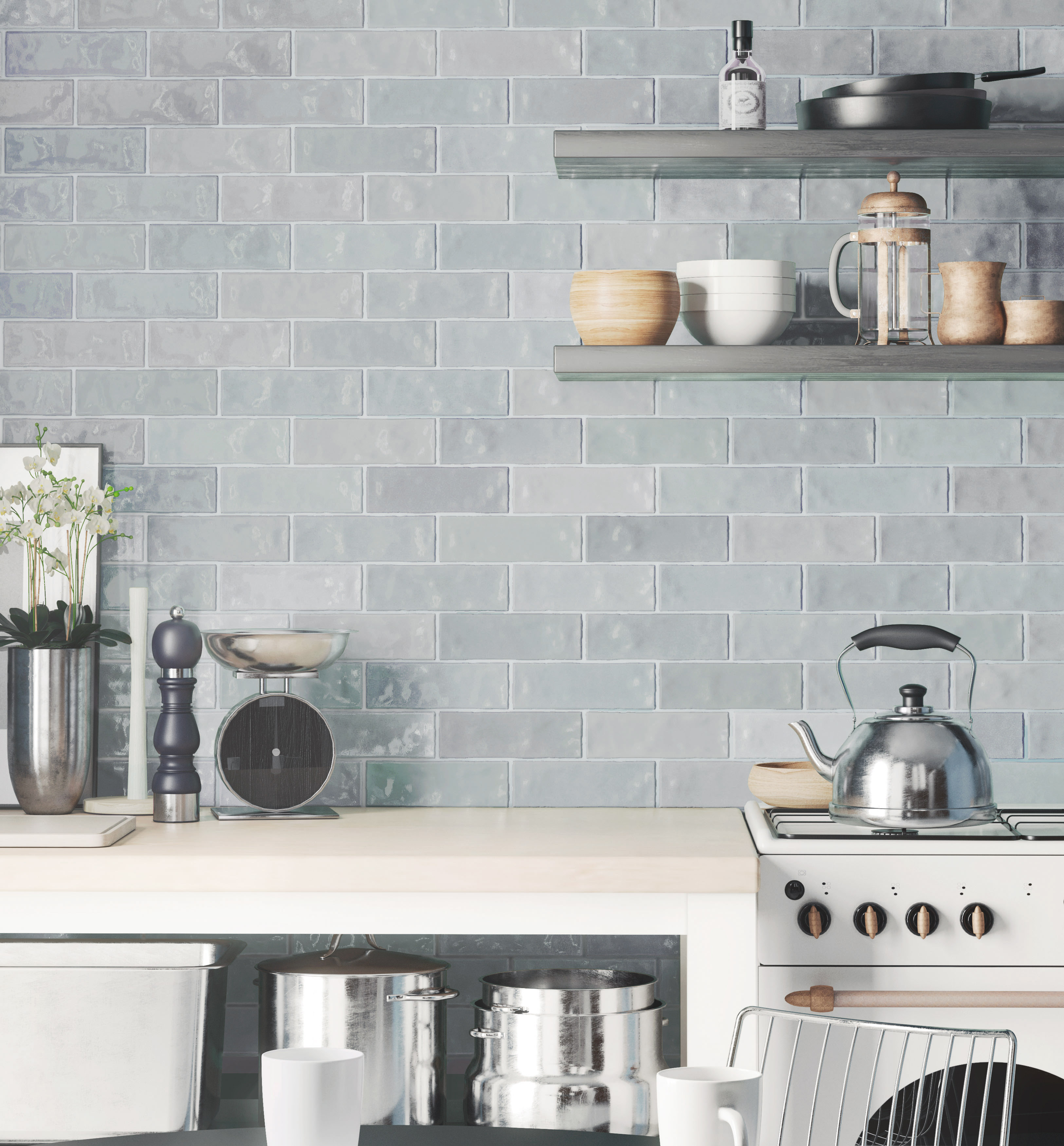 The key to a good kitchen splashback is to create something that stands out. Against white cupboards, colourful tiles can really make a statement. But try using colours that complement the existing kitchen furniture. Opting for a pigment that is completely at odds with the rest of the room is only going to feel jarring and uncomfortable.
Embrace texture
You can still obtain striking results without loud colours. Textured tiles are well-suited to neutral whites or greys.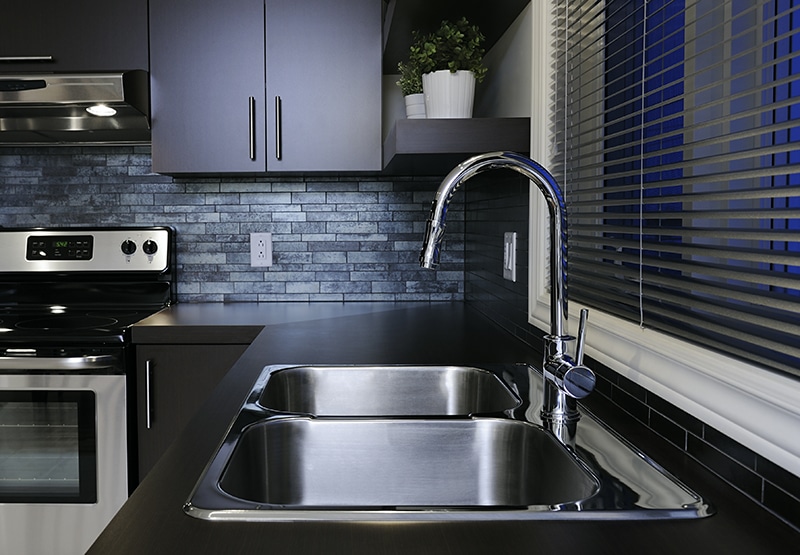 Recommended Tile: Arun Dark
You can achieve a lot more depth than you would with traditional tiles, and keeping the colour subdued brings out the texture in a way that dominating bright colours can't. Our Tinte Blanco Matt Brocade tile is a perfect example of how interest can be gained with a textured tile – it looks great when paired with plain tiles for a contemporary finish.
Paint it black
Sleek, modern, sophisticated. Black tiles run the risk of appearing harsh if overused, but they can create an ultra-cool 21st century feel. To be successful, these tiles should be paired with modern kitchen fittings like chrome and glass – a rustic feel isn't allowed here.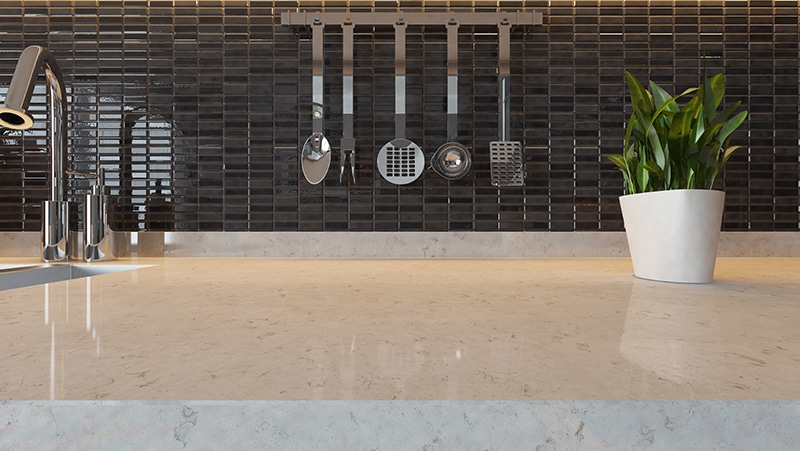 Recommended Tile: Rio Nero
Have fun with shapes
Consider breaking from tradition by doing away with square tiles and experimenting with shapes. Diamonds. Hexagons. Chevrons. Keep your tile designs consistent – geometric shapes work best when the tiles are uniform and not a mess of angles and sizes – but, when combined with splashes of unusual colour here and there, a truly remarkable kitchen splashback can be yours.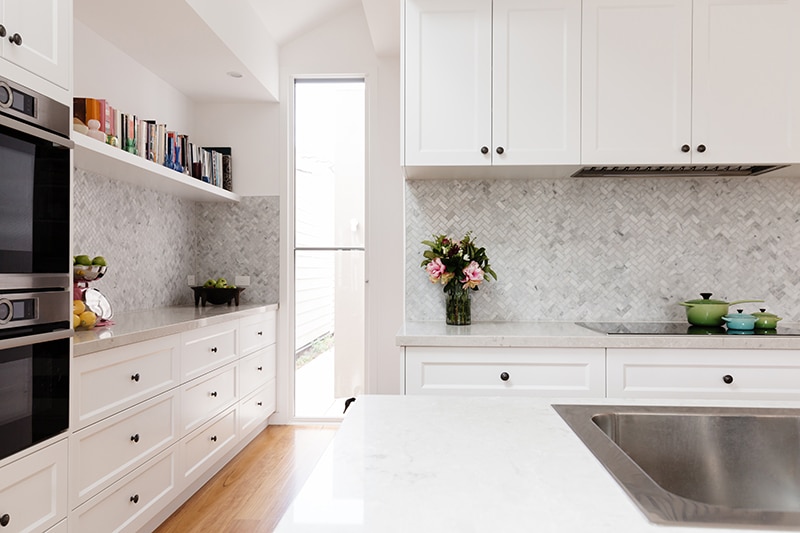 The vintage look
The trick to creating a vintage look is to combine patterned tiles with a plain wall – or a patterned wall with plain tiles. This makes the tiled splashback leap out from the backdrop, especially when paired with contrasting colours. Use this technique to create a classic vintage feel that doesn't make the kitchen appear dated.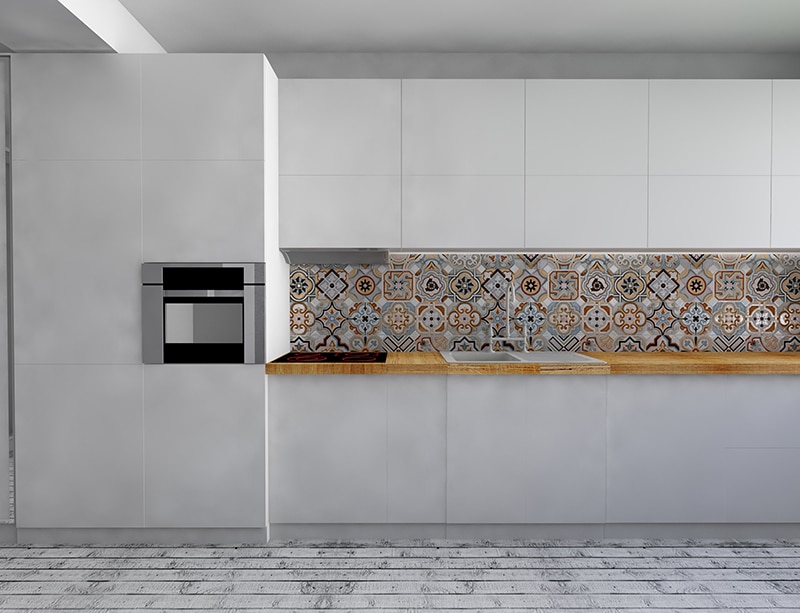 Mosaics
When searching for kitchen tile splashback ideas, a bit of irregularity can be worth considering. Don't go too over the top though – keep it confined to a single area of the kitchen to make an interesting contrast with an otherwise controlled space. Check out our extensive range of mosaics that suit both contemporary and classic kitchens.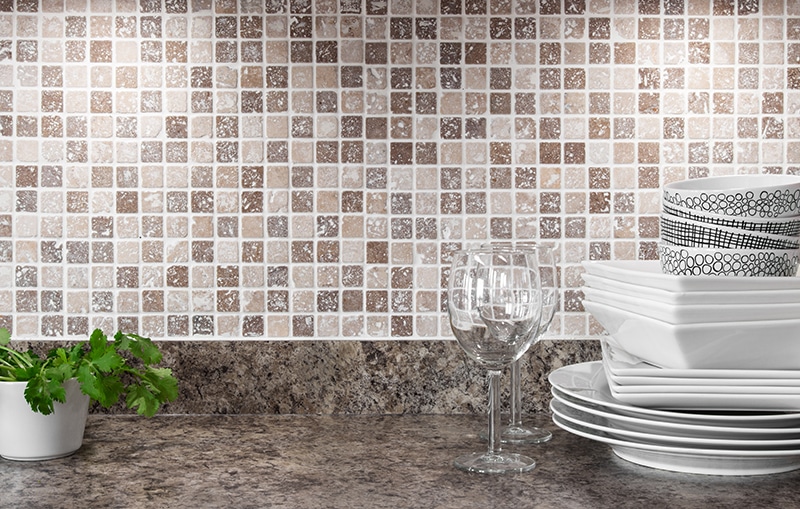 Play it safe with stone
Ceramic tiles might dominate kitchens across the country, but that's all the more reason to try something a little different. Stone tiles are long-lasting, and their natural texture brings a rustic feel to the kitchen that ceramic and porcelain materials would struggle to achieve. Stone comes in a wide range of colours with natural streaks and imperfections which can inject a little spontaneity into the splashback.
Marble is more pricey than other materials, but in return you add the classic wow factor to your kitchen. These tiles can be flecked with darker colours, adding unexpected creativity to uniform shapes. When paired with matching work surfaces, a marble splashback seamlessly draws the eye around the space and makes the most of the naturally beautiful material.
Mix up materials
Looking for unusual kitchen tile splashback ideas? Consider using unorthodox materials like stainless steel, glass, and even wood. Some might require a bit more care and attention than others – a wooden splashback should be waxed and varnished to keep it maintained if you are using it behind the sink, but the results can be timeless. Our wood effect tiles achieve that enduring look without the upkeep.
Mirrored
Introducing mirrored or reflective surfaces to your tiles can help give the feeling of light and space, which can be especially useful in a smaller kitchen. Pair it with black tones and chrome fittings to make the room feel effortlessly modern, or use pastel colours to further brighten the space.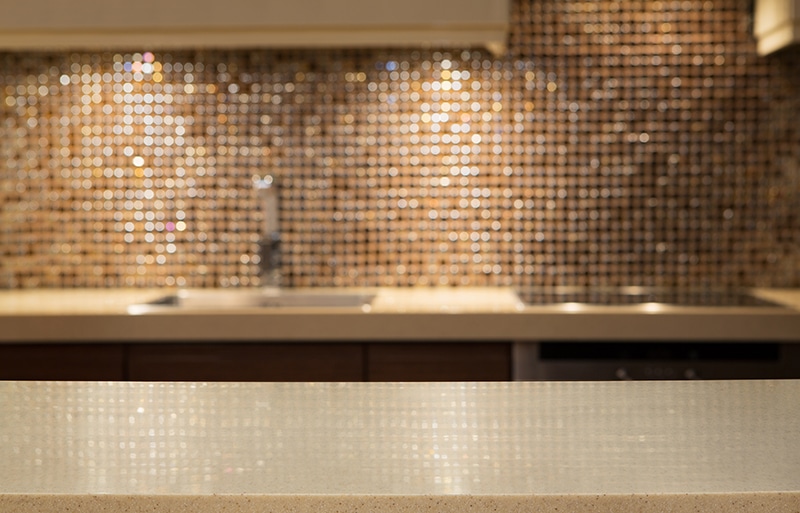 Worldly themes
Take inspiration from cultures around the world and break away from the classic design of British kitchens and neutral splashbacks. Explore designs of tiles and mosaics with Moroccan or Spanish themes to instil some exotic warmth in your kitchen. The Odyssey Collection by Original Style is sure to remind you of far-flung places, with tiles inspired by styles from around the globe. You could even combine different patterned tiles to create a patchwork of colour and flowing lines.
So there you have it. The broad range of opportunities for kitchen splashbacks makes tiles one of the most versatile products available. Hopefully this has given you one or two kitchen tile splashback ideas to help you put the finishing touch to your perfect kitchen. Will you be bold with your colours? Or is a cool texture more your style? Whatever you decide, share your photos with us on Facebook or Twitter – we'd love to see your perfect kitchen tile splashback in situ.
Atlas Ceramics has a huge range of kitchen tiles to help you get started. See what we have in stock or give our experts a call for advice on turning your humble splashback into a feature wall worth shouting about.