How Much Does it Cost to Tile a Bathroom?
Are you thinking about remodelling your bathroom? It's one of the most popular rooms in the house to renovate. When completed properly with attractive finishes, it can boost your valuation of your home. Additions like wet rooms and walk-in showers add a luxury feel to your space too.
Whether you're looking to complete a full remodel, or you just want to give the bathroom a different vibe, then new tiling is a must. A new set of tiles is an affordable investment in your bathroom that pays dividends in your home's investment value. Upgrade your lifestyle and your property value with new tiles in the bathroom for a new home feeling.
So, what is the cost of tiling a bathroom? It depends on your finishes and the work involved with the project. In this post, we'll answer all the cost questions surrounding re-tiling your bathroom.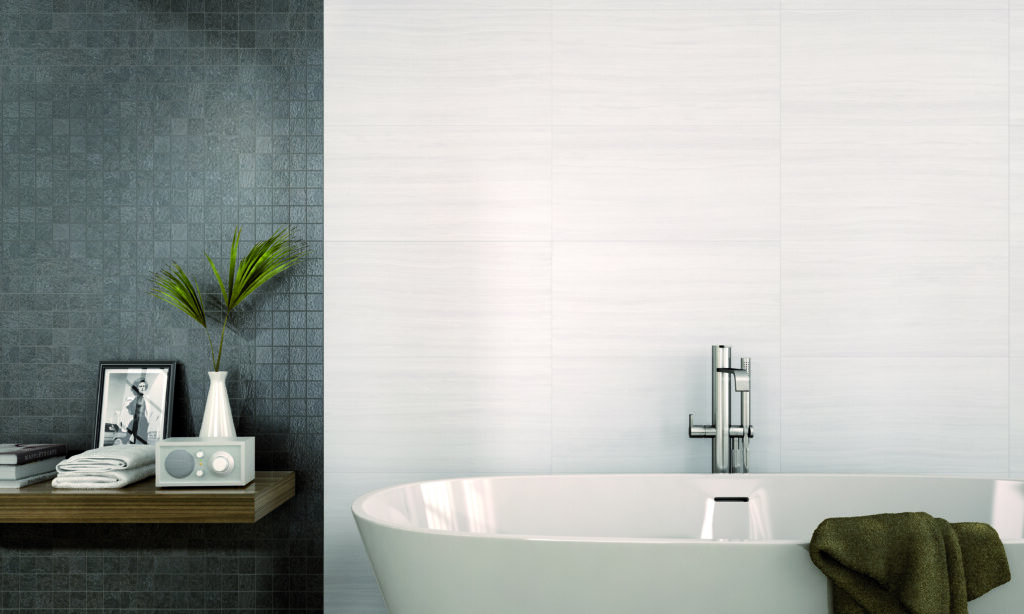 What Is the Cost of Tiling a Bathroom?
You can expect your new bathroom floor's average costs to be around $10 to $15 per square foot. The average homeowner spends between $800 and $2,500 for ceramic or porcelain tiling. Tiling your bathroom walls or the shower costs you between $7 to $27 per square foot, and tile backsplashes can cost between $22 to $38 per square foot.
Depending on your tiling project, your material costs can vary between $3 to $12 per square foot, and labour will set you back $5 to $15 per square foot.
The final price depends on the size of the bathroom, how many walls you tile, and if you want surfaces like countertops included in the job. The quality of the materials, tiles, and workmanship all play a significant role in determining your final costs of your project.
The Average Cost for Tiling Your Bathroom
National Median Cost $1,650
Minimum Costs $300
Maximum Costs $4,900
Median Range $825 to $2,500
Average Cost Examples
200 Sq.-ft Floor $2,300 – $3,350
80 Sq.-ft Shower Wall $510 – $2,100
30 Sq.-ft Splashback $700 – $1,200
72-Sq-ft Countertops $2,750 – $4,975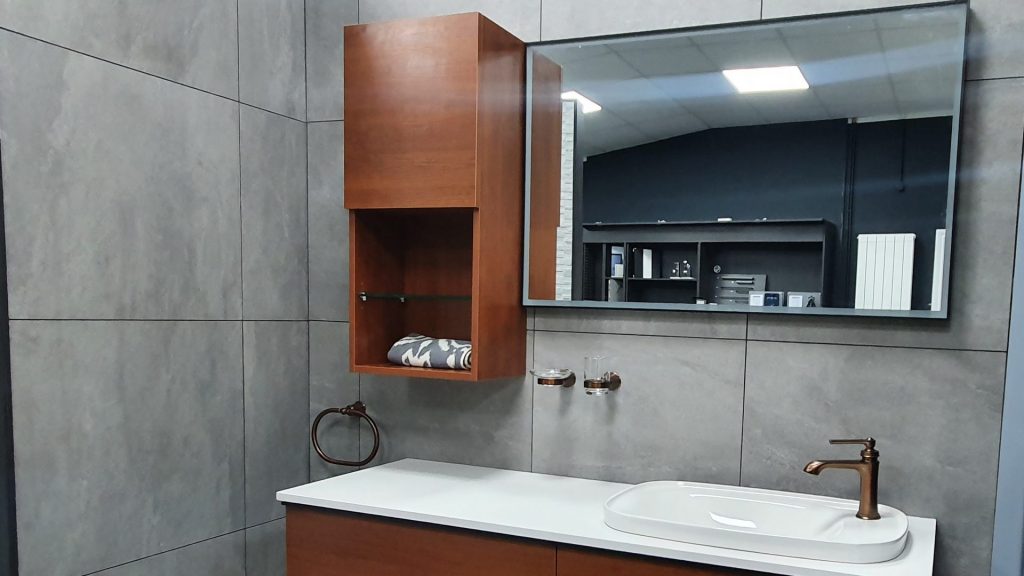 What Is the Labour Cost for Tiling a Bathroom?
Your labour costs add a significant chunk of the expenses to your remodel. The average tile installation costs between $10 to $15 per square foot for labour, depending on your location and local rates. Prices also vary depending on the job, with splash backs and shower walls having different requirements to countertops and flooring for example.
If you need backer boards for the project, expect to pay an extra $6 per square foot, and the average labour costs for fitting tiles is between $4 to $9 per square foot using tile adhesive. Expect to pay $7 to $15 per square foot if using thin-set mortar with your backer board. These tiling materials can be found on our website here.
Pricing also depends on the type of tiles installed in your new bathroom. You can expect to pay up to 10% more for installing 4-1/4″ glazed tiles over 8″ tiles. Marble installations can run the highest labour costs, charging up to $12 to $15 per square foot, and ceramics are on the more affordable end, with average expenses being $4 to $9 per square foot. You can view our ceramic tiles here.
What Is the Cost of Tiling a Bathroom Floor?
According to reports, the average cost of a newly tiled floor for your bathroom can range between $275 to $650 for  40-square-foot area. You can expect to pay around $560 to $1,120 for a 75-square-foot bathroom, and between $1,250 to $2,450 for a larger 160-square-foot bathroom.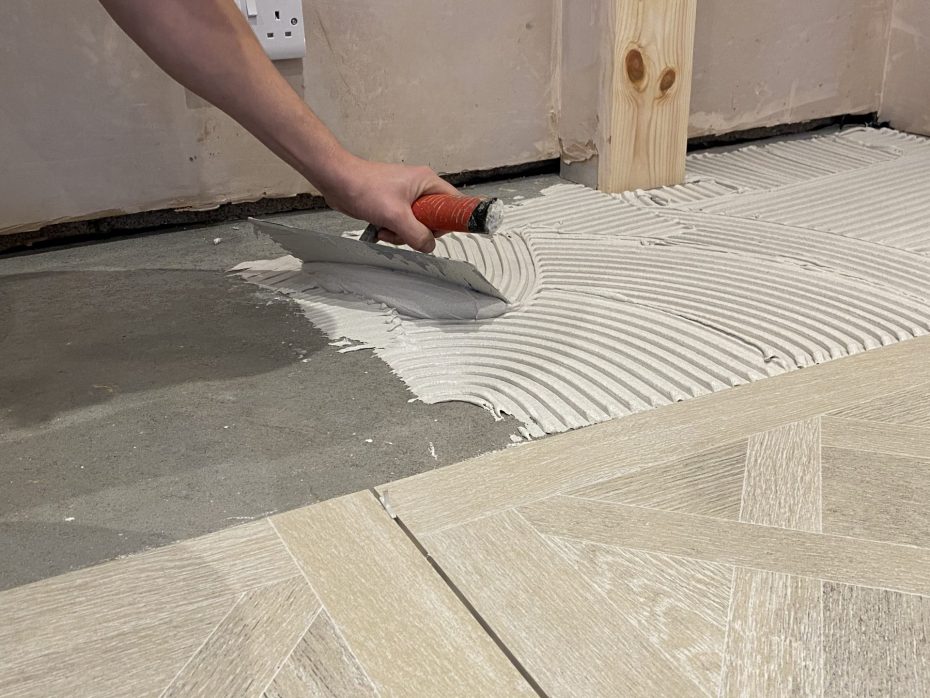 What Does it Cost to Tile a Shower?
The average cost of tiling your shower can vary between $8 to $27 per square foot. Most homeowners spend between $275 to $775 for a glazed ceramic tile installation, and between $500 to $1,450 for a porcelain tile installation.
Walk-in showers are more expensive to tile, with costs ranging between $545 to $2,150 for an 84-square-foot area. Again, the final costs depend on the materials and finishes you select for the shower. You can find our article on "how much does it cost to tile a walk-in shower" here.
The average costs of new shower tiles work out to be $7 per square foot for a glazed ceramic tiles, or $12 per square foot for porcelain. You're looking at approximately $25 per square foot when using glass tiles.
What Is the Cost of Tiling a Bathroom? – The Verdict
Tiling your bathroom isn't a cheap project. The tiles you choose make a huge difference in the remodel's final price. Before you start ordering your materials, write down a budget to see what you can afford.
Remember to include labour costs and ancillary materials as well. If you don't want to bother with that hassle, hire a professional tiler to help you out.
A professional tiler will give you the best possible outcome with your new bathroom. Tilers provide expert installations with a quality guarantee and the best finish possible.