What Does a Walk In Shower Cost?
Are you thinking about remodelling the bathroom? A walk-in shower is a great addition to your project, and it boosts your home's resale value. A walk-in shower gives a sense of more space and freedom in the bathroom, with plenty of design options available.
What does a walk in shower cost? Working out the budget for your remodel is an important part of the process. Your new walk-in shower cost depends on a few factors, including the size and the type of finishes you want.
Before you start tearing out your old bathtub, it's better to research the costs relating to your new shower's design and fitment. This post will look at all the aspects of budgeting for your walk-in shower.
What Are the Benefits of Owning a Walk-in Shower?
Unlike your standard shower stall, walk-ins don't have any door blocking the entrance. As a result, they give a spacious, open look to your bathroom design. Most prefabricated models come with shallow curbs on the edges of the floor. This design prevents water from running onto the floor.
However, customized designs feature a gently sloping floor to the drain and no curbs. Custom designs offer more flexibility and accessibility, which is important for seniors and individuals with physical and mental challenges.
Walk-in showers come with a multi-nozzle design, allowing you to choose how many spray nozzles you want in your shower. Some systems have as many as ten jets for an immersive shower experience.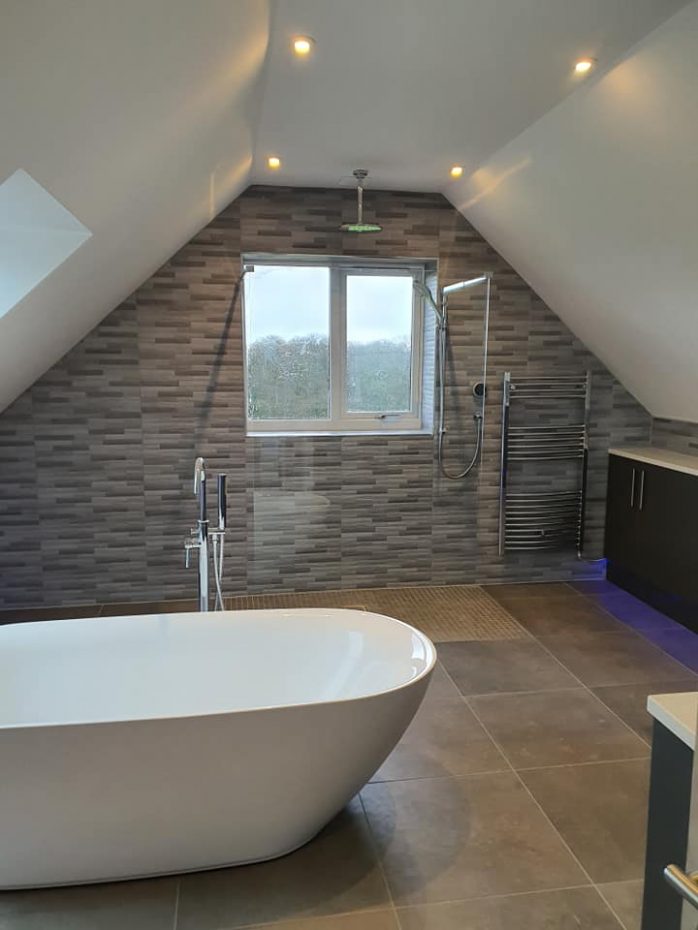 What Are the Disadvantages of a Walk-in Shower?
Before you start planning the budget for your project, it's time to look at the other side of the coin and examine the disadvantages of owning a walk-in shower. A walk-in shower will increase the asking price of your home. However, it's important to leave at least one functional bathtub in your home.
Some other important points to consider before installing your walk-in shower include the following.
If you have small children, a walk-in shower isn't much help during bath time
Open showers offer less privacy than standard shower stalls
No shower door means that you might feel drafts when showering
How Much Freedom Do I Have with Design?
When selecting your ideal walk-in shower, you can go with a prefabricated design or a custom fitment. Prefabricated models have a good deal of choice, but you'll never get the same design versatility as you do with a custom shower.
Customized designs allow you to control every aspect of your new shower, from the size to the fittings and the finishes. With a custom design, you have the option of choosing your materials and your size. The only limitations are the size of your bathroom and your budget.
It would be best if you decided whether you want to go for a prefabricated model or a custom-built shower. In our costing example, we're assuming you're hiring a professional contractor to do the work. Unless you have plenty of DIY experience, installing a walk-in shower by yourself can be a daunting project.
Working with professional bathroom design companies and tilers helps you get the results you want from your remodel. By working with professionals, you get a quality guarantee on all workmanship.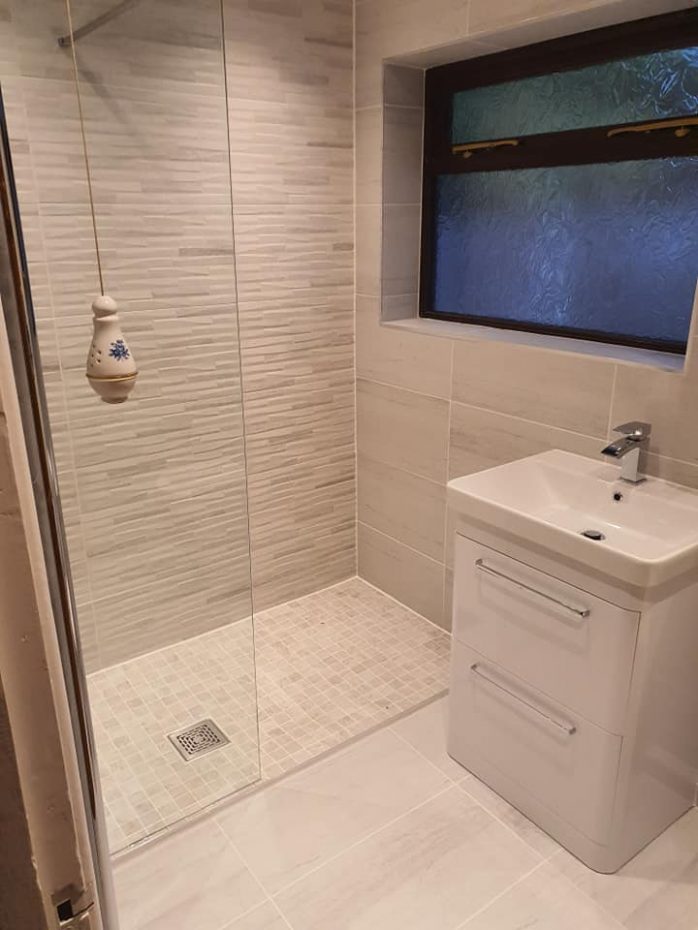 How Much Does a Walk-In Shower Cost?
When selecting your walk-in shower, you have two options. In this section, we'll unpack the costs relating to a custom walk-in shower and a prefabricated model. Choose the shower that suits your budget, and call the professionals for fitment. You'll be using your new shower by the weekend!
Prefabricated Walk-in Shower Kits
A prefabricated walk-in shower kit is the more affordable option. Prefab kits typically cost between $750 to $2,000, depending on the fitting quality and size.
If you need a professional to help you out with the installation, you can expect to pay up to $2,500 for the fitment. The cost of the installation depends on the work involved with the project.
Prefabricated walk-in shower kits are a great choice for smaller bathrooms and homeowners on a budget. You boost your property value while saving on installation costs.
Custom Walk-in Shower Designs
Designing and building a custom walk-in shower is a job for a professional fitment team. There are plenty of factors involved with getting the job right. Doing it yourself will likely end in disaster unless you have some serious handyman skills.
You can expect to pay more for a custom installation. This is due to the additional -planning, design, and work involved. A professional contractor will build the shower pan by hand, creating the perfect slope for optimal drainage.
The waterproof membrane prevents water from getting under the tiles. The shower tiles will need grouting for a water-tight finish. We recommend Weber Joint Premium grout for the best grouting around.
Depending on the size and finishes involved with your custom walk-in shower, you can expect to pay between $6,500 to $18,000. Some walk-in showers can cost $30,000 or more, depending on your requirements.
If you need help with grouting, or want to know what grouting is and how it works, you can follow this link here to see our article on "The mixing and application of grouts?" where we show you the whole process of grouting.
Thank you for reading and we hope this article helped you. Please do not hesitate to contact us if you have any further queries.