10 Tile Ideas For Small Bathrooms And Cloakrooms
Picture the perfect bathroom. Chances are it's something spacious, with gleaming open floors and walk-in showers. But, of course, not every bathroom can be like that; even if you live in a moderate-sized house your bathroom and your cloakroom are likely to be among your smaller rooms.
Just because a room is compact, doesn't mean it can't be beautifully decorated – or have its own strengths to play to. There are even ways to take focus away from its size and make it feel brighter and more spacious. To give you some inspiration, here are a few tile ideas for small bathrooms and cloakrooms.
Small room? Not necessarily small tiles
You would be forgiven for assuming that a small room should be tiled with small tiles to reflect its size. This is a fine choice, but it's not necessarily the best one. If anything, it can make the room feel cramped.
Try something different by using 300mm x 600mm tiles on the walls. Tiles like these gorgeous Acacia Blanco  have a matt finish which creates a clean and classy look. The light colour keeps it bright and airy, and pairing it with darker fittings can bring a sophisticated finish that fits well in any modern home.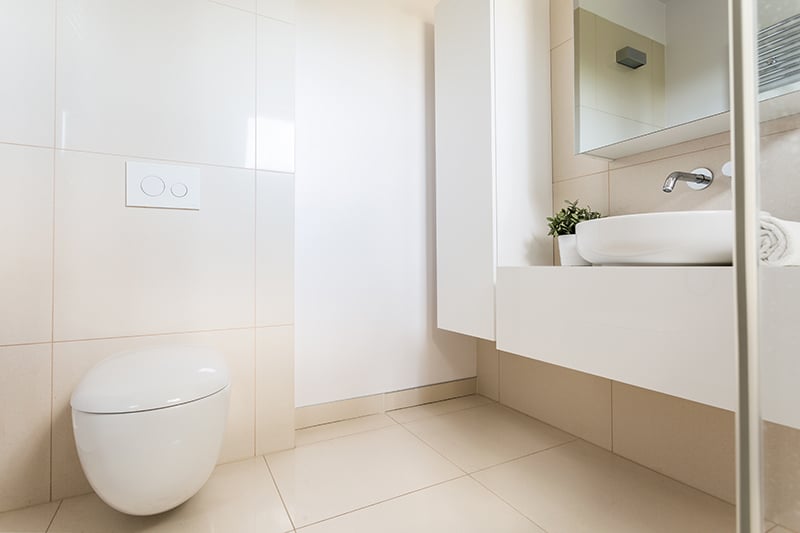 Less is more
You don't have to cover an entire room in tiles to achieve an impact with your interior design. In areas like a cloakroom, a minimalist approach can have a much stronger effect than just tiling every inch of space. Simply tiling the wall that faces you as you enter can have a similar impact to rooms where a single wall is wallpapered. The advantage of tiles is that they are less prone to wear and, with the proper care, can look just as good as when they were laid ten years ago.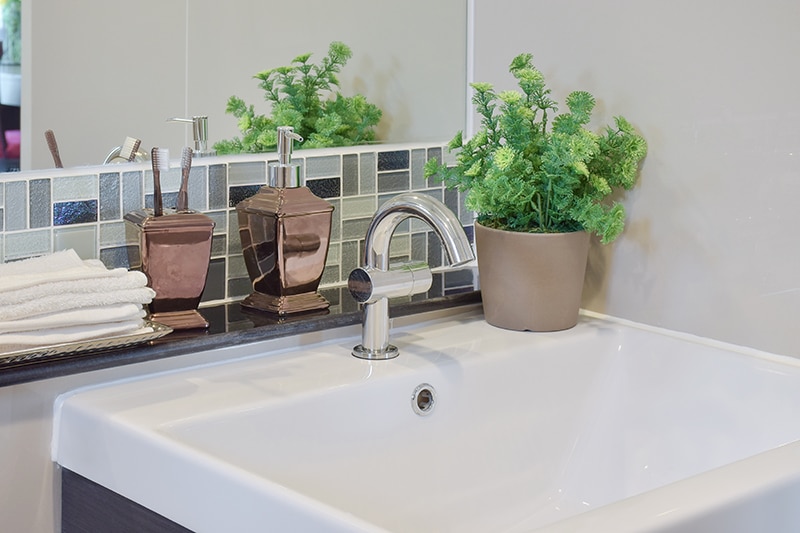 Don't forget the floor
Some argue that drawing attention to floor space (or lack thereof) is a dead giveaway of the size of the room. But, just as larger tiles can work great on the walls of small spaces, don't be afraid to try something big and bold for the floor as well. Tiles as large as 600mm x 600mm can help make a strong statement, converting a small room like a cloakroom into an unsuspecting gem. Combine this with laying the tiles diagonally, and you'll trick your eyes whilst also adding a bit of quirky personality.
Learn from fashion
Some people might be happy to embrace the size of their small bathrooms and cloakrooms. But for others seeking tips and tricks to make their houses feel more spacious, they might be able to learn a couple of things from the fashion world. They say vertical lines can make you seem taller, so why not apply the same rules to your smaller rooms? If your aim is to make the place feel bigger then stack oblong tiles vertically on your walls for the illusion of height, or horizontally for the illusion of width. Combine this with light tones to create a spacious, airy feeling.
Embrace colour
Small downstairs rooms can be dark, usually due to small windows or where they have been built into nooks and crannies of the house. But that is all the more reason not to be afraid of introducing colour to brighten the room up. Using vibrant colours in the downstairs bathroom is a bold choice, but it can really pay off when done sensibly.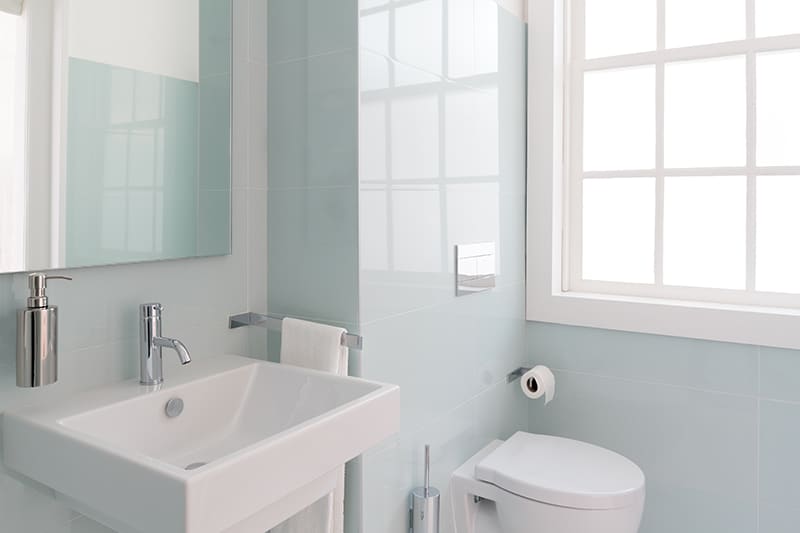 Choose just one or two complimentary tones to keep things simple and fresh. Try to keep yourself from going overboard with complex designs or bright colours everywhere – you don't want the room to be overwhelming. An eye-catching red or blue can be just the thing for turning a dim cloakroom into a slice of luxury.
Consider patterns carefully
Divert attention from the size of your bathroom or cloakroom by using patterned tiles on the walls. A word of caution, however: use them sparingly – complex patterns can make a small room look cluttered and feel claustrophobic. However, a selection of subtle patterns with neutral colours can be just enough to offset the size of a room and give the illusion of space.
Don't neglect the bathtub
One of our favourite tile ideas for small bathrooms and cloakrooms embraces the use of the bath in making a room feel more spacious. Tile the wall and the bath in the same way to blend them into one seamless space. Making it less obvious where the wall ends and the bath begins can make the fittings less intrusive and jarring. Consider our earlier point about not straying away from larger tiles to give an even greater sense of space. Large marble tiles like Atlas Ceramic's Crema Marfil can work wonders to achieve this.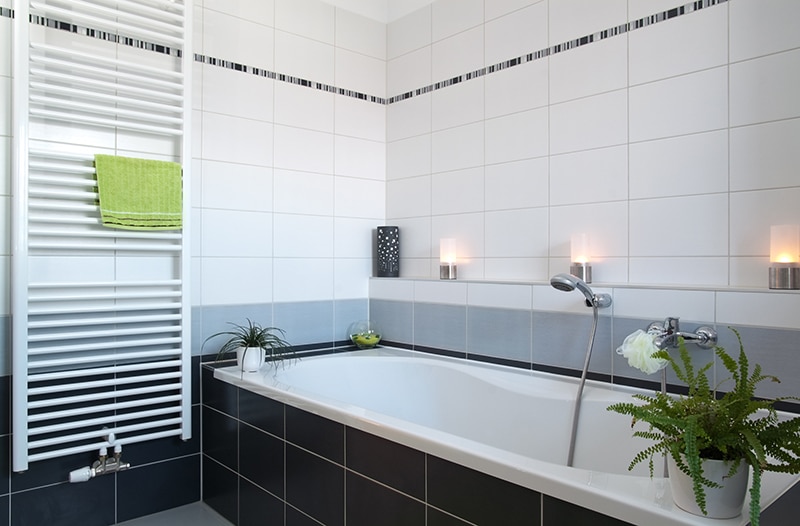 Tile up to the ceiling
Again, the fewer transitions from area to area, the better. Creating this sense of continuity will make for a room that feels larger than it is – and can leave quite a statement too. By tiling up to the ceiling, there's also no need for skirting boards or a fresh lick of paint on the remaining space.
Match the wall colour
By marrying your use of colour in a small space, corners and irregular angles can seemingly disappear. This is especially true if your bathroom is under the stairs and features an extreme sloped ceiling. A unified colour scheme makes all the elements of your bathroom act as a whole, rather than forcing your focal point to separate, smaller elements.
Encourage reflections and light
Making the most of the light is one of the best things you can do to create a feeling of space in your small bathrooms and cloakrooms. Use mirrors, lights and chrome fittings to create a stylish, modern space that will feel bright and airy despite the small size. Pair this with glossy tiles, such as Emilia Sky, to reflect as much light as possible and rid your smaller rooms of any claustrophobic feeling.
So, there you have it – effortless tile ideas for small bathrooms and cloakrooms, guaranteed to make them feel pleasant and spacious. There's no need to resign small rooms to being undeserving of your attention – a little thought can turn even the tiniest corner of the house into a domestic gem.
Atlas Ceramics has a huge range of bathroom and cloakroom tiles to help get you started. Browse our selection yourself or call one of our experts for advice.